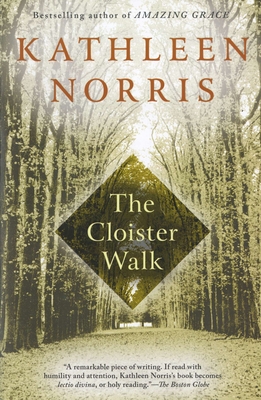 The Cloister Walk
Paperback

* Individual store prices may vary.
Description
 A NEW YORK TIMES BESTSELLER AND NEW YORK TIMES NOTABLE BOOK OF THE YEAR

"Vivid, compelling... An embrace of moral and spiritual contemplation." –The New York Times

"A remarkable piece of writing. If read with humility and attention, Kathleen Norris's book becomes lectio divina, or holy reading." –The Boston Globe

From the iconic author of Amazing Grace: A Vocabulary of Faith, a spiritual journey that brings joy to the meanings of love, grace and faith. 

Why would a married woman with a thoroughly Protestant background and often more doubt than faith be drawn to the ancient practice of monasticism, to a community of celibate men whose days are centered on a rigid schedule of prayer, work, and scripture? This is the question that poet Kathleen Norris asks us as, somewhat to her own surprise, she found herself on two extended residencies at St. John's Abbey in Minnesota.

Part record of her time among the Benedictines, part meditation on various aspects of monastic life, The Cloister Walk demonstrates, from the rare perspective of someone who is both an insider and outsider, how immersion in the cloistered world-- its liturgy, its ritual, its sense of community-- can impart meaning to everyday events and deepen our secular lives. In this stirring and lyrical work, the monastery, often considered archaic or otherworldly, becomes immediate, accessible, and relevant to us, no matter what our faith may be.
Praise For The Cloister Walk…
"In The Cloister Walk, persisting in [Norris's] wonderfully idiosyncratic ways, she gives us the result of an 'immersion into a liturgical world'... She is one of hisotyr's writing pilgrims but also a contemporary American one, boldly willing to forsake any number of cultural fads, trends, and preoccupations in favor of this 'walk,' this searching expedition within herself." --The New York Times Book Review

"Norris continues to write plainspoken meditations that expand the purview of non-fiction... She writes about religion with the imagination of a poet... In reading Norris, one comse to feel like a spiritual collaborate and, when one's spirit fails, like a spiritual rebel." --Chicago Tribune 

"With her lucid, luminous prose, hardheaded logic, and far-reaching metaphors, Norris has brought us the cloister at its most alive." --San Francisco Chronicle 

"The Cloister Walk is a new opportunity to discover a remarkable writer with a huge, wise heart... you want to share this great discovery, giving her work as a gift-- or you simply shove a copy in the face of a friend, saying, 'Read this.'" --Minneapolis Star-Tribune

"Norris presents ample proof that holy people don't have to be starchy... If you learn anything from The Cloister Walk, it's that monks are people too. They gossip, crack jokes, fall asleep in church, suffer through depression and doubt like the rest of us.... Perhaps there's hope for spiritual life outside the cloister after all." --Newsday
Riverhead Books, 9781573225847, 416pp.
Publication Date: April 1, 1997
About the Author
Kathleen Norris is the award-winning, bestselling author of Amazing Grace: A Vocabulary of Faith; The Cloister Walk; and Dakota: A Spiritual Geography. Her poems have appeared in The New Yorker, in various anthologies, and in her own three volumes of poetry. She divides her time between South Dakota and Hawaii.