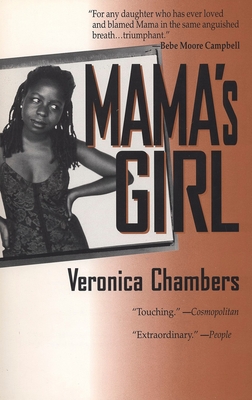 Mama's Girl
Paperback

* Individual store prices may vary.
Description
On the streets of Brooklyn in the 1970s,
Veronica Chambers
mastered the whirling helixes of a double-dutch jump rope with the same finesse she brought to her schoolwork, her often troubled family life, and the demands of being overachieving and underprivileged. Her mother—a Panamanian immigrant—was too often overwhelmed by the task of raising Veronica and her difficult younger brother on her meager secretary's salary to applaud her daughter's achievements. From an early age, Veronica understood that the best she could do for her mother was to be a perfect child—to rewrite her Christmas wish lists to her mother's budget, to look after her brother, to get by on her own.
Though her mother seemed to bear out the adage that "black women raise their daughters and mother their sons," Veronica never stopped trying to do more, do better, do it all. And now, as a successful young woman who's achieved more than her mother dared hope for her, she looks back on their mother-daughter bond. The critically acclaimed Mama's Girl is a moving, startlingly honest memoir, in which Chambers shares some important truths about what we all really want from our mothers—and what we can give in return.
Praise For Mama's Girl…
"For any daughter who has ever loved and blamed Mama in the same anguished breath...triumphant."—Bebe Moore Campbell
"Moving...the story of a strong soul growing up."—USA Today
"While Mama's Girl skillfully traces the evolution of a complicated mother-daughter relationship, it is also a testament to the resilience of black women across generations."—Ms.
"A troubling testament to grit and mother love...While the story of her own achievement under grim, often violent circumstances is extraordinary, the reader is left feeling particularly grateful for [Chambers's] compassion. Her portrait of her Panamanian mother—proud, protective, angry, and in need—is one of the finest and most evenhanded in the genre in recent years."—The New Yorker
"Affecting and eloquent...Chambers's rise...is remarkable, as is her spare, lilting writing style...On the often painful circumstances she has faced—her mother's coldness, what it means to be black in the post-civil rights era—Chambers writes with probity. And she illustrates her thoughts with well-culled details that are telling and lyrically rendered: A."—Entertainment Weekly
Riverhead Books, 9781573225991, 208pp.
Publication Date: May 1, 1997
About the Author
Veronica Chambers is a prolific author, best known for her critically acclaimed memoir Mama's Girl. She coauthored the award-winning memoir Yes, Chef with chef Marcus Samuelsson, as well as Samuelsson's young-adult memoir Make It Messy, and has collaborated on four New York Times bestsellers, most recently 32 Yolks, which she cowrote with chef Eric Ripert. She has been a senior editor at the New York Times Magazine, Newsweek, and Glamour. Born in Panama and raised in Brooklyn, she writes often about her Afro-Latina heritage. She speaks, reads, and writes Spanish, but she is truly fluent in Spanglish. She is currently a John S. Knight journalism fellow at Stanford University. Her upcoming novel is The Go-Between.
or
Not Currently Available for Direct Purchase