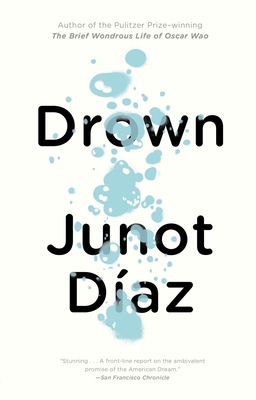 Drown
Paperback

* Individual store prices may vary.
Other Editions of This Title:
Digital Audiobook (9/5/2007)
Description
From the beloved and award-winning author Junot Díaz, a spellbinding saga of a family's journey through the New World.
 
A coming-of-age story of unparalleled power, Drown introduced the world to Junot Díaz's exhilarating talents. It also introduced an unforgettable narrator— Yunior, the haunted, brilliant young man who tracks his family's precarious journey from the barrios of Santo Domingo to the tenements of industrial New Jersey, and their epic passage from hope to loss to something like love. Here is the soulful, unsparing book that made Díaz a literary sensation.
 
Praise For Drown…
Praise for DROWN:

"Remarkable."
—Entertainment Weekly

"Powerful and revelatory."
—Houston Chronicle

"There have been several noteworthy literary debuts this year, but Díaz deserves to be singled out for the distinctiveness and caliber of his voice, and for his ability to sum up a range of cultural and cross-cultural experiences in a few sharp images…. The motifs—the father absent and indifferent to the family, his infidelities and bullying while they're united, the shabby disrepair of northern New Jersey—resonate from story to story and give Drown its cohesion and weight…. These 10 finely achieved short stories reveal a writer who will still have something to say after he has used up his own youthful experiences and heartaches."
—The Philadelphia Inquirer

"Talent this big will always make noise…. [The ten stories in Drown] vividly evoke Díaz's hardscrabble youth in the Dominican Republic and New Jersey, where 'our community was separated from all the other communities by a six-lane highway and the dump.' Díaz has the dispassionate eye of a journalist and the tongue of a poet…"
—Newsweek

"This stunning collection of stories is an unsentimental glimpse at life among immigrants from the Dominican Republic—and another front-line report on the ambivalent promise of the American Dream. Díaz is writing about more than physical dislocation. There is a price for leaving culture and homeland behind…In this cubistic telling, life is marked by relentless machismo, flashes of violence and severe tests of faith from loved ones. The characters are weighted down by the harshness of their circumstances, yet Díaz gives his young narrators a wry sense of humor."
—San Francisco Chronicle

"Graceful and raw and painful and smart…His prose is sensible poetry that moves like an interesting conversation…The pages turn and all of a sudden you're done and you want more."
—The Boston Globe

"A stunning and kinetic first collection of short stories…. Díaz has the ear of a poet (a rarity among fiction writers), and many of his stories are piloted by a compelling and often fiercely observed first-person narration. Díaz's precise language drives the accumulation of particular concrete sensory details to the universals of broader, nuanced experience. Comparisons to writers like Sandra Cisneros or Jess Mowry or even Edwidge Danticat (all of whom are at the top of my list) are probably inevitable, but Díaz distinguishes himself thoroughly in this book…. In an era of the glib, hip 'I've-seen-it-all-nothing-shocks-me-anymore' narrator, Díaz doesn't back away from sentiment. Though he is never mawkish, his stories are richly textured in feeling…Díaz is a life-smart, savvy writer who, because he's honest and often funny, very gently breaks your heart."
—Hungry Mind Review

"New Jersey and the Dominican Republic are thousands of miles apart, but in Junot Díaz's seductive collection of short stories, they seem to blend into each other as effortlessly as Díaz weaves the words that bring to life the recurring characters that populate both places…. In a sense, this book is about that old and much misunderstood Latino demon, machismo, which only recently is being seen as something not innate to Latino males, but rather as the result of their often futile attempts to reconcile their dual roles as men (in the eyes of their families) and as mere boys (in the eyes of the outside world)…. There's a lot of artistry in this book, and where there is art, there is always hope."
—Austin American-Statesman

"Remarkable…His style is succinct and unadorned, yet the effect is lush and vivid, and after a few lines you are there with him, living in his documentary, his narration running through your head almost like your own thoughts…. Vignettes…observed with depth and tenderness but most of all with a simple honesty that rings as clear and true as a wind chime."
—The Dallas Morning News

"Mesmerizingly honest, heart-breaking and full of promise…Tales of life among the excluded classes of the diaspora, they tread fearlessly where lesser writers gush and politicize—which is exactly their political and aesthetic power."
—Si Magazine

"Junot Díaz's stories are as vibrant, tough, unexotic, and beautiful as their settings—Santo Domingo, Dominican Nueva York, the immigrant neighborhoods of industrial New Jersey with their gorgeously polluted skyscapes. Places and voices new to our literature yet classically American: coming-of-age stories full of wild humor, intelligence, rage, and piercing tenderness. And this is just the beginning. Díaz is going to be a giant of American prose."
—Francisco Goldman
Riverhead Books, 9781573226066, 240pp.
Publication Date: July 1, 1997
About the Author
Junot Díaz was born in the Dominican Republic and raised in New Jersey. He is the author of the critically acclaimed Drown; The Brief Wondrous Life of Oscar Wao, which won the 2008 Pulitzer Prize and the National Book Critics Circle Award;  This Is How You Lose Her, a New York Times bestseller and National Book Award finalist; and a debut picture book, Islandborn. He is the recipient of a MacArthur "Genius" Fellowship, PEN/Malamud Award, Dayton Literary Peace Prize, Guggenheim Fellowship, and PEN/O. Henry Award. A graduate of Rutgers College, Díaz is currently the fiction editor at Boston Review and the Rudge and Nancy Allen Professor of Writing at the Massachusetts Institute of Technology.