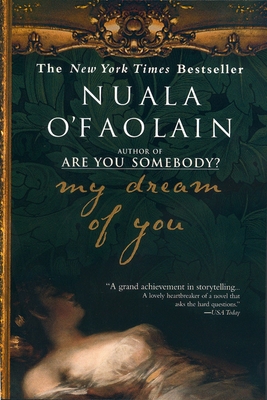 My Dream of You (Paperback)
Riverhead Books, 9781573229081, 544pp.
Publication Date: February 5, 2002
* Individual store prices may vary.
or
Not Currently Available for Direct Purchase
Description
A New York Times notable book and bestseller, this debut novel from Irish Times columnist Nuala O'Faolain takes on life and love with Dickensian flair and the striking intimacy that characterized her bestselling and acclaimed memoir, Are You Somebody? Set in Ireland and spanning a century and a half, My Dream of You unfolds the compelling stories of two women and their quests for passion, connection, and fulfillment. A globetrotting Irish travel writer, Kathleen de Burca is used to living--and loving--on the run. On the brink of fifty, she decides to leave her job and rethink her life. Intrigued by a divorce case dating back to the days of the Potato Famine, she tries hand at writing about it. The case, called "The Talbot Affair," detailed the clandestine liaison between the wife of a British landlord and an Irish servant in Ireland in the 1850s. After a bitter thirty-year absence, Kathleen returns to Ireland, the land of her troubled childhood and turbulent heritage, in search of answers to her questions about desire and lasting love.
About the Author
Nuala O'Faolainis a columnist withThe Irish Times and the author of Are You Somebody? The Accidental Memoir of a Dublin Woman. She lives in Dublin and County Clare. My Dream of You is her first novel.
Praise For My Dream of You…
"A grand achievement in storytelling… A lovely heartbreaker of a novel that asks the hard questions."—USA Today

"Ingeniously explores the consuming power of both passion and the past."—Entertainment Weekly

"What a pleasure it is to be able to open a book and relax into the flow of a beautifully written narrative…With an ambling, intimate candor, O'Faolain tells Kathleen's story, present and past…And always, of course, behind everything is Ireland itself—beautiful, maddening Ireland."—Lynn Freed, Washington Post Book World

"A big, generous, essentially old-fashioned novel, taking its unhurried time to tell a story and create a central character, to have a cool, long look at history and romance…There is tenderness here, and humanity, and a persuasive account of what happens when a person allows the world to enter into her once more."—Catherine Lockerbie, The New York Times Book Review

"O'Faolain is] a reader's writer, with a flair for straightforward, Dickensian storytelling."—Meghan O'Rourke, Vogue

"Full of brilliant writing and heartbreaking insight…Unlike all but the best writers, O'Faolain isn't afraid to write about a character as smart and complicated as she is."—Malcolm Jones, Newsweek

"A smart and crisply written book, tinged with sadness…Kathleen's journey back to one of Ireland's humbler backwaters after a fashionable life as a near-English traveling journalist is fraught with emotion and politics. Indeed, one of the achievements of this lovely, haunting, and intelligent novel is demonstrating how tightly these elements are linked in the modern Irish – not only in the manner that makes international news, but at the levels that give color and shape to an individual's everyday life."—Vince Passaro, Elle

"What keeps you engrossed is the fact that the novel interweaves the contemporary bits…with an irresistible mystery…I can't remember the last time I read a novel that so eloquently describes the erotic dilemma of middle age—the way that hunger for sexual and emotional satisfaction, unabated by time, intersects with a shocked recognition that the body itself changes, or even fails…It is [O'Faolain's] journalistic eye for detail that etches Kathleen's dilemma into your memory."—Daniel Mendelsohn, New York
 
 
Advertisement