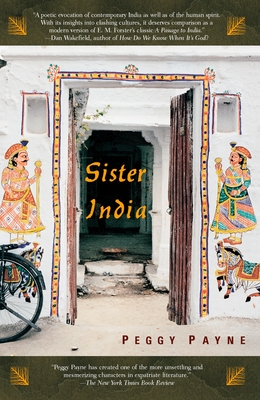 Sister India
Paperback

* Individual store prices may vary.
Description
The exotic and suspenseful New York Times Notable Book that tells the story of an eccentric guest-house keeper in Varanasi, India, and the passions evoked by her sacred city along the Ganges
The
Lonely Planet
recommends the Saraswati Guest House, and meeting Madame Natraja, "a one-woman blend of East and West," as well worth a side trip. Over the course of a weekend, several guests turn up, shocked to encounter a three-hundred-some-pound, surly white woman in a sari. Then a series of Hindu-Muslim murders leads to a citywide curfew, and they unwittingly become her captives. So begins a period of days blending into nights as Natraja and her Indian cook become entangled in a web of religious violence, and their guests fall under the spell of this ancient kingdom--at once enthralled and repelled by the begging children, the public funeral pyres, the holy men bathing in the Ganges at dawn.
This is a traveler's tale, a story about the strange chemistry that develops from unexpected intimacies on foreign ground. And Peggy Payne's extraordinary talent vividly conjures up the smells of the perfume market, the rhythms of holy men chanting at dawn, the claustrophobic feel of this ancient city's tiny lanes, and the magic of the setting sun over the holy Ganges. For anyone who has harbored a secret desire to go to India and be transformed, Sister India, called "mesmerizing" by Gail Harris and "a modern version of E. M. Forster's classic A Passage to India" by Dan Wakefield, takes you on this journey without ever leaving home.
Praise For Sister India…
"Sister India is that rarity, an utterly original novel. It is both profound and mesmerizing." —Lee Smith, author of Saving Grace

"Payne captures an outsider's sense of wonder." —The Boston Herald

"Ms. Payne's unblinkered, unsentimental but nonetheless affectionate portrait of India gives her book atmospheric power. Sister India…is an accomplished work by a writer with a keen sense of the precariousness of our lives and the distances we are prepared to go to escape them." —The New York Times

"Peggy Payne proves...that her writer's eye sees to the center of things—to the spiritual center of our beings, whether we're from this side of the earth, or the other." —Clyde Edgerton, author of Where Trouble Sleeps

"In Sister India, Payne displays a travel writers flair for capturing the sights, sounds and smells of an exotic land. Her descriptions of Varanasi are wonderfully vivid…But it is in the formidable Natraja that Payne's writing shines most brightly." —The Charlotte Observer

"Payne...creates a poetic mosaic of sights, smells, sounds, and tastes as she limns a square mile of Varanasi." —Booklist

"Peggy Payne doesn't bore us with east-is-liberation rhapsodies. Rather, Sister India is a quite passage to a stoic India...[that] doesn't use the stark colors of cultural judgment to paint a market-friendly oriental exotica. It's the gray areas that spread between the traveler and her not-so-easily-promising land that make this novel different from those exaggerated tour guides of the romantics doubling as works of art." —India Today

"In Sister India, Peggy Payne has created a character as big as her territory, which is to say larger than life." —Tony Wheeler, founder, Lonely Planet guides

"Sister India will...be compared...to E.M. Forster's A Passage to India." —Sunday Star News, (Wilmington, NC)

"Sister India is a book of wisdom, even one wants to say, of enlightenment...a modern-day Canterbury Tales." —Independent Weekly

"A treasure-trove od sights and sounds and smells...For those of you who want...plain good story telling, Sister India is a keeper." —Raleigh News & Observer

"Payne's vision is unsettling and unforgettable. Her characters are vivid; their anger and fear are palpable. Her descriptions of Varanasi are acute and relentless, bringing the city viscerally to life...Sister India is a powerful examination of a group of estranged souls whose dreams and illusions mingle briefly with the smoke from the burning bodeis before disappearing before our eyes." —The Commercial Appeal, (Memphis, TN)

"Becoming an expatriate is like entering a witness protection program. You can flee into a new nationality, a new language, even take on a culturally correct new name, but you cannot completely pave over a life that came before. The protagonist of Sister India… is 400 pounds of enthralling proof. From the novel's very first sentence, her ravaged voice grips the reader… Peggy Payne has created one of the more unsettling and mesmerizing characters in expatriate literature." –The New York Times Book Review

"Payne captures an outsider's sense of wonder." –Boston Herald

"Like the city that inspired it, Sister India is complex, crowded, spiritual, blood-stained, and hypnotic." –Wilmington Sunday Star-News

"A poetic invocation of contemporary India as well as of the human spirit. With its insights into clashing cultures, it deserves comparison as a modern version of E. M. Forster's classic A Passage to India." –Dan Wakefield, author of How Do We Know When It's God?

"Sister India is that rarity, an utterly original novel. It is both profound and mesmerizing." –Lee Smith, author of Saving Grace
Riverhead Books, 9781573229104, 320pp.
Publication Date: February 5, 2002
About the Author
Peggy Payne is a journalist and travel writer who has published articles on more than twenty-five countries. She has been the recipient of an NEA grant to study fiction at Berkeley, and an Indo-American Fellowship to research this novel in Varanasi. Her work has appeared in numerous anthologies, including God: Stories and New Stories from the South. She lives near Chapel Hill, North Carolina.
or
Not Currently Available for Direct Purchase