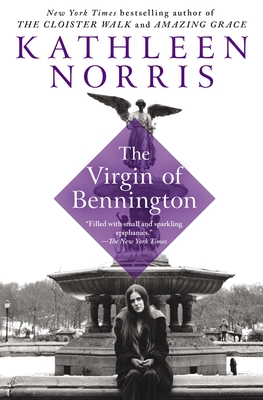 The Virgin of Bennington (Paperback)
Riverhead Books, 9781573229135, 272pp.
Publication Date: April 2, 2002
Other Editions of This Title:
Compact Disc (6/1/2015)
MP3 CD (6/10/2004)
* Individual store prices may vary.
Description
Shy and sheltered as a young woman, Kathleen Norris wasn't prepared for the sex, drugs, and bohemianism of Bennington College in the late 1960s—and when she moved to New York City after graduation, it was a case of out of the frying pan and into the fire. In this chronicle, Norris remembers the education she received, both formal and fortuitous; the influence of her mentor Betty Kray, who shunned the spotlight while serving as a guiding force in the poetry world of the late 20th century; her encounters with such figures as James Merrill, Jim Carroll, Denise Levertov, Stanley Kunitz, Patti Smith, and Erica Jong; and her eventual decision to leave Manhattan for the less-crowded landscape she described so memorably in Dakota. This account of the making of a young writer will resonate with anyone who has stumbled bravely into a bigger world and found the poetry that lurks on rooftops and in railroad apartments—and with anyone who has enjoyed the blessings of inspiring teachers and great friends.
About the Author
Kathleen Norris is the award-winning, bestselling author of Amazing Grace: A Vocabulary of Faith; The Cloister Walk; and Dakota: A Spiritual Geography. Her poems have appeared in The New Yorker, in various anthologies, and in her own three volumes of poetry. She divides her time between South Dakota and Hawaii.
Praise For The Virgin of Bennington…
"An unegotistical anti-memoir."
—San Francisco Chronicle
"Virgin will interest Norris devotees who wonder about her life before Dakota."—Minneapolis Star Tribune
"It mentions booze, sex, narcissism and self-destruction, but this isn't a story about Hollywood. Kathleen Norris's engaging memoir describes her coming-of-age as a college student in Vermont, and her subsequent immersion in the vibrant, often incestuous poetry world of Manhattan in the early '70s—a milieu that proved to be both suffocating and inspiring for the young poet…As Norris shares the lessons she learned in her younger years—she offers valuable, practical advice on the art of writing."—Newsday
"Norris appeals to every reader's struggle to achieve adulthood, both personally and professionally…While gaining an education in urbanity and sophistication that might have made another soul more cynical and self-destructive, Norris managed to maintain a certain appealing innocence and optimism…This inner strength leads her eventually to sever her dependency on Manhattan. Norris writes with warmth, frankness and amazing vividness about formative moments and events in her life, many of which readers…will be able to identify with and to learn from."—Publishers Weekly
"A magnetic, poignant, often funny, and genuinely inspiring portrait of her mentor…Norris entrances and enlightens her readers with supple insights into the elusive nature of goodness."—Booklist
"A must-read coming-of-age memoir for those who revere the talented writer and spiritualist, Kathleen Norris… A fascinating and intimate look inside the Manhattan poetry scene in the 1960s and '70s…a worthwhile journey through an interesting woman's unique moment in history."—Denver Rocky Mountain News
"Lucid, often startling prose."—The New York Times Book Review
"[A] story of a time and a place that nurtured poets and their work."—New York Daily News
"Norris is a remarkable writer…The Virgin of Bennington, which features Norris' signature pitch-perfect prose and engaging first-person narration, is an essential addition to her exploration of self…She is never the irritating memoirist forever introspecting and seeking our approval. Rather she is a reasonable, trustworthy narrator who merely tells it how it was."—Portland Oregonian
"A story for all writers and artists."—Tampa Tribune & Times
"Very frank and honest…an interesting and many-layered book."—Traverse City (MI) Record-Eagle
or
Not Currently Available for Direct Purchase