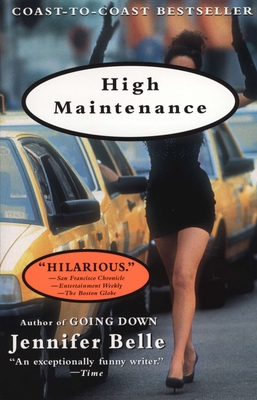 High Maintenance (Paperback)
Riverhead Books, 9781573229302, 368pp.
Publication Date: July 2, 2002
* Individual store prices may vary.
Description
National Bestseller
The story of an obsessive love affair between a woman and an apartment.

The publication of her sexy, offbeat, riotous first novel, Going Down, won Jennifer Belle comparisons from everyone from Dorothy Parker and Lorrie Moore to J. D. Salinger and Liz Phair. In High Maintenance, Belle is back with another brilliantly twisted New York story that is as funny, sad, painful, ridiculous, wild, daring, and lovable as its predecessor.

Set in the manic world of New York real estate, High Maintenance is the story of Liv Kellerman, a young woman who's just left her husband and, more important, their fabulous penthouse apartment with its Empire State Building view. On her own for the first time in her life, she relocates to a crumbling Greenwich Village hovel and contemplates her next move. Before long she finds her true calling: selling real estate. With her native eye for prime properties and an ability to lie with a straight face, Liv finds success and soon is swimming with the sharks-the hardcore, cutthroat brokers who'll do anything to close a deal. Along the way she picks up a maniacally ardent architect who likes to bite her, a few hilarious bosses, strange and exasperating clients, and a gun, and brings them with her on her search for the one thing she's really after: a home.

Belle's gift for creating strange and winning characters and her acute observations of both the absurd and the poignant in everyday life are the hallmarks of her fiction. High Maintenance is generous and unsparing, tough and exciting and terrifically smart—a hot new property on the market.
 
About the Author
Jennifer Belle is the bestselling author of Going Down (for which she was named best debut novelist of the year by Entertainment Weekly), High Maintenance, and Little Stalker. Her stories and essays have appeared in The New York Times Magazine, The Independent (London), Harper's Bazaar, Cosmopolitan, Ms., Black Book, Mudfish, and many anthologies. She lives in New York City and Olivebridge, New York, with her husband and their two sons.
Praise For High Maintenance…
"Irresistible."
—Newsday

"A hilarious take on the search for real estate as a metaphor for finding a life."
—The Boston Globe

"An outrageous, hilarious account of one woman's journey to find herself, the 'Loft of her Life' and a man worthy of sharing apartment space in New York City...High Maintenance is in turn a wicked and twisted coming-of-age-in-the-city story, an uproariously funny tale of the little girl lost and a scathing parody of the narcissism of New York living."
—The Tampa Tribune

"Addictive and captivating...The same wisecracking, fierce yet vulnerable point of view that made Going Down so special is taken even further in High Maintenance."
—Time Out New York

"Just buy the damn book."
—The New York Observer

"Looking for a good laugh? Enter the world of 26-year-old Liv Kellerman...Her nutty sagas will have you rolling on the floor."
—Cosmopolitan

"A stylish, funny, set-in-Manhattan story about a woman who leaves her husband and misses their apartment more than him...Belle's unpretentious humor and clean prose style are in an entirely different neighborhood than your average single-in-the-city author."
—Minneapolis Star Tribune

"Satisfying. Even non-New Yorkers will be sucked in as Liv navigates her way through heartache and the city."
—Mademoiselle

"Fans of Bridget Jones's Diary will find Jennifer Belle's send-up of all things New York, High Maintenance, sharp, incisive and laugh-out-loud funny...A gal, a gun and a gorgeous apartment all combine for an explosive denouement...Read this witty book."
—The Baltimore Sun

"Hugely funny."
—New York Daily News

"Reminiscent of...fiction's infamous singleton Bridget Jones...Liv's wackiness give this unruly novel moments of great humor, but in the end the book is as much about the peculiar landscape of the New York housing market—the snooty upper-class clients and the real estate agents who kowtow to them—as it is about a young woman finding her own independence."
—The Washington Post Book World

"Belle deftly mines real estate as a metaphor, especially in Liv's affair with an impulsive architect, and her clients and fellow brokers are both terrifying and hilarious by turns."
—Entertainment Weekly

"In this latest New York romp...Belle draws both Liv and the idiosyncrasies of the Manhattan real estate market so well that one can't help wondering just what is fiction (Belle did a stint as a broker herself) and what may be biography...Belle's skewed take on life in the big city keeps the smirk-per-page ratio high...offbeat observations...hilarity and pathos."
—The Denver Post

"[An] amusing...humorous real-estate romp with Manhattan views."
—US Weekly

"If you think the Hub housing market is tough, take a look at this tale of high-stakes real estate—and sexual-wheeling and dealing. Belle knows the world she depicts."
—The Boston Herald

"Like a hot fudge sundae...delicious."
—Gotham

"You'll feel right at home with Belle's...follow-up to her racy debut, Going Down."
—Glamour

"Brimming with Gotham references, weird but lovable characters and typical urban scenes, [High Maintenance] is a witty and engaging tale of love and real estate in Manhattan...Belle's tongue-in-cheek style and laugh-out-loud antics keep the pages turning...fresh and invigorating."
—Publishers Weekly

"With deadpan wit and brutal sarcasm, Belle paints an unforgiving portrait of New Yorkers and idiosyncratic behaviors, which, in their context, have come to be regarded as normal. Capturing a chorus of vastly different voices with skill, while making outrageous happenings seem utterly mundane, Belle has created a wonderfully engrossing plot and a fresh and funny heroine...If Going Down was a promise made by a debut novelist, then High Maintenance is its fulfillment—sharp, insightful, as harsh and gritty as the city itself, but irresistible for its uniqueness, charisma and charm."
—The Tampa Tribune

"This work continues in the same tradition of Belle's highly praised first novel, Going Down, with equal parts hilarity and pain...in turns funny and poignant."
—Library Journal
 
or
Not Currently Available for Direct Purchase