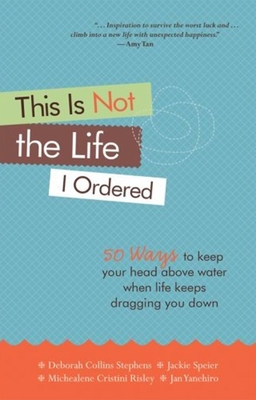 This Is Not the Life I Ordered (Hardcover)
50 Ways to Keep Your Head Above Water When Life Keeps Dragging You Down
Conari Press, 9781573243056, 220pp.
Publication Date: March 1, 2007
Other Editions of This Title:
Paperback (4/1/2019)
MP3 CD (4/28/2019)
Compact Disc (4/28/2019)
* Individual store prices may vary.
Description
Through this collection of stories, wisdom, and practical advice, readers meet four ordinary women who have faced extraordinary life challenges. Over a decade, the power and strength of their collective friendship enabled these women not only to survive, but to thrive.

The book opens with the personal stories of each of the authors who were juggling only slightly less-than worst-case scenario events. Do they all feel like the female version of the book of Job? Or, are they pretty normal women going through pretty normal circumstances?
If you were Jackie Speier, would you have devoted your life to public service after being shot five times and left for dead on a tarmac in South America at the start of your career?
How about Michealene Cristini Risley confronting her father about a dirty family secret on his death bed? Would you have had the courage to face demons similar to those she faced?
After 10 years of living with a husband who was to have perished long ago from a rare lung disease, what has helped Deborah Collins Stephens to persevere?
How did Jan Yanehiro come back from widowhood and near bankruptcy to win a series of Emmys for her work?
How have these women and others in the book taught you to make courage an everyday companion?
If a change has happened unexpectedly in your life – loss of a job, loss of a loved one – and you've had to face questions from co-workers, friends and others, like "well, what are you going to do now?" what are some of the more creative answers you've used to deal with these dreaded questions?
Have there been times when you have felt you simply could not do it all, but were ashamed to ask for help?
Can you identify the energy vampires in your life who leave you feeling mentally and physically exhausted after you've spent time with them? Discuss ways of either ditching or dealing with these "takers."
On the opposite spectrum from energy vampires is "dream catchers." Can you identify the dream catchers in your life? Deborah's was the blue-haired lady.