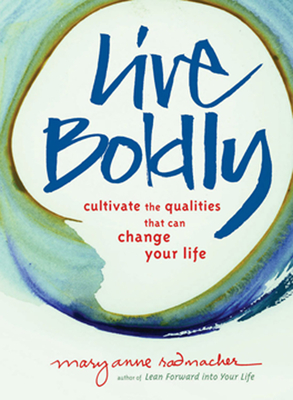 Live Boldly
Cultivate the Qualities That Can Change Your Life
Paperback

* Individual store prices may vary.
Description
Mary Anne Radmacher has a way of inviting those who hear or read her words to change their lives, and in Live Boldly, she continues on that engaging path. In the book, she identifies an assortment of qualities for our life's journey and defines each as it relates to laughing loudly, loving truly, playing often, working smart, and sharing your heart. Each definition is followed by a quote, a poem, or an aphorism that explores the quality. Stories culled from Mary Anne's own life and teaching practice are followed by an invitation to readers to listen more closely to their lives, to give themselves what they need and to step back into their daily lives knowing they can choose in that moment, to live boldly by their own definition. Whether readers need or want justice or gratitude, endurance or celebration, comfort or challenge, the process is the same -- read and listen to the word, enter into its meaning in the lives of others and bring that meaning to your own life. Other qualities include generosity, compassion, leadership -- 34 in all!
Praise For Live Boldly: Cultivate the Qualities That Can Change Your Life…
"For the person who wants to make "living their life" their work of art consider "Live Boldly" by Mary Anne Radmacher. It offers gentle challenges to readers to help them reach this goal." Kathleen Sullivan, Librarian
— Reviews

"This is an amazing book. The writing is so exquisitely beautiful, the ideas so wise, and the suggested applications so sensible, that reading it is like being a member of a celestial choir--you feel an essential part of something greater than yourself, something immediate, good and lasting." Hugh Prather, author of The Little Book of Letting Go and Morning Notes
— Reviews

"Mary Anne Radmacher's second book Live Boldly offers the tools we need to move beyond merely surviving each day to living more fully and deliberately. She invites us to add special meaning to our lives by discovering and embracing what is most important and making choices that will fulfill dreams." Christine WittTrzcinski, President, Brush Dance, Inc.
— Reviews
Conari Press, 9781573243216, 196pp.
Publication Date: September 1, 2008
About the Author

Mary Anne Radmacher is a writer and an artist. She conducts workshops on living a full, creative, balanced life, teaches Internet writing seminars, and works with individual clients. She has been writing since she was a child, and she uses her writing to explore symbols and find meaning. Among her special honors she counts the respect of her peers and the friendship of children. She is the author of Lean Forward into Your Life (Conari Press, 2007), and Live Boldly (Conari Press, 2008). She lives with her husband near Seattle, Washington. Visit her online at www.maryanneradmacher.com or www.maryanneradmacher.net.

"To live boldly is to create a synthesis between your observed and your unobserved life." What do you think that means? What does "to live boldly," mean to you?
Mary Anne suggests it's possible to cultivate qualities we don't naturally possess. Does our nature determine our qualities? Is it really possible to change our own lives?
"Everybody picks things to believe in. I believe I'll believe in this." Do you agree that people CHOOSE what they will believe in? Or do beliefs just sort of happen as a function of our parents and our community? What do you BELIEVE IN? What did you CHOOSE to believe in? What beliefs do you have that you didn't CONSCIOUSLY choose?
Ten consistent elements of a life lived boldly are listed in the afterword. What are ten consistent elements in your bold day?
The phrase "don't wait" is repeatedly used in the afterword. What is the significance of not waiting to which Mary Anne is referring? Isn't waiting part of being patient?
Mary Anne uses her life experiences to inspire others to cultivate the qualities that can change their lives. If you were to write a book from your own experience what would it be called and what would it be about?
Many events that Mary Anne shares could be classified as "failures," although she has a slightly different attitude toward failure than many folks do. How could that attitude have an impact on your day?
"The most significant elements in my days are laughter, learning, and applying my finest efforts to each endeavor." Do you identify with this? What would you say are the most significant elements of your days?
"Those who have entertained my life with their challenge and difficulty, those who see me through the lens of both adversary and adversity…I thank you for the profound lessons you have offered me in living my life boldly. While I will not name you, I most certainly will always remember you." Why does Mary Anne end her book expressing gratitude to her adversaries and adversities?
Is it really possible to live your life "as if no one were watching?" When? How might this change your experience today?