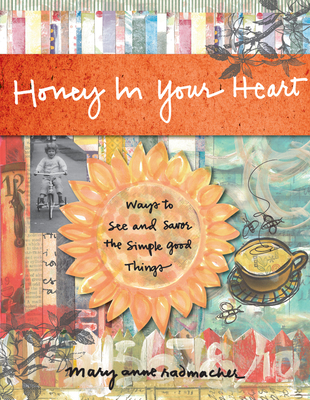 Honey in Your Heart (Hardcover)
Ways to See and Savor the Simple Good Things
Conari Press, 9781573244794, 96pp.
Publication Date: March 1, 2012
* Individual store prices may vary.
Description
In this delightful, beautifully illustrated gift book, Radmacher shares the many ways we can add honey into our daily lives, celebrating the good things around us and in each other. With original fourcolor lettering, art, design, motivational quotes, poems, and aphorisms about the importance of savoring the simple good things in life, she offers a funny, sweet, and perfect gift for any occasion.
Honey in Your Heart is filled with touchstones to connect readers to their own rich and poignant daily experiences, and live a more joyful and inspired life. Radmacher's lively original art and signature lettering make this book a keepsake.
About the Author

Mary Anne Radmacher is a writer and an artist. She conducts workshops on living a full, creative, balanced life, teaches Internet writing seminars, and works with individual clients. She has been writing since she was a child, and she uses her writing to explore symbols and find meaning. Among her special honors she counts the respect of her peers and the friendship of children. She is the author of Lean Forward into Your Life (Conari Press, 2007), and Live Boldly (Conari Press, 2008). She lives with her husband near Seattle, Washington. Visit her online at www.maryanneradmacher.com or www.maryanneradmacher.net.