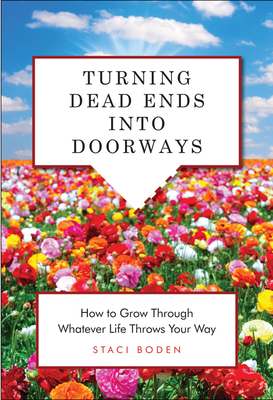 Turning Dead Ends into Doorways
How to Grow through Whatever Life Throws Your Way
Paperback

* Individual store prices may vary.
Description
Whether we like it or not, control is an illusion. God and the universe laugh when we make plans. We can try hard to materialize something--a new job, the perfect body, trust, our dream partner, inner peace--without success. And sometimes life deals unexpected blows: illness, divorce, death. Turning Dead Ends Into Doorways: How to Grow Through Whatever Life Throws Your Way introduces eight teachers to help us navigate the unknown in daily life--fear, awareness, choice, body, intuition, energy, intention and surrender.
With compassionate honesty and a practical sense of humor, healing practitioner Staci Boden shows her readers how to navigate change without clinging to false notions that if they just do this or think that they can dertermine what happens next. How to let go of false expectations and still make excellent choices. How to grow and heal no matter what life throws their way...
Praise For Turning Dead Ends into Doorways: How to Grow through Whatever Life Throws Your Way…
"Turning Dead Ends into Doorways offers up a complete and masterful healing journey. It offers, in the most holistic way I've seen it offered, practical guidance to support each of us in becoming who we are next meant to be. This book will change your life if you let it. Buy it. Read it. Live it. You won't be sorry." Alana Sheeren, grief/life coach and blogger
— Reviews

"To today's anxious, frenzied world, Staci Boden offers a big in-breath. In Turning Dead Ends into Doorways, she lays out the path of 'Practical Spirituality.' Rooted in the ups and downs of daily family and work life, the path embraces the Divine by opening compassionately to the unknown within and without. Boden walks her talk, and as we follow her through the challenges and traumas of her life as a wife, mother, friend, birthing doula and healer, we grow along with her. A candid, rare and immensely helpful book, especially for women in transition or crisis." --Meg Lundstrom, author of What to do When You Can't Decide
— Reviews

"An enlightening, deep, real, illusion-busting, door-opening must read if you are seeking your own real-life answers and personal strength. I love that Ms. Boden isn't afraid to delve into the nitty gritty aspects of real living. Written in a down-to-earth, personal style with deep compassion for the human experience and mystery of life, this treasure is a potent guide to practical living. You'll want to devour every line and put it to work in your life right away." --Colleen Deatsman, author of The Hollow Bone: A Field Guide to Shamanism and Seeing in the Dark: Claim Your Own Shamanic Power Now and in the Coming Age
— Reviews

"Staci Boden opens a dialogue to Life's eight great teachers through stories that will inspire you and activate your own story. She is a woman who has walked her talk. Turning Dead Ends into Doorways comes at a time when all of us are seeking a way out of the chaos. This practical guide can help us embrace our fear of change by letting go and allowing Life's Mystery to reveal the way." --Jyoti, Spiritual Director, Center for Sacred Studies; Ambasssador, International Council of Thirteen Indigenous Grandmothers
— Reviews

"Staci Boden is the ideal guide for navigating the unknown. She is the wise friend, the generous teacher, the compassionate soul-sister you've always wished for. In this book, Staci introduces a practice and a path that will help you move from control to trust, no matter what challenges you are facing. If you are seeking a practical spirituality that makes deep wisdom accessible (and applicable) in everyday life, this is the book for you. If you would like to awaken your capacity to experience grace and gratitude--in any circumstance--this is the book for you. Staci has transformed my appreciation for life as it as--while awakening the possibilities for life as it could be." --Sage Cohen, author of The Productive Writer and Like the Heart, the World
— Reviews
Red Wheel, 9781573244916, 256pp.
Publication Date: September 1, 2012
About the Author

Staci Boden is a San Franciscobased writer, healing practitioner, and energy worker. Through her company, DancingTree Consulting, Staci works with individuals and groups to help transform decisions, projects, and relationships. She sees private clients as well as leads personal and spiritual development workshops in energy work, sacred dance, breathwork, and guided visualization to help people learn how to navigate life. Please visit her at www.dancingtree.com, via twitter at @staciboden, via LinkedIn at http:;;www.linkedin.com;in;staciboden and via facebook at https:;;www.facebook.com;StaciBodenDancingTreeConsulting.

or
Not Currently Available for Direct Purchase