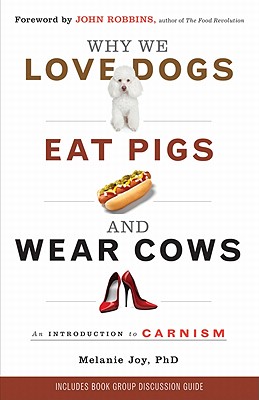 Why We Love Dogs, Eat Pigs, and Wear Cows
An Introduction to Carnism
Paperback

* Individual store prices may vary.
Other Editions of This Title:
Hardcover (11/1/2009)
Description
In this paperback edition is a foreword by activist and author John Robbins and a reader's group study guide. This groundbreaking work, voted one of the top ten books of 2010 by VegNews Magazine, offers an absorbing look at why and how humans can so wholeheartedly devote ourselves to certain animals and then allow others to suffer needlessly, especially those slaughtered for our consumption.
Social psychologist Melanie Joy explores the many ways we numb ourselves and disconnect from our natural empathy for farmed animals. She coins the term "carnism" to describe the belief system that has conditioned us to eat certain animals and not others.
In Why We Love Dogs, Eat Pigs, and Wear Cows Joy investigates factory farming, exposing how cruelly the animals are treated, the hazards that meatpacking workers face, and the environmental impact of raising 10 billion animals for food each year. Controversial and challenging, this book will change the way you think about food forever.
Praise For Why We Love Dogs, Eat Pigs, and Wear Cows: An Introduction to Carnism…
"An absorbing examination of why humans feel affection and compassion for certain animals but are callous to the suffering of others." Publishers Weekly
— Reviews

"This eyeopening book makes us question what we really mean when we say we love animals. Anyone who has ever loved a dog or a cat or a hamster or a bird will find abundant food for thought here." John Robbins, author of Diet for a New America, The Food Revolution, and Healthy at 100
— Reviews

"An altogether remarkable book that could transform the way society feels about eating animals." Jeffrey Moussaieff Masson, author of The Face on Your Plate
— Reviews

"A thoughtful book full of substance and style. It should be required reading for anyone interested in what we eat and why." Kathy Freston, author of the New York Times bestselling Veganist and Quantum Wellness
— Reviews

"One of the most thoughtprovoking books in decades. The realization that we've been conditioned throughout our entire lives to think and act a certain way toward animals, and that we've been so disconnected from ourselves and our fellow beings, gives us a chance to make our choices freely." Heather Mills
— Reviews
Red Wheel, 9781573245050, 216pp.
Publication Date: September 1, 2011
About the Author
Melanie Joy, PhD
, EdM, is a Harvard-educated psychologist, celebrated speaker, organizational consultant, and relationship coach. Dr. Joy has given talks and trainings on six continents and in forty countries, and her work has been featured in major media outlets around the world, including the BBC, NPR, ABC Australia, Spiegel, and the
New York Times
. Dr. Joy is the eighth recipient of the Ahimsa Award. She is also the founding president of Beyond Carnism and the cofounder of ProVeg International.

John Robbins is the author of the bestselling The Food Revolution, Diet for a New America, and No Happy Cows. His life and work have been featured on PBS.

or
Not Currently Available for Direct Purchase