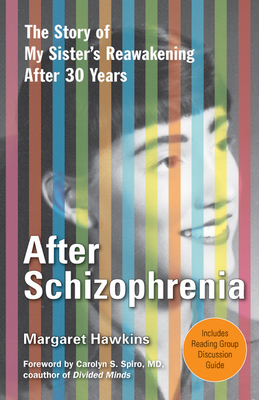 After Schizophrenia (Paperback)
The Story of My Sister's Reawakening After 30 Years
Conari Press, 9781573245357, 256pp.
Publication Date: October 1, 2011
* Individual store prices may vary.
Description
Schizophrenia affects more than 3 million American adults. Despite being classified as a severe mental illness, a brain disease that can be treated, it remains misunderstood. Schizophrenia still carries a stigma that too often devastates and silences families.
For 30 years, Margaret Hawkins' sister Barb lived cloistered in her family home in suburban Chicago, a prisoner of undiagnosed schizophrenia. Hearing voices and paralyzed with fear, she was never evaluated, never treated, and refused to leave the house.
After Schizophrenia is the story of Barb's descent into severe mental illness and the healing that has come only in recent years: after her parents' death when Margaret became her guardian. With uncanny grace and humor, Margaret chronicles her family's struggle with Barb's mental illness, the love that carried them through, and the virtual army of healthcare angels willing to come to Barb's aid. This is an extraordinary story of severe mental illness and the healing that is possible with prompt diagnosis, good drugs, good care, and a fierce belief in the power to get well.
About the Author

Margaret Hawkins teaches writing at the School of the Art Institute of Chicago and was an art critic for the Chicago SunTimes for more than two decades. She is also a Chicago correspondent for ARTnews. Her essays have appeared in a variety of national publications. Her debut novel, A Year of Cats and Dogs, published last year to strong reviews and her new novel, How to Survive a Natural Disaster, publishes this fall.


Carolyn S. Spiro, MD is a coauthor of Divided Minds.

Praise For After Schizophrenia: The Story of My Sister's Reawakening After 30 Years…
"I was up all night reading After Schizophrenia. In writing this compelling and beautifully written book, Margaret Hawkins joins pioneers in truth, like John Nash of A Beautiful Mind, by opening another door on this strangely dark place and allowing the light of experience to shed understanding and compassion. After Schizophrenia gives hope to all. I loved this book and thank Margaret Hawkins for having the courage to write it, her family for living through it." Judy Collins, singer, songwriter, and social activist

"An outstanding tribute to the power of love and persistence." Midwest Book Review

"An unflinching account of a family's struggle to come to terms with an adult child's severe mental illness and find hope and love on the other side. What is shows us, once again, is that most of what we think we know about mental illness is just plain wrong." Mark Vonnegut, M.D., author of Eden Express and Just Like Someone Without Mental Illness Only More So

"A beautifully crafted story of immense compassion and subtle humor that held me in thrall from the first page to the last." Margaret Moorman, author of My Sister's Keeper

"A compelling family memoir, written with a deep understanding of the complex ties that bind us." Evelyn Renold, AARP
or
Not Currently Available for Direct Purchase