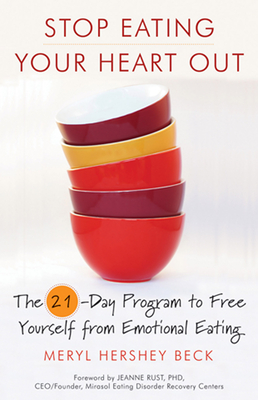 Stop Eating Your Heart Out (Paperback)
The 21-Day Program to Free Yourself from Emotional Eating
Conari Press, 9781573245456, 256pp.
Publication Date: April 1, 2012
* Individual store prices may vary.
Description
Stop Eating Your Heart Out speaks to anyone's challenges with food, weight, and emotional eating, and then offers a multitude of effective self-help tools. As the author discloses her very personal struggle with food and out-of-control eating, she is telling the story of millions of others who use food to self-soothe. The book's focus, however, is on recovery. In her wisdom as a licensed professional clinical counselor, the author enumerates methods that have worked for her and her clients over the past twenty years. Tools for recovery include Emotional Freedom Techniques (EFT), Inner Child work, 12 Step recovery, journaling, creative visualization, meditation, gratitude, conscious living, and so much more. Compulsive overeating is conquerable. If you, or anyone you love, want freedom from emotional eating, this book is for you.
About the Author

Admired for her authenticity, Meryl Hershey Beck, a licensed professional clinical counselor, is appreciated and respected for her clarity and constancy in doing the hardcore work in finding no-kidding solutions to end the misery of addictions. She spent the first half of her life as a closet eater, gaining weight and feeling overwrought. Once she became active in 12 Step support groups, the bingeing fueled by anxiety, low self-esteem, and the desire to escape started to wane. Intent on uncovering the root cause of her overeating, Meryl began to incorporate other modalities in her quest for self-understanding. As a counselor, teacher, and author, Meryl joyfully shares these many tools and techniques that skyrocket personal growth and curtail emotional eating. Visit her at www.stopeatingyourheartout.com.


Jeanne Rust, CEO and founder of Mirasol Eating Disorder Recovery Centers

Praise For Stop Eating Your Heart Out: The 21-Day Program to Free Yourself from Emotional Eating…
"Meryl Hershey Beck has presented 21 self-help tools in her thoughtprovoking, beautifully written Stop Eating Your Heart Out. She creatively and artfully takes us along on her journey as she combines triedand truerecovery methods, such as the 12 Steps, with the new energy techniques. If you have a problem with overindulging and using food instead of dealing with feelings, then open this book and discover for yourself that you too can achieve freedom from emotional eating." --Dr. James Durlacher, DC, author of Freedom from Fear Forever
— Reviews

"An excellent resource. Here you will learn how to understand varieties of problems that contribute to overeating and how to sort these out. Helpful exercises at the end of each section will guide you on your path to a healthier, happier life." --Daniel J. Benor, MD, ABIHM, author of Seven Minutes to Natural Pain Release
— Reviews

"Meryl has written a book that illuminates the true path to recovery from compulsive eating." --Jeanne Rust, PhD, CEO;Founder Mirasol Eating Disorder Treatment Centers
— Reviews

"This is one of the best books on eating disorders that I have seen." -Daniel J. Benor, MD, ABIHM, author of Seven Minutes to Natural Pain Release
— Reviews

"Meryl Beck integrates some of the most effective weight management tools available into a 21day plan that will empower you. You will also be able to identify with the author's personal story in ways that will be highly instructive for meeting your own challenges. We highly recommend this superb program." Donna Eden and David Feinstein, PhD, co-authors of Energy Medicine and Energy Medicine for Women
— Reviews

"An excellent resource. Here you will learn how to understand varieties of problems that contribute to overeating and how to sort these out. Helpful exercises at the end of each section will guide you on your path to a healthier, happier life." --Daniel J. Benor, MD, ABIHM, author of Seven Minutes to Natural Pain Release
— Reviews

"This is one of the best books on eating disorders that I have seen." -Daniel J. Benor, MD, ABIHM, author of Seven Minutes to Natural Pain Release
— Reviews

"Meryl Beck's Stop Eating Your Heart Out is a must-have for anyone searching to make peace with food, weight, body image, and self-esteem because you will find that safe haven you are looking for right here. It is truly food for the soul. Meryl takes this complex and important issue that plagues millions and breaks it down into bite-size, palatable pieces that you can easily digest and lovingly weave into your everyday life. Plus, you will get the pleasure of absorbing all the soul-filled nutrients that are present on each page. I highly recommend this book. Your life will never be the same." --Bronwyn Marmo, bestselling author of The Food is a Lie: The Truth is Within
— Reviews

"Meryl Beck integrates some of the most effective weight management tools available into a 21-day plan that will empower you. You will also be able to identify with the author's personal story in ways that will be highly instructive for meeting your own challenges. We highly recommend this superb program." -Donna Eden and David Feinstein, PhD, co-authors of Energy Medicine and Energy Medicine for Women
— Reviews

"Beck, a licensed therapist with extensive experience treating eating disorders, takes a multifaceted approach to helping those with clinical eating problems overcome them. The book barely mentions food per se, but rather views eating disorders as brain-generated conditions, thus potentially brain-cured. A variety of approaches are suggested--one for each of the title's 21 days. Among the solutions offered are a 12-step program modified from Alcoholics Anonymous, journaling, finding a support group, developing spiritual growth through prayer and meditation, creative visualization, and undertaking personal energy work. An appendix includes a listing of various 12-step groups, online resources for information on eating disorders as well as eating disorder treatment centers, and, finally, an extensive list of recommended reading. VERDICT This book is not recommended for dieters but rather those with clinical eating disorders ready to undertake a great deal of work to seek treatment and wellness. Best for specialized health collections and public libraries with large health collections." --Olga B. Wise, Library Journal
— Reviews

"Stop Eating Your Heart Out is rich with powerful tools to heal overeating. If you are ready for change and want compassionate and nurturing support on your journey, this book may just be the recipe." --Sylvia Haskvitz, author of Eat by Choice, Not by Habit
— Reviews