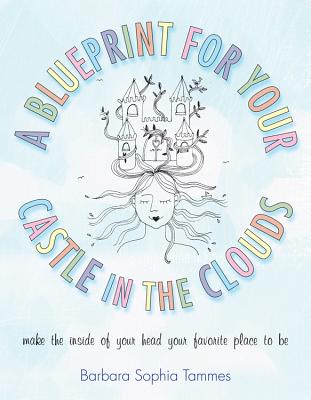 A Blueprint for Your Castle in the Clouds (Paperback)
Make the Inside of Your Head Your Favorite Place to Be
Conari Press, 9781573245814, 160pp.
Publication Date: January 1, 2013
* Individual store prices may vary.
Description
Longing for a retreat? A safe haven where you can disappear from the world for awhile? A Blueprint for Your Castle in the Clouds is an inspirational guide that will help you lighten up your life by showing you how to design twentyfive mind expanding rooms to uncloud your thinking and create new opportunities in your life. Every room in your Castle in the Clouds has a special meaning and offers new insights perspectives to look at yourself in a completely new and original way.
This beautiful book with the author's charming fourcolor illustrations includes blueprints for:

The Mental Spa: For inner cleansing of intrusive, bothersome thoughts.
The Royal Suite of Evil: Where your dark side will be so comfortable you'll always know where it is (and it will stop surprising you at inopportune times).
A Small Chapel for Your Soul: Where you can release your ego and let go of false ideas.
The Hall of Tears: Where you are allowed to cry as much as you want.
The Library: Where you learn to trust your intuition when facing a problem or dilemma.
The Kitchen: Helps digest information and things that have been said to you.
About the Author

Barbara Tammes has worked as an award-winning creative director for major European advertising agencies in Amsterdam, London, Milan, and Cape Town.
She lives on a farm outside Amsterdam with her family.
Visit her at barbaratammes.com.

Praise For A Blueprint for Your Castle in the Clouds: Make the Inside of Your Head Your Favorite Place to Be…
"An inspiring tribute to the power and importance of your imagination. A book to cherish." --Glamour magazine

"Barbara Tammes has built a wonderful space for creating an unconditional life. Her castle in the clouds is an attractive and profound tool." - Deepak Chopra, author War of the Worldviews

"Imagine your most perfect magical land to live in. . . and now, poof, you're in! So much joy! So much creativity! Barbara Tammes shows us how to transform our most enchanting fantasy into a reallife domain. She convinces us that anything is possible and helps us lay the foundation for our very own castle in the clouds." Tara Stiles, founder of Strala Yoga, New York, and cocreator, with Deepak Chopra, of Authentic Yoga

"Turning Dead Ends into Doorways offers up a complete and masterful healing journey. It offers, in the most holistic way I've seen it offered, practical guidance to support each of us in becoming who we are next meant to be. This book will change your life if you let it. Buy it. Read it. Live it. You won't be sorry." Alana Sheeren, grief/life coach and blogger

"Why shouldn't everyone have an imaginary happiness spa? Tammes thinks it's such a great idea that she's written a book telling us how to create one. The book begins with directions to three inner prefab castles readers can use while they are building their own custom relaxation mansions. Then she gives us blueprints for 22 "truly interior" spaces, along with the tools to decorate them as we wish. With whimsical illustrations by the author, this is a funfilled, inspirational gem." --Anna Jedrziewski, Retailing Insight, February 2013