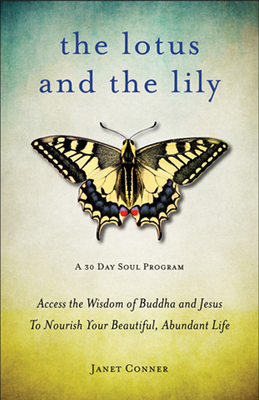 The Lotus and the Lily (Paperback)
Access the Wisdom of Buddha and Jesus to Nourish Your Beautiful, Abundant Life
Conari Press, 9781573245869, 288pp.
Publication Date: October 1, 2012
* Individual store prices may vary.
Description
From the bestselling author of Writing Down Your Soul comes a new book based on the teachings of Jesus and Buddha about how to create an abundant life by focusing your attention on your connection with the vibrant presence of the divine within. The Lotus and the Lily offers a new 30-day program for accessing your true creativity, breakthrough thinking, and divine guidance. Janet Conner continues her unique method of deep soul writing by showing readers how to exit their conscious minds, get in touch with their authentic selves, and activate the voice of wisdom within.
The Lotus and the Lily reveals:

The cosmic power of the intention mandala to reveal the life you want
Soul Slinky waves of intention and gratitude
Awaken your inner shaman
Discover the power of naming your past and your future
How to experience the generative power of your own voice.
Each day includes prompts for reading, reflection, writing, exploring, and nourishing one's soul writing. Each week Janet Conner takes the reader through a program of rich exploration.
For those seeking the riches that lie beyond the popular explanation of the Law of Attraction, The Lotus and the Lily cracks the abundance code by linking the wisdom of the inner voice with the surprising parallel teachings of Buddha and Jesus. In a profound yet simple program, Conner sheds radical new light on the "Great Paradox of Prosperity" and redirects readers from asking for things to creating the receptive conditions that nourish a bountiful life.
Feeding the spiritual hunger for transformative living, Janet Conner teaches us how to hear the spiritual masters with fresh ears, explore the deep intelligence of our own soul, create brand new prosperity practices, and integrate those practices into our daily lives.
About the Author

Janet Conner is a popular writer and speaker with a simple message: We all have innate spiritual intelligence; we just need to know how to activate it. In her books, events, and worldwide courses, Janet shares practical spiritual tools that engage your soul, activate your divine voice, and magnify your creative potential. Janet is the author of its companion journal, My Soul Pages (Conari Press, 2011). Previously, she created Spiritual Geography, the soul writing system that heals the broken heart. Janet lives in Florida where she is exploring the ultimate question: What does your soul want? Visit her at writingdownyoursoul.com.

Praise For The Lotus and the Lily: Access the Wisdom of Buddha and Jesus to Nourish Your Beautiful, Abundant Life…
"The Lotus and The Lily is simply divine. Janet Conner takes us beyond the Law of Attraction through her deeply transformative practice where we learn to create the conditions for manifestation. After participating in Janet's program, I have experienced a shift in focus--from wants, needs and worries--to creating the conditions in my life for manifestation to appear. This shift has made all the difference." Laura Harvey, Editor of Daily Word, an inspirational booklet read by over 800,000. Laura Harvey invited Janet to write the feature article, "How to have a conversation with God" for the March/April 2010 edition
— Reviews

"The Lotus and the Lily is a healthy corrective for the egodriven, materialistic interpretation of spirituality that is epidemic in our culture. Spirituality is not about getting your stuff. It is about developing a closer relationship with the Transcendent, however named, as Janet Conner makes clear." Larry Dossey, MD, author of Healing Words and The Power of Premonitions
— Reviews

"Janet Conner has emerged as a vibrant and innovative spiritual teacher. In her new book, The Lotus and the Lily, Janet unlocks vital secrets to manifestation. She has created a process that helps people create their relationship to the divine and set the stage to receive what we desire in alignment with our highest good. She teaches a myriad of techniques, including an unusual way to use the mandala. A born teacher, Janet's fascination for spiritual connection and learning guides her to take complex spiritual principles and turn them into stepbystep practices and processes that will transform your relationship to giving and receiving. Her wisdom is vast and she will be a beacon in the field for years to come. My mandala reminds me daily of staying connected to my trusted source and keeps me centered on the importance of creating a receptive context. Janet has a key piece of the spiritual puzzle--this book will move you way ahead on your spiritual journey." Gail McMeekin, author of The 12 Secrets of Highly Successful Women and The 12 Secrets of Highly Creative Women
— Reviews

"The principles that Janet Conner guides the reader to discover become the essential elements of a dynamic spiritual practice. These principles transcend denomination and dogma. They are practical, universal and impacting." --Mary Anne Radmacher, artist and author Live with Intention and Lean Forward into Your Life
— Reviews

"The Lotus and the Lily is an invitation to experience more of everything that life has to offer. Wise, warm, and friendly, this is an essential guide to living the adventure of your soul." --Joel Fotinos, author of Think and Grow Rich Every Day
— Reviews

"Jesus said we could create heaven on earth. The Buddha said we could create the conditions for manifestation. Janet Conner tells us how. Her 30-day program is spiritual yet imminently practical, deeply serious yet lots of fun. This is a step-by-step guide to expressing our own divinity." --Ellen Debenport, author of The Five Principles
— Reviews

"Janet Conner has her priorities straight. And because she does, she's written a poetically precise guide to how we can all grow beyond 'What's in it for me?' to 'Just how do I seek first the kingdom?' Do what she says and you'll know what it means to have 'all these things' added to your very blessed life." --Victoria Moran, HHC, AADA, author of Creating a Charmed Life and Main Street Vegan
— Reviews

"Janet Connor has taken her readers from Writing Down Your Soul to fully aligning with the pure intentions of our purpose on earth. Janet's book The Lotus and the Lily lifts, lightens and leads the dedicated truth student to understanding true prosperity. Lasting prosperity is when the lower earth chakras are balanced and the heart chakra is open to allow the upper chakras of heaven to be revealed. The 'I AM' expression along with the gift of inner seeing leads the readers to a new way of existence--a life free of wanting and a joyful life of always having." --Rev. Temple Hayes, Senior Minister of Unity Campus, St Petersburg, FL and author of How to Speak Unity and The Right to Be You
— Reviews

"The Lotus and the Lily is a healthy corrective for the ego-driven, materialistic interpretation of spirituality that is epidemic in our culture. Spirituality is not about getting your stuff. It is about developing a closer relationship with the Transcendent, however named, as Janet Conner makes clear." -Larry Dossey, MD, author of Healing Words and The Power of Premonitions
— Reviews

"Janet Conner has emerged as a vibrant and innovative spiritual teacher. In her new book, The Lotus and the Lily, Janet unlocks vital secrets to manifestation. She has created a process that helps people create their relationship to the divine and set the stage to receive what we desire in alignment with our highest good. She teaches a myriad of techniques, including an unusual way to use the mandala. A born teacher, Janet's fascination for spiritual connection and learning guides her to take complex spiritual principles and turn them into step-by-step practices and processes that will transform your relationship to giving and receiving. Her wisdom is vast and she will be a beacon in the field for years to come. My mandala reminds me daily of staying connected to my trusted source and keeps me centered on the importance of creating a receptive context. Janet has a key piece of the spiritual puzzle--this book will move you way ahead on your spiritual journey." -Gail McMeekin, author of The 12 Secrets of Highly Successful Women and The 12 Secrets of Highly Creative Women
— Reviews