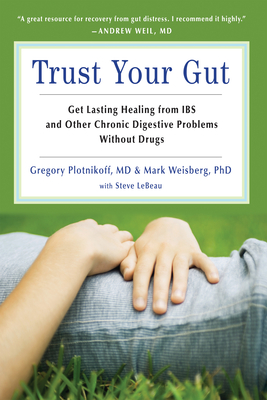 Trust Your Gut: Get Lasting Healing from IBS and Other Chronic Digestive Problems Without Drugs (Paperback)
Get Lasting Healing from IBS and Other Chronic Digestive Problems Without Drugs
Conari Press, 9781573245883, 234pp.
Publication Date: April 1, 2013
Description
Do you have an upset stomach that just won't quit? Do you often feel bloated or live with troubling intestinal pains? Do you constantly ask yourself " what can I eat and not suffer?" Do you have to know where the nearest bathroom is at all times? Have you been diagnosed with IBS yet still can't find relief?
You might be one of the more than 55 million Americans who needlessly suffer from these troubling symptoms. You may have even given up hope because you are embarrassed or exhausted.
In "Trust Your Gut" -two leading doctors in integrative medicine - a physician and a psychologist - have teamed up to develop the revolutionary CORE program. Gregory Plotnikoff, MD and Mark Weisberg, PhD offer a comprehensive, mind-body approach to healing, without the need for drugs. They are the "go to doctors" for gut distress. Their book is based on decades of clinical experience in resolving the most challenging gut symptoms.
"Trust Your Gut" will empower you to awaken your 'inner doctor," find lasting, sustainable relief and reclaim your life through making simple changes in your diet and sleep, stress reduction and more.
Learn how to:
Reduce pain and other gut symptoms naturallyPromote healthy digestion without drugsRewire your brain-gut connectionRecognize and manage the five forms of stress that lead to gut disordersRe-establish and maintain gut harmony
"Trust Your Gut" guides you on how to take control of your own gut health now
Advertisement