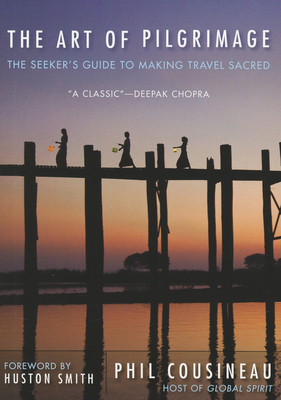 The Art of Pilgrimage
The Seeker's Guide to Making Travel Sacred
Paperback

* Individual store prices may vary.
Other Editions of This Title:
Paperback (8/27/2021)
Paperback (4/30/2000)
Description
First published in 1998 and updated with a new preface by the author, The Art of Pilgrimage is a sacred travel guide in book form that is full of inspiration for the spiritual traveler.
award-winning writer and filmmaker and host of the acclaimed Global Spirits series seen on PBS and Link TV, Phil Cousineau weaves stories, myths, parables, and quotes from famous travelers with practical suggestions and accounts of modernday pilgrims to show that there is something sacred waiting to be discovered in virtually every journey. Connecting these voices is a series of meditations that suggest different ways to practice what pilgrims and poets have done for centuries, to see with the "eyes of the heart." With more than 70 illustrations, this book is for the traveler who longs for something more than diversion and escape.
The Art of Pilgrimage shows that every journey can be sacred, soulful, and transformative if it is undertaken with a desire for spiritual risk and renewal. Whether traveling to Mecca or Memphis, Stonehendge or Cooperstown, one's journey becomes meaningful when the traveler's heart and imagination are open to experiencing the sacred.
Praise For The Art of Pilgrimage: The Seeker's Guide to Making Travel Sacred…
"If Joseph Campbell, the Dalai Lama, and Bill Moyers were to have collaborated on a book about journeys. . . I suspect it would look very much like The Art of Pilgrimage." --Austin American Statesman
— Reviews

"Pilgrim, read this book. Whatever your longing, path, or destination, Phil Cousineau gives you the most valuable gear you could pack in your satchel - how to travel outward to the edges of the world while simultaneously journey to the depths of your soul." --Anthony Lawlor, Foundation for Consciousness in Architecture
— Reviews

"Sorely needed in this dispirited and disenchanted world." --Bill Moyers
— Reviews

"A Classic." -Deepak Chopra
— Reviews
Conari Press, 9781573245937, 288pp.
Publication Date: August 1, 2012
About the Author
Phil Cousineau is a bestselling author, editor, photographer, award-winning documentary filmmaker, adventure travel leader, and independant scholar who lectures around the world on a wide range of topics from mythology, mentorship, and soul. His books include The Art of Pilgrimage, Soul Moments, Riddle Me This, and The Soul Aflame. A protege of the late Joseph Campbell, Cousineau is also the author of The Hero's Journey: Joseph Campbell on His Life and Work. He lives in San Francisco, California.