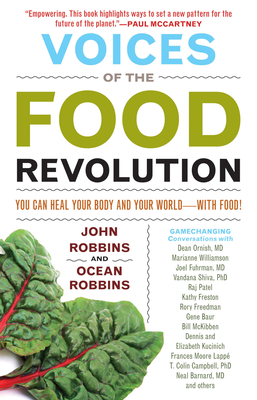 Voices of the Food Revolution: You Can Heal Your Body and Your World--With Food! (Paperback)
You Can Heal Your Body and Your World--With Food!
Conari Press, 9781573246248, 265pp.
Publication Date: May 6, 2013
Description
Over the course of nine days in the spring of 2012, John and Ocean Robbins conducted 24 deeply informative and inspiring conversations with some of the world's leading scientists, doctors, teachers, farmers, economists, and nutritionists. Broadcast worldwide at The Food Revolution Summit, they attracted more than 30,000 listeners. Another Food Summit is planned for late spring 2013.
"Voices of the Food Revolution" collects the very best of these conversations, with commentary and introductions by John Robbins, making them available in book form for the first time. Featured within are luminaries such as, Dean Ornish, Rory Freedman ("Skinny Bitch"), Kathy Freston, Verdana Shiva, and Neal Barnard.
Each contributor discusses her work in depth--from undercover videotaping at factory farms to getting wholesome food to the poor to breakthrough research on preventing and even reversing obesity, diabetes, cancer, and heart disease through plant-focused diets. Together they make one rallying cry: for a healthy, sustainable, humane, and delicious revolution in how we and the world are fed. Over twenty-five years ago John Robbins started a revolution. This book is proof of how far we've come and a call to heal ourselves and the world with food.
Advertisement