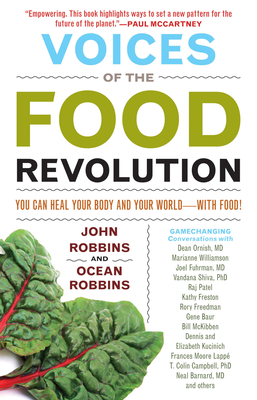 Voices of the Food Revolution (Paperback)
You Can Heal Your Body and Your World with Food!
Conari Press, 9781573246248, 288pp.
Publication Date: May 1, 2013
* Individual store prices may vary.
Description
Did you know that:

More than 80% of the foods you eat in restaurants and buy at supermarkets contain genetically engineered ingredients, and that these ingredients have been linked to toxic and allergic reactions in people; sickness, sterility, and fatalities in livestock; and damage to virtually every organ studied in lab animals?
If you don't count French fries, ketchup or pizza as vegetables, more than half of Americans eat no vegetables at all?
Cows raised for meat are impacting our climate more than cars?
It's possible to be a positive food revolutionary without sounding like a selfrighteous nag?
Join John and Ocean Robbins for 21 intimate, gamechanging conversations with some of the world's leading "food revolutionaries": scientists, doctors, teachers, farmers, economists, activists, and nutritionists working on food issues today. Introduced and with commentary by John Robbins and his son Ocean, the book features luminaries such as:

Dean Ornish, MD, on his yearsinthemaking breakthrough with Medicare (his program for healing heart disease is now covered)
Kathy Freston on making incremental, manageable changes to how we eat
T. Colin Campbell, PhD, (author of the famed China Study) with the latest research on animal protein and human health
Joel Fuhrman, MD (author of the bestselling Eat to Live), on achieving excellent health through diet
Caldwell Esselstyn, MD, of the Cleveland Clinic on wiping out heart disease by changing what we eat
Vandana Shiva, PhD, on GMOs and Big Ag
Rory Freedman on how to stop eating misery and start looking fabulous
Raj Patel on building a saner global food policy
Each contributor discusses his or her work in depth, but together they make one rallying cry: for a healthy, sustainable, humane, and delicious revolution in how we and the world are fed. Over twentyfive years ago John Robbins started a revolution. This book is proof of how far we've come, a fascinating look behind the scenes of the multifaceted food movement, and a call to join in the work of ensuring our health and food future.
About the Author

John Robbins is the author of the bestselling The Food Revolution, Diet for a New America, and No Happy Cows. His life and work have been featured on PBS.


Ocean Robbins founded and for 20 years directed Youth for Environmental Sanity (YES!), starting at age 16, and is now CEO of The Food Revolution Network. They both live in the Santa Cruz Mountains. Visit them at www.foodrevolution.org.

Praise For Voices of the Food Revolution: You Can Heal Your Body and Your World with Food!…
"The planet is under pressure and our choices have never been more important. Voices of the Food Revolution is an informative and empowering tool which highlights ways to set a new pattern for the future of the planet." Paul McCartney
— Reviews

"If optimal health ranks high on your life's priority list, then Voices of the Food Revolution may be one of the most important books you will ever read. You will thank yourself as you enjoy the blessings of food in ways you never thought possible." --Rev. Michael Bernard Beckwith, author of Life Visioning
— Reviews

"Have you ever wanted to sit down and talk to the most powerful and visionary thoughtleaders, doctors, environmentalists, and humanitarians and ask them the most important and pressing questions about food, questions that can help not only you but also the world? Now you have that chance. This riveting book of insightful interviews offers fascinating and crucial information about the most important decision we collectively make each day - what we eat. Read it for yourself. Read it for animals. Read it for the planet." Zoe Weil, president, Institute for Humane Education, author of Most Good, Least Harm, Above All, Be Kind, The Power and Promise of Humane Education and Claude and Medea
— Reviews