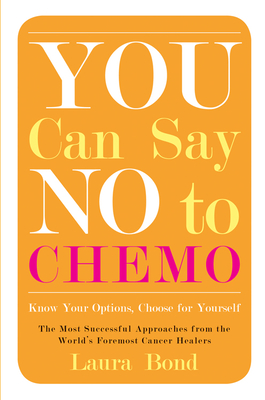 You Can Say No to Chemo (Paperback)
Know Your Options, Choose for Yourself
Conari Press, 9781573246408, 384pp.
Publication Date: January 1, 2015
* Individual store prices may vary.
Description
Remember: It's Your Body and You Do Have Choices
Beginning in 2011, journalist and health coach Laura Bond and her mother Gemma visited 60 of the world's foremost cancer specialists and healers who are getting remarkable results in treating cancer without radiation or chemotherapy. This book shares the most exciting discoveries they made in their travels. You'll read about everything from hydrogen peroxide therapies and juiced cannabis to highdose vitamin C, coffee enemas (The Gerson Method), eliminating sugar from the diet, drinking green vegetable juices, and infrared saunas.
Quick to point out that every cancer and every body is different, Bond does not offer a onesizefitsall approach but throw the doors open wide to thinking about your treatment options--and even about cancer itself--in a whole new light. This book points the way toward making informed choices, based on information, not fear.
Whether you are exploring treatment options, looking to build your body's own resources to heal and restore itself, hoping to find ways to supplement conventional care, or all of the above, look no further. This is the book you need.
About the Author

Laura Bond is a freelance journalist and certified holistic health coach. She has written for many leading UK publications including The Sunday Times, The Mail on Sunday, Tatler, Psychologies, Cosmopolitan, and Nature and Health magazine. Her Cosmopolitan features are frequently syndicated in international editions including in Italy, South America, India, Malaysia, and South Africa. She lives in London. Her mother Gemma lives in Perth, Australia. Visit Laura at www.laurabond.com.

Praise For You Can Say No to Chemo: Know Your Options, Choose for Yourself…
"Very well written and nontechnical, [this book is] an excellent source of information. Highly recommended!" Jonathan V. Wright, MD, author of Natural Hormone Replacement and founder of The Tahoma Clinic

"When it comes to building immunity and cancer prevention, there's little to rival this book. It's moving, inspirational, informative, and wonderfully uplifting all at the same time." Janey Lee Grace, UK TV and radio personality and author of Imperfectly Natural Woman and Look Great Naturally Without Ditching the Lipstick

"You Can Say No to Chemo illustrates that there may be multiple ways to eliminate cancer without radiation or chemotherapy, and that many diagnosed have done this successfully. But you must take charge! Laura Bond summarizes this very well: 'Every cancer is different, every person is different and every treatment plan will be different. There are many paths to recovery, but through my research and interviews I have found that cancer survivors often responded to their diagnoses in a similar way: they shared a tendency to view their illness not as a death threat, but as a wakeup call, and they showed a willingness to embrace radical, positive change. While it might be tempting to bury your head in the sand, abdicating responsibility won't help you heal. So rise up, read up and take the reins. The road to health starts with being fully informed.' This book--very well written and nontechnical--describes her mother's path from a diagnosis of ovarian and uterine cancer to wellness. An excellent source of information; highly recommended!"--Jonathan V. Wright, MD, author of Natural Hormone Replacement and founder of The Tahoma Clinic

"Bond doesn't provide much criticism of alternative treatments, but her goal here is not to provide a debate forum but to champion the efforts of those thinking outside the conventional medicine box. What You Can Say No to Chemo provides is information patients might never get without it, a unique resource to consult on their journey to healing." Sheila M. Trask, Foreword Reviews