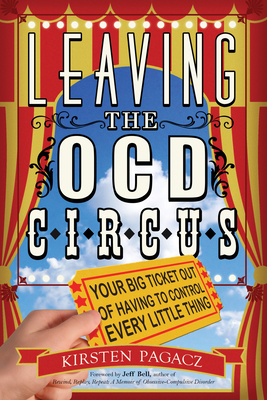 Leaving the OCD Circus
Your Big Ticket Out of Having to Control Every Little Thing
Paperback

* Individual store prices may vary.
Other Editions of This Title:
Digital Audiobook (1/15/2017)
Description
"It's like the meanest, wildest monkey running around my head, constantly looking for ways to bite me." That was how Kirsten Pagacz described her OCD to her therapist on their first session when she was well into her 30s--she'd been following orders from this mean taskmaster for 20 years, without understanding why.
Initially the tapping and counting and cleaning and ordering brought her comfort and structure, two things lacking in her family life. But it never lasted; the loathsome self-talk only intensified, and the rituals she had to perform got more bizarre. By high school she was anorexic and a substance abuser--common "shadow syndromes" of OCD. By adulthood, she could barely hide her problems and held on to jobs and friends through sheer grit. Help finally came in the form of a miraculously well-timed public service announcement on NPR about OCD--at last her illness had an identity.
Leaving the OCD Circus reveals the story of Pagacz's traumatic childhood and the escalation of her disorder--demonstrating how OCD works to misshape a life from a very young age--and explains the various tools she used for healing including meditation, cognitive behavioral therapy, yoga, exposure therapy, and medication. Pieces of her art scattered throughout the book add depth and humor to her stories.
Praise For Leaving the OCD Circus: Your Big Ticket Out of Having to Control Every Little Thing…
"…a compendium of useful information about the disorder and how to best manage it. Drawing on what worked for her, and based on researching expert advice, chapters contain a summary of useful tips and key points to remember. The result is educational and inspirational." --Dan Kalb, PhD, Psychologist, OCD specialist
— Reviews

"It wasn't until her future husband heard a public service announcement on NPR describing OCD that Pagacz was able to put a name to her condition. After 20 years of rechecking locked doors, straightening computer cords, redoing school projects, and hearing threatening voices, Pagacz finally gets treatment. Her description of her escalating illness is irreverent, brutally honest, and compelling. With the help of her doctor, she is able to gradually control her obsessive thought and compulsive acts using strategies that included observing her actions and facing down "Monkey," her mental tormentor. While triggers remain just below the surface, and Pagacz admits to relapses in stressful times, such as her wedding and starting her own business, her successes are inspiring. Excerpts from her poetry as well as thought-provoking quotes are scattered throughout the book, and important information is recapped in "Key Points to Remember" sidebars. Teens struggling with OCD will be encouraged by Pagacz's accessible story. And although there are no cures for quick fixes for the condition, according to Pagacz, her practical strategies offer hope to others facing similar struggles." --Candace Smith, Booklist, September 1, 2016
— Reviews

"Teens struggling with OCD will be encouraged by Pagacz's accessible story." --Candace Smith, Booklist, September 1, 2016
— Reviews
Conari Press, 9781573246811, 264pp.
Publication Date: October 1, 2016
About the Author
Kirsten Pagacz is the founder of Retro-A-Go-Go, an online seller of retro kitsch. She suffered from OCD for two decades before discovering that it had a name (and a cure). Before founding her own company, she worked in marketing and sales for a number of Fortune 500 companies. She is a member of the International OCD Foundation and won first place in one of their art competitions.