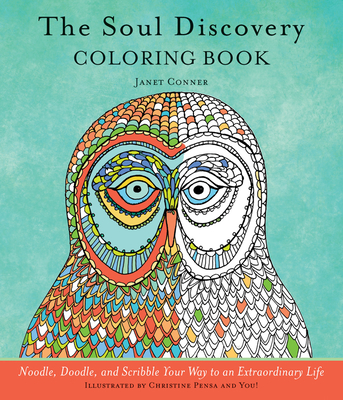 Soul Discovery Coloring Book (Paperback)
Noodle, Doodle, and Scribble Your Way to an Extraordinary Life
Conari Press, 9781573246859, 144pp.
Publication Date: March 1, 2016
* Individual store prices may vary.
Description
In Writing Down Your Soul, Janet Conner introduced tools to teach readers how to connect to the voice within where soul knowledge and spiritual breakthroughs occur: "If you want to engage in a vibrant conversation with the wisdom that dwells just a hair below your conscious awareness, write. Write every day, at approximately the same time, with passion, honesty, and the intention of speaking with and listening to the voice within." As a natural extension and follow-up to Writing Down Your Soul, here is a companion coloring book that offers a powerful catalyst for accessing the knowledge already deep within you.
Structured around 22 key questions to ignite the imagination, such as "When I look out, what do I see?" "When I look in, what do I see?" and "If I could create the perfect gate to my extraordinary life, what would it look like?" The Soul Discovery Coloring Book invites readers to:

Noodle: use silence, reflection, staring off into space, allowing images to come
Doodle: not drawing to replicate, but allowing
Color: allowing the colors to choose you
Scribble or soul write: scribbling because when we soul write we write fast and messy to get ahead of our conscious mind
For each of the 22 key questions there are 4 pages: the first poses and explores the question and provides an image to color, the second provides an image to color plus space to scribble and doodle, the third offers a quote or small inspiration design for free drawing, and the fourth offers blank space to allow the reader to complete their exploration through writing or coloring.
Adult coloring books are all the rage and The Soul Discovery Coloring Book comes with the added benefit of helping readers to reach deep within themselves to connect with the divine. The result? The reader not only colors a beautiful picture, but also creates a beautiful life.
About the Author

Janet Conner is a popular writer and speaker with a simple message: We all have innate spiritual intelligence; we just need to know how to activate it. In her books, events, and worldwide courses, Janet shares practical spiritual tools that engage your soul, activate your divine voice, and magnify your creative potential. Janet is the author of its companion journal, My Soul Pages (Conari Press, 2011). Previously, she created Spiritual Geography, the soul writing system that heals the broken heart. Janet lives in Florida where she is exploring the ultimate question: What does your soul want? Visit her at writingdownyoursoul.com.

Praise For Soul Discovery Coloring Book: Noodle, Doodle, and Scribble Your Way to an Extraordinary Life…
"This astonishing little book unleashed my wildly joyous and deeply wise inner child. May she never return to captivity!" -Mirabai Starr, author of God of Love and Caravan of No Despair
— Reviews

"Janet and Christine offer such a delightful, whimsical, and soulful gift to the world. I love finding new pathways for the arts to lead me to Spirit and my own true voice, and this is such a delicious roadmap!" -Christine Valters Paintner, PhD, author of nine books including Illuminating the Way: Embracing the Wisdom of Monks and Mystics
— Reviews

"The Soul Discovery Coloring Book takes an adventurous and inspired approach to how to have fun connecting deeply with your soul. It is the 'there is no box' inspiration that makes this book truly captivating and delightful." - Lisa Hagan, literary agent and publisher
— Reviews

"Inviting. Engaging. Spiritually enlightening. This is a rich discovery tool that embraces the mind, the spirit, and the body. The illustrations are delightful. I want to hear that owl; I want to sit in the rocking chair. If you are already a journal keeper, this will enrich your experience. If you want to start, this will get you going." - Mary Anne Radmacher, author of Live with Intention and Courage Doesn't Always Roar
— Reviews

"Are you ready to unleash your inner creator? We all have one. Jump into this mystical journey of transformation, guided by Janet's words and Christine's images, and watch your imagination and inner wisdom blossom with surprises of color, and precious gifts. This book is an inspired Joy Ride for your Soul! Share it!" - Gail McMeekin, author The 12 Secrets of Highly Creative Women
— Reviews

"The Soul Discovery Coloring Book takes an adventurous and inspired approach to how to have fun connecting deeply with your soul. It is the 'there is no box' inspiration that makes this book truly captivating and delightful." - Lisa Hagan, literary agent and publisher
— Reviews