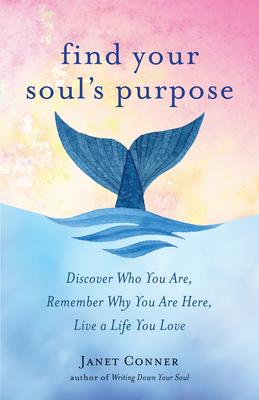 Find Your Soul's Purpose (Paperback)
Discover Who You Are, Remember Why You Are Here, Live a Life You Love
Conari Press, 9781573246866, 256pp.
Publication Date: April 1, 2017
* Individual store prices may vary.
Description
This is a book about identity, calling, and living a life infused with meaning and purpose. Janet Conner confronts the three big questions that every thoughtful person asks: Who am I? Why am I here? What is my purpose?
Janet's premises are as follows: each of us has a divine purpose, and each of us contains a divine GPS to the soul--an inner guide. And she believes it is critical that each of us connect with that inner guide in order to embrace our individual spiritual gifts and discover our true purpose.
Finding your soul's divine purpose, says Conner, is not just one thing, it is a whole package of things including gifts, talents, teachers, symbols, stories, and even shadows, wounds, and woes. Unwrapping that package is why we are here and is what enables us to live a life infused with meaning and joy.
In 7 chapters, Conner leads the reader on a journey of self-discovery.
She instructs readers to:

Feed your divine spark.
Listen to your soul's stories.
Honor your soul's birth choice.
Remember your soul's divine purpose.
Revisit, reset, and remember your past.
Serve your soul's divine purpose.
Live a life you love.
Conner's writing is inclusive, wise, generous, and practical. Filled with meditations, anecdotes, and exercises, this book will appeal to a wide range of spiritual seekers looking for purpose, happiness, and love.
About the Author

Janet Conner is a popular writer and speaker with a simple message: We all have innate spiritual intelligence; we just need to know how to activate it. In her books, events, and worldwide courses, Janet shares practical spiritual tools that engage your soul, activate your divine voice, and magnify your creative potential. Janet is the author of its companion journal, My Soul Pages (Conari Press, 2011). Previously, she created Spiritual Geography, the soul writing system that heals the broken heart. Janet lives in Florida where she is exploring the ultimate question: What does your soul want? Visit her at writingdownyoursoul.com.

Praise For Find Your Soul's Purpose: Discover Who You Are, Remember Why You Are Here, Live a Life You Love…
"Here's the secret to Janet Conner's wonderful new book Find Your Soul's Purpose: your soul's purpose is you at this very moment. The sacred path she offers you doesn't lead to your soul's purpose; rather each step is your soul's purpose. She isn't teaching something you don't know, but pointing out the simple truths you have forgotten how to see. Don't think--look!" --Rabbi Rami Shapiro, author of Perennial Wisdom for the Spiritually Independent

"Discerning our life mission is a central task for conscious spiritual seekers of any faith or tradition. Find Your Soul's Purpose offers thoughtful reflections and meaningful exercises to help you do just that. It's a delightful book, filled with gentle wisdom and playful practices that will help anyone discover their own innate genius." --Carl McColman, author of Christian Mystics and Answering the Contemplative Call

"Come and take a deep dive with Janet's magic whale into the depths of your inner brilliance to weave together the tapestry of your soul's purpose. As you circle through the spiral with Janet's exceptional guidance, you will be flooded with memories and invaluable re-discoveries of your creative destiny, so that you can now fully step into your soul's path joyfully and with certainty. Janet is indeed one of the most innovative spiritual teachers of our time." --Gail McMeekin, executive creative career coach and author of 6 books including The 12 Secrets of Highly Creative Women and The Power of Positive Choices

"This beautifully written book is a call to remembrance, in the most sacred sense. Perennial wisdom teachings suggest that we are each uniquely designed for a particular task in this world, and its truest indicator is joy. If the search for what is ours to do fills us with grim guilt, we can be sure it is leading away from our soul's purpose. When we grow quiet inside and allow our heart to guide us home, we inevitably uncover the treasure we are meant to offer this beautiful broken world." --Mirabai Starr, author of GOD OF LOVE: A Guide to the Heart of Judaism, Christianity & Islam and CARAVAN OF NO DESPAIR: A Memoir of Loss & Transformation

"In Find Your Soul's Purpose, Janet Conner opens a treasure chest of life tools, spiritual practices and inspiring stories of personal transformation, all aimed to help seekers discover that we are each part of a larger 'hidden treasure' discovering itself." --Neil Douglas-Klotz, author of Desert Wisdom and The Sufi Book of Life

"Discerning our life mission is a central task for conscious spiritual seekers of any faith or tradition. Find Your Soul's Purpose offers thoughtful reflections and meaningful exercises to help you do just that. It's a delightful book, filled with gentle wisdom and playful practices that will help anyone discover their own innate genius." --Carl McColman, author of Christian Mystics and Answering the Contemplative Call

"In Find Your Soul's Purpose, Janet Conner opens a treasure chest of life tools, spiritual practices and inspiring stories of personal transformation, all aimed to help seekers discover that we are each part of a larger 'hidden treasure' discovering itself." --Neil Douglas-Klotz, author of Desert Wisdom and The Sufi Book of Life

"This beautifully written book is a call to remembrance, in the most sacred sense. Perennial wisdom teachings suggest that we are each uniquely designed for a particular task in this world, and its truest indicator is joy. If the search for what is ours to do fills us with grim guilt, we can be sure it is leading away from our soul's purpose. When we grow quiet inside and allow our heart to guide us home, we inevitably uncover the treasure we are meant to offer this beautiful broken world." --Mirabai Starr, author of GOD OF LOVE: A Guide to the Heart of Judaism, Christianity & Islam and CARAVAN OF NO DESPAIR: A Memoir of Loss & Transformation