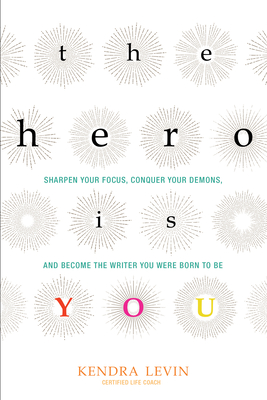 The Hero Is You
Sharpen Your Focus, Conquer Your Demons, and Become the Writer You Were Born to Be (An Open Center Book)
Paperback

* Individual store prices may vary.
Other Editions of This Title:
Digital Audiobook (2/28/2021)
Description
Imagine having your own personal mentor--someone encouraging yet honest, supportive yet empowering, who could help you set and achieve your goals, turn your moments of doubt and fear into sources of strength, and discover what you're truly capable of when you're at your best.
Kendra Levin is that mentor. And with this book, she's here to help you do the best writing of your life--and live your best life while doing it.
Using a fresh new approach to Joseph Campbell's archetypal Hero's Journey, Levin reveals how to be a hero in the narrative of your own process. She weaves together wisdom drawn from her years as a life coach for writers and an editor at the world's biggest publishing house with behind-the-scenes stories from a panoply of best-selling authors and career entertainers. With over thirty exercises designed to help you reinvent your creative process from the inside out, this book will show you how to:

Identify your biggest challenges and render them powerless
Start a project that you love--and stick with it
Design a structure for writing regularly
Whether you're a first-time writer with a brand-new project or a seasoned pro, you'll reach the end of this book feeling fulfilled, inspired, and ready to mentor the next writer on their creative journey.
Praise For The Hero Is You: Sharpen Your Focus, Conquer Your Demons, and Become the Writer You Were Born to Be (An Open Center Book)…
"The goal of certified life coach Levin's book is to aid writers in developing a deeper understanding of story structure, a grasp of the archetypes that make up a hero's journey, and a composition process that will help them feel more in tune with themselves and their voice. Levin guides readers through the labyrinth of the creative endeavor known as the "hero's journey"--a quest for identity and wholeness. Guidelines require writers to ask questions, explore their vulnerabilities, and seek mentors. Exercises and quizzes move authors toward self-examination. VERDICT This guide would serve as a valuable text for writers' groups or beginning classes on the craft." -Deborah Bigelow, Library Journal, July 1, 2016
— Reviews

"Smart, perceptive, and inspirational advice." --Susan Shapiro, New York Times bestselling author of Unhooked and Only as Good as Your Word
— Reviews

"Kendra Levin helps writers step to the plate in this much-needed guide to the brave writing life." -Eric Maisel, Coaching the Artist Within
— Reviews

"If you want to take your writing to the next level, buy this book…now!" -Arielle Eckstut and David Henry Sperry, The Book Doctors and authors of The Essential Guide to Getting Your Book Published
— Reviews

"Drawing from the mythological archetypes of Joseph Campbell, who theorized that many stories follow the universal plot arc of the "hero's journey," Levin (Arrested Development Mad Libs) has designed an extensive writing-as-therapy tool for writers. The premise of Levin's therapeutic process: being a writer and working on a project is similar to being Campbell's archetypal hero. Inspired by this conceit, Levin has expanded it into a self-analysis study for writers. To help readers tackle different writing difficulties, self-examination questions appear in each chapter; these include "what do certain fantasies offer you that you aren't getting in your real life?" and "what will happen if you continue to write nothing?" Though these questions might be apt, they also evoke a too-long psychotherapy session, and are too numerous for readers to tackle many of them in depth. Books about writing often devote ample space to becoming published, but Levin chooses to focus squarely on helping her readers establish a productive routine. Sprinkled throughout are personal accounts of writers who followed the "hero's journey" model with success. Levin's myth-inspired strategy should prove inspiring for first-time writers." - Publishers Weekly
— Reviews

"Whether your customers are professional writers, aspire to be writers, or just want to make their Facebook posts more interesting, this is the book for them. Rather than producing another book about the craft of writing, life coach Levin has written a book about the process of writing. Drawing on Joseph Campbell and Carl Jung for her basic structure, she takes writers through the creative process, one archetype on the journey at a time. From The Hero who dares to begin (and begin again, and again), to The Mentor-Hero who shows others how to begin, Levin's twelve chapters are filled with explanations, creative exercises, practical advice, and encouragement. She tells readers that they can start in the middle of the book if they want. They can work their way through it solo or in tandem with other people. Their goal can be to decide on a project, to finish a project, or to come up with an idea for a project. The journey she takes them on is meant to lead them to a customized creative process that suits them and helps them steer through their personal issues. Like a good friend, it can be relied upon for help when needed." - Anna Jedrziewski, Retailing Insight
— Reviews
Conari Press, 9781573246880, 256pp.
Publication Date: November 1, 2016
About the Author
Kendra Levin is a certified life coach for writers, as well as a children's book editor, teacher, and writer. Since 2008, she has helped writers and other creative artists all over the world meet their goals and connect more deeply with their work and themselves. She is a senior editor at Penguin Books, where she has worked for over a decade. Kendra has taught classes to everyone from media professionals to prison inmates. Visit her online at www.kendracoaching.com.