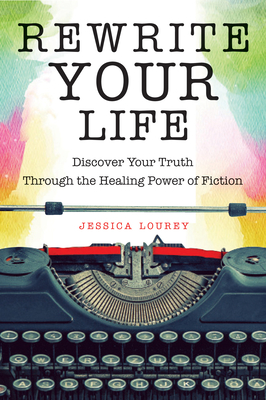 Rewrite Your Life (Paperback)
Discover Your Truth Through the Healing Power of Fiction
Conari Press, 9781573246934, 264pp.
Publication Date: May 1, 2017
* Individual store prices may vary.
Description
According to common wisdom, we all have a book inside of us. Every author calls on, crystallizes, and shades his or her life experiences to craft fiction, whether they're writing world-bending sci fi or a thinly veiled autobiography. It is precisely those most conflict-ridden moments of our lives--the tragedies, humiliations, and terrors--that shape the best stories. But how do we select and then write our most significant story--the one that helps us to evolve and invites pure creativity into our lives; the one that people line up to read? In Rewrite Your Life, creative writing professor, sociologist, and popular fiction author Jess Lourey guides you through the redemptive process of writing a healing novel that recycles and transforms your most precious resources--your own emotions and experiences.
This fact-to-fiction process provides not only the essential building blocks of best-selling novels, but is also personally transformative. Based on the process the author developed and field-tested in the wake of her husband's suicide, Rewrite Your Life is devoted to the practice of discovering, healing, and evolving through fiction writing. It combines research, practical and engaging guidance, and personal experience to meet readers where they are and take their creativity and personal growth to the next level.
Tender, raw, and laugh-out-loud funny, Rewrite Your Life offers both a map and a compass for those seeking to harvest their life experiences to heal, lead a more authentic life, and craft a rich, powerful work of fiction.
About the Author

Jessica Lourey is best known for her critically-acclaimed Murder-by-Month mysteries. Her latest book, Salem's Cipher, earned starred reviews from Library Journal and Booklist. She is a tenured professor of creative writing and sociology and a sought after workshop leader and keynote speaker. Visit her at www.jessicalourey.com.

Praise For Rewrite Your Life: Discover Your Truth Through the Healing Power of Fiction…
"It was her husband's suicide that caused Jessica Lourey to recognize that a standard fiction writer's tool is also a powerful transformative healing modality. She realized that transforming traumatic fact to fiction grants the writer perspective and an opportunity to view events with more objectivity, reviewing the situation as a third person, so that the therapeutic benefits can be distilled. In two perfectly-honed pages in the Introduction which describe the immediate aftermath of her husband's death, she tells us everything we need to know about her credibility as a teacher of creative writing in service to personal transformation. (She shares a moment when she was reduced to near helplessness and manages to salvage treasure from the jaws of defeat.) Each chapter of this powerful book begins with several really great quotes from in-the-trenches writers. It is also filled with innovative exercises that teach readers how to tap into the creative wells deep within themselves. This is one of the new genre of books which is moving self-help into the realm of miracles." --Anna Jedrziewski, Retailing Insight (formerly New Age Retailer)
— Reviews

"On occasion a gem of a book comes along. One that sticks with us and helps us to remember, we can rewrite our life. That our journey is filled with plot twists we never expected and that we can gain insights and perspective by exploring those unexpected events, or 'story food' through writing. Rewrite Your Life is just such a book. You will walk away with an understanding of how to heal through writing fiction and have the tools you need to make a difference in your own life, and everyone your life touches." --Lyssa Danehy deHart, MSW, LICSW, PCC and author of StoryJacking: Change Your Inner Dialogue, Transform Your Life
— Reviews

"Interweaving practical advice with stories and insights garnered in her own writing journey, Jessica Lourey offers a step-by-step guide for writers struggling to create fiction from their life experiences. But this book isn't just about writing. It's also about the power of stories to transform those who write them. I know of no other guide that delivers on its promise with such honesty, simplicity, and beauty." --William Kent Krueger, New York Times bestselling author of the Cork O'Connor Series and Ordinary Grace
— Reviews

"My favorite kind of self-help book: irreverent, personal, and superbly useful." --Jen Mann, New York Times bestselling author of People I Want to Punch in the Throat
— Reviews

"Part how-to, part memoir, part so-funny-that-reading-it-in-public-was-difficult-without-disturbing-others, this is a book to give anyone who wants to be a writer, or a better one, anyone who thinks they have a story to tell. Which is everyone. Buy this book for everyone. Except me, I already have one and no you can't borrow it." --Nora McInerny Purmort, author of It's Okay to Laugh: (Crying Is Cool Too) and host of the "Terrible, Thanks for Asking" APM podcast
— Reviews

"A lively exploration of writing's therapeutic value and an encouraging invitation to apply it to your life." --Kendra Levin, author of The Hero is You
— Reviews