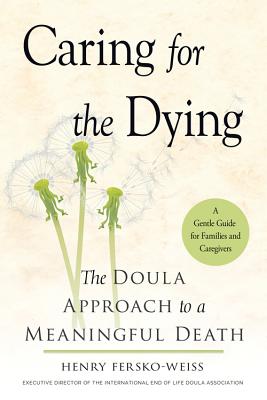 Caring for the Dying (Hardcover)
The Doula Approach to a Meaningful Death
Conari Press, 9781573246965, 256pp.
Publication Date: March 1, 2017
Other Editions of This Title:
MP3 CD (6/14/2017)
Compact Disc (6/14/2017)
Paperback (2/1/2019)
* Individual store prices may vary.
Description
Caring for the Dying describes a whole new way to approach death and dying. It explores how the dying and their families can bring deep meaning and great comfort to the care given at the end of a life. Created by Henry Fersko-Weiss, the end-of-life doula model is adapted from the work of birth doulas and helps the dying to find meaning in their life, express that meaning in powerful and beautiful legacies, and plan for the final days. The approach calls for around-the-clock vigil care, so the dying person and their family have the emotional and spiritual support they need along with guidance on signs and symptoms of dying. It also covers the work of reprocessing a death with the family afterward and the early work of grieving.
Emphasis is placed on the space around the dying person and encourages the use of touch, guided imagery, and ritual during the dying process. Throughout the book Fersko-Weiss tells amazing and encouraging stories of the people he has cared for, as well as stories that come from doulas he has trained and worked with over the years.
What is unique about this book is the well-conceived and thorough approach it describes to working skillfully with the dying. The guidance provided can help a dying person, their family, and caregivers to transform the dying experience from one of fear and despair into one that is uplifting and even life affirming. You will see death in a new light and gain a different perspective on how to help the dying. It may even change the way you live your life right now.
About the Author
Henry Fersko-Weiss, LCSW, is executive director of the International End-of-Life Doula Association. In 2003, Henry created the very first End-of-Life Doula Program in the US at a hospice in New York City and has built many other programs based on his model. His work has been featured in the New York Times, the San Francisco Chronicle, and elsewhere. He is on the faculty of the Open Center's Art of Dying Institute. Visit him at www.inelda.org.
Praise For Caring for the Dying: The Doula Approach to a Meaningful Death…
"This is a pitch perfect, accessible book on an otherwise inaccessible subject. Just what the world needs right now. Mr. Fersko-Weiss points us to all sorts of ways to find meaning at the end of life, or ways to create it. His beautiful and poignant stories can be used as road-maps, not only for clinicians, but also for patients, family members, or caregivers who wish to stay connected through to the end of life." -BJ Miller, MD, Assistant Clinical Professor of Medicine at UCSF and attending specialist for the Symptom Management Service of the UCSF Helen Diller Comprehensive Cancer Center
— Reviews

"An inspired and practical guide on accompanying those on the precipice of death. Henry reaches into his years of experience in leading doula trainings to provide the reader with invaluable tools. He focuses in on the essential non-medical elements that really matter like deep listening, sitting vigil, establishing a calm and receptive environment and facilitating meaningful rituals. Lots of wisdom in these pages." --Frank Ostaseski, author Five Invitations: Discovering What Death Can Teach Us About Living Fully, founder of the Metta Institute and co-founder of the Zen Hospice Project
— Reviews

"An extraordinary contribution to the care of the dying. Through story and instruction, Henry Fersko-Weiss offers his great wisdom on how we can offer meaningful care that can not only ease an individual's dying but provide consolation to family and friends as they cope with grief and loss." --Kenneth J. Doka, author of Grief is a Journey
— Reviews

"Henry's calm, practical, and pioneering book is an excellent guide for those wishing to learn how to be a doula for the dying, whether formal or informal, which will certainly also make them an inspiration for the consciously living. This book should be taken up with great relief to guide us from now, while vibrantly alive, and certainly at the time of transition." --Robert A. F. Thurman, Jey Tsong Khapa professor of Indo-Tibetan Buddhist Studies at Columbia University and author of Infinite Life and Man of Peace
— Reviews

"As a pioneer in the work of improving end-of-life care, Henry Fersko-Weiss has written a remarkable book. Drawing from decades of work with the dying, Fersko-Weiss offers up stories and insights as he humbly chronicles his own journey of crafting a much-needed and innovative approach to end-of-life care. Caring for the Dying is medicine for a world where far too many of us experience 'unfortunate' deaths. A must read." --Amy Wright Glenn, author of Birth, Breath, and Death: Meditations on Motherhood, Chaplaincy, and Life as a Doula
— Reviews

"An inspiring and moving collection of end-of-life scenarios illustrating how we can face life's final passage with dignity and thoughtfulness. Fersko-Weiss provides a glimpse at the true meaning of a good death. Essential reading for anyone who wants to create a meaningful experience for themselves or someone they care about." -Fredda Wasserman, co-author with Norine Dresser of Saying Goodbye to Someone You Love: Your Emotional Journey Through End of Life and Grief
— Reviews

"In Caring for the Dying, Henry Fersko-Weiss brings the reader into his personal journey in supporting a meaningful way of death and dying and his evolving work in the end-of-life-doula movement. The principles and techniques of an end-of-life doula are interwoven with Henry's experiences in a way that makes this book inspirational and helps lessen the mystery and fear of death for any reader who wishes to face their own death with less fear and a focus on meaning." --Kris Kington-Barker, executive director of Hospice of San Luis Obispo County
— Reviews

"What inspires Henry's eminently practical book is his well-informed insight that we can live and die knowing that we are part of a larger inclusivity. In vigiling, in legacy work, in his guidance on deep listening, Henry teaches us that our living and our dying weave us to one another." --Marco Mascarin, PhD, RP, co-founder of the Contemplative End of Life Care program at the Institute of Traditional Medicine
— Reviews

"This title, the first of its kind, makes a compelling case for end-of-life doula care for the dying and their loved ones. Long-time practitioner Fersko-Weiss also discusses techniques and practices for readers who want to have a more peaceful, meaningful death experience." --Library Journal, December 2017 issue: BEST BOOKS OF 2017
— Reviews

"As a pioneer in the work of improving end-of-life care, Henry Fersko-Weiss has written a remarkable book. Drawing from decades of work with the dying, Fersko-Weiss offers up stories and insights as he humbly chronicles his own journey of crafting a much-needed and innovative approach to end-of-life care. Caring for the Dying is medicine for a world where far too many of us experience 'unfortunate' deaths. A must read." --Amy Wright Glenn, author of Birth, Breath, and Death: Meditations on Motherhood, Chaplaincy, and Life as a Doula
— Reviews

"An inspired and practical guide on accompanying those on the precipice of death. Henry reaches into his years of experience in leading doula trainings to provide the reader with invaluable tools. He focuses in on the essential non-medical elements that really matter like deep listening, sitting vigil, establishing a calm and receptive environment and facilitating meaningful rituals. Lots of wisdom in these pages." --Frank Ostaseski, author Five Invitations: Discovering What Death Can Teach Us About Living Fully, founder of the Metta Institute and co-founder of the Zen Hospice Project
— Reviews

"There is an abundance of literature on death and dying, but there is little that can compare with the poignancy, compassion and wisdom that Henry Fersko-Weiss brings to the subject. Drawing on his vast experience as a death doula, he offers practical information and inspirational anecdotes that serve to guide others in the art of being present and caring for the person who is dying. Midwifing death in this way honors the dying person, their life and their legacy. A godsend for anyone who wishes to prepare for their own death or midwife the death of someone they love." --Michael Barbato, MD, retired palliative care physician, researcher, teacher, and author of Midwifing Death
— Reviews

"A thoughtful and instructive text on how doulas can help people die as they would wish and a guide for families as they cope with what may be the most stressful period of their lives. Illustrated by his actual cases and those of fellow doulas, Fersko-Weiss has created a useful resource for consumers and professionals dealing with the complicated topic of death and dying." --Don Pendley, director of hospice and palliative care at the Home Care and Hospice Association of NJ
— Reviews

"Essential reading for all of humanity. Caring for the Dying is life changing in how we view and care for our loved ones as they prepare for their death. Henry's touching stories pull the curtain back to give you an intimate look at what is possible at the end of life." --Debra Pascali-Bonaro, DONA International doula trainer
— Reviews

"This is a lovely contribution to the growing field of care for the dying--and the dying person's loved ones--with both wisdom and compassion. Arising from the author's intimate experience at the end of life, it offers a caring sensitivity well worth considering." --Kathleen Dowling Singh, author of The Grace in Dying, The Grace in Aging, and The Grace in Living
— Reviews

"Caring for a loved one and witnessing the dying process is both an act of courage and a privilege--as painful as the process might be. This book, Caring for the Dying, can make all the difference in appreciating the process, recognizing through the many stories how natural death is, and helping ultimately to heal and move forward from loss." --Judy Tatelbaum, LCSW, grief therapist and author of The Courage to Grieve and You Don't Have to Suffer
— Reviews

STARRED REVIEW: "Fersko-Weiss, founder of the first End-of-Life Doula program in the U.S., defines the core features of this powerful framework for supporting the dying and their families, modeled on the compassionate care services that birth doulas provide. Moreover, he offers guidance for anyone hoping to engage the approaching death of a loved one with grace and intention. With Buddhist calm and a sense of thoughtful presence, Fersko-Weiss shares the core tools doulas use to help the dying approach "ego integrity" by reflecting, exploring meaning, and addressing unresolved conflict, while also helping them choose the surroundings that make them feel comforted and appreciated. Approaches such as creating a legacy project and planning the vigil can help family members process fear and allow closeness to continue until the end. Although not structured as a guidebook, enough detail is included that families without access to a doula could successfully use many of the ideas on their own. Warm stories of client experiences give permission to imagine a death experienced with as much humanity as the rest of life, with profound results for everyone affected by the event. Fersko-Weiss's perspective is a desperately needed reminder of the value of facing life's most difficult transitions with open eyes and hearts." --Publishers Weekly, (Mar. 2017)
— Reviews

"This brave, reassuring book succeeds at eliminating the negativity surrounding death, reframing what seems like a passive, painful experience as an active journey that 'captures the concentrated fragrance of a person's life, its sweetest flavor.'" - Rebecca Foster, Foreword Reviews
— Reviews

"An extraordinary contribution to the care of the dying. Through story and instruction, Henry Fersko-Weiss offers his great wisdom on how we can offer meaningful care that can not only ease an individual's dying but provide consolation to family and friends as they cope with grief and loss." --Kenneth J. Doka, author of Grief is a Journey
— Reviews

"Henry's calm, practical, and pioneering book is an excellent guide for those wishing to learn how to be a doula for the dying, whether formal or informal, which will certainly also make them an inspiration for the consciously living. This book should be taken up with great relief to guide us from now, while vibrantly alive, and certainly at the time of transition." --Robert A. F. Thurman, Jey Tsong Khapa professor of Indo-Tibetan Buddhist Studies at Columbia University and author of Infinite Life and Man of Peace
— Reviews

"This book describes an approach to end of life care that might best be described as witness. The doula program described here provides skilled, compassionate, mindful presence to people at the end of life and their loved ones, helping guide them to an experience of dying which affirms their lives and enriches the lives of those left behind. I wish all patients had access to this amazing program." --Leslie Blackhall, Section Chief for Palliative Medicine and Associate Professor of Medicine at the University of Virginia School of Medicine
— Reviews

"This is a pitch perfect, accessible book on an otherwise inaccessible subject. Just what the world needs right now. Mr. Fersko-Weiss points us to all sorts of ways to find meaning at the end of life, or ways to create it. His beautiful and poignant stories can be used as road-maps, not only for clinicians, but also for patients, family members, or caregivers who wish to stay connected through to the end of life." --BJ Miller, MD, Assistant Clinical Professor of Medicine at UCSF and attending specialist for the Symptom Management Service of the UCSF Helen Diller Comprehensive Cancer Center
— Reviews
or
Not Currently Available for Direct Purchase