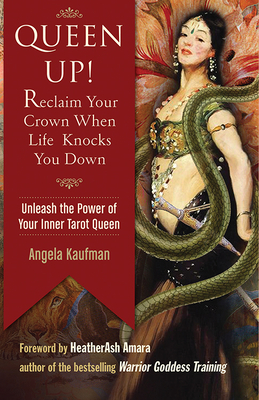 Queen Up! Reclaim Your Crown When Life Knocks You Down
Unleash the Power of Your Inner Tarot Queen
Paperback

* Individual store prices may vary.
Description
Each of the four Tarot Queens in this empowering year-long system represent an archetypal part of our personalities as well as our experience of being human. Detailed explanations of each archetype, and workbook-style exercises and practical tips are provided for aligning with and balancing the energies of each Queen.
We derive inspiration from the Queen of Wands
Passion comes from the Queen of Swords
Love from the Queen of Cups
Abundance from the Queen of Pentacles
The Queen Up system blends various metaphysical teachings and psychological concepts to empower women to navigate life's most challenging situations. In part one, the basic tenets of the system are reviewed; part two introduces us to the four Tarot Queens that embody the essential qualities for creating wholeness, and readers will be taught how to access their energies as well as look at common obstacles; and part three provides a year's supply of weekly exercises to help readers develop intuition and manifestation.
The Queens serve as a symbol of the potential of every woman. Angela Kaufman helps readers unlock this potential to harness and express their dream lives.
Praise For Queen Up! Reclaim Your Crown When Life Knocks You Down: Unleash the Power of Your Inner Tarot Queen…
"I appreciate Angela's Queen Up! and her powerful re-visioning of the tarot's queen of wands, swords, cups, and pentacles as a way to guide women to harness and express their inner potential. Just as we need more warrior goddess women, we need more women who have claimed their archetypical queen: their sovereignty, wisdom, and strength."
— HeatherAsh Amara, author of Warrior Goddess Training

"Queen Up! takes a fascinating new approach to the ancient art of Tarot. By focusing in great depth on just four cards, the Queens in the different suits, she shows us how we can use the cards not just to understand our lives, but to transform them."
— Rachel Pollack, author The Fissure King--A Novel In Five Stories, Seventy-Eight Degrees of Wisdom, and others

"Angela Kaufman has created an impactful book that draws you in with each page you read. It is indeed, empowering and relevant to women of all ages. Read it and you will find yourself in it."
— Tina Zion, bestselling author of Become a Medical Intuitive and Advanced Medical Intuition

"Take Jung's archetypes, mix in tarot, add guidance from someone knowledgeable in the ways of psychology and magic, and you have Queen Up! - an insanely accessible guide to becoming a more complete person."
— Rebecca Elson, Publisher The Magical Buffet website

"Queen Up is a delightful exploration of the self using timeless methods. Kaufman has beautifully given readers a tool for increasing their confidence and reaching their goals that is both spiritual and practical. When reading this book, I feel like I'm in a helpful, insightful and fun coaching session with Kaufman. A great read!"
— Courtney Weber, author of Tarot for One: The Art of Reading for Yourself
Red Wheel, 9781573247320, 176pp.
Publication Date: April 1, 2018
About the Author
Angela Kaufman is a lifelong seeker of spiritual connection with a background as a clinical social worker and certification as an intuitive consultant and psychic medium. Angela has coauthored several books including Sacred Objects, Sacred Space: Everyday Tools for the Modern Day Witch. She is a frequent contributor to holistic publications including Healing Springs Journal, The Magical Buffet, and Natural Awakenings. Visit her at www.intuitiveangela.com.
or
Not Currently Available for Direct Purchase