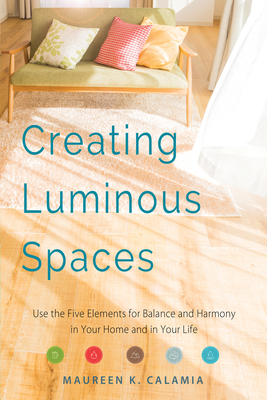 Creating Luminous Spaces
Use the Five Elements for Balance and Harmony in Your Home and in Your Life
Paperback

* Individual store prices may vary.
Other Editions of This Title:
MP3 CD (7/31/2018)
Description
A luminous space is restorative and nurturing. It's a place that inspires us, helps us achieve our goals, and ignites our personal power. In Creating Luminous Spaces, Maureen shares her ground-breaking method using feng shui and biophilic design to achieve greater harmony in our lives. By tapping into the wisdom of the Five Elements (wood, fire, earth, metal and water) we can restore our bond with nature, both in our inner natures and our outer world, which is vital for greater joy and peace in our lives.
The Five Elements is an ancient system that is simple and available to all of us. Maureen shares real stories from her life, clients, and students, which demonstrate how the Elements have enriched their lives. She also includes thought-provoking exercises, meditations, and practical ways to create an environment that will enhance our wellbeing. This book is both a teaching on the way of nature as well as a workbook for spiritual growth.
"We are in a time of a great shift in consciousness and we are just starting to understand, again, the ways of nature and its power over us. The ancient and the modern ideas come together in this cutting-edge path to help guide us during this shift and discover our hidden light within our authentic selves." -- Maureen Calamia
Praise For Creating Luminous Spaces: Use the Five Elements for Balance and Harmony in Your Home and in Your Life…
"Highly recommended! Maureen Calamia has done an excellent job making the elements of feng shui at once understandable and usable in this carefully researched and thoughtful book. Discovering what element most closely represents your energy can help in so many areas of your life!" --
Denise Linn
, author of
Sacred Space
and
Feng Shui for the Soul
— Denise Linn
"
Creating Luminous Spaces
is a wonderful and practical new guide for using ancient Chinese wisdom in our modern lives! Maureen Calamia's caring heart shines through as she shows you, in easy to follow steps, how to apply the universal principles of the 5 Elements to change your home - and to change your life." --
Jean Haner
, author of
Clear Home Clear Heart: Learn to Clear the Energy of People and Places
— Jean Haner
"Balance within your home promotes balance within you.
Creating Luminous Spaces
will guide you to ancient teachings and show you how to use this knowledge to bring peace and balance to your home, yourself, and your life. It will change the way you think, how you view your surroundings, and how you live." --
Dr. Eva Selhub
, author of
Your Brain on Nature
and
Your Health Destiny
— Dr. Eva Selhub
"With skillful clarity and an open heart, Maureen Calamia offers her gift of light and love.
Creating Luminous Spaces
reminds us how to connect with the sacredness in nature and the world around us to cultivate true joy in our inner and outer environments." --
Anjie Cho
, Architect, Feng Shui expert, and author of
108 Ways to Create Holistic Spaces
— Anjie Cho
"A refreshing new view of ancient ways to enhance your life. Once you understand that by nature you are nature, the world is your playground. Who doesn't want that?" --
Karen Rauch Carter
, bestselling author of
Move Your Stuff, Change Your Life
and
Make a Shift, Change Your Life
— Karen Rauch Carter
"The Five Elements is a profound system that can provide a map for life. In
Creating Luminous Spaces
, Maureen K. Calamia utilizes the elements to help you chart your own course by honoring the power of place and the benefits of nature. This book will help you understand yourself better and become keenly aware of your surroundings - plus, it's fun!" -
Dondi Dahlin
, author of the international bestseller,
The Five Elements: Understand Yourself and Enhance Your Relationships with the Wisdom of the World's Oldest Personality Type System
— Dondi Dahlin
"In her combination home-decorating tome and treatise on the power of nature, Calamia dives into aspects of the five natural elements—water, fire, earth, metal, and wood—that define who we are and how we live and act. A three-part quiz helps readers determine their archetypes; all will benefit from Calamia's tips to manage stress: stop and breathe and practice mindfulness, awareness, and restorative activities. An antidote to hectic modern living." –Barbara Jacobs, Booklist
— Barbara Jacobs
"I highly recommend this inspirational book! It is a wonderful guide to enhance the Chi energy of your home. In addition to learning simple, elegant, and creative ideas to beautify your sacred spaces, you will gain insights about yourself and your environment. In Creating Luminous Spaces, Maureen has given you the power of Mother Nature's tools in your hand." —RD Chin, feng shui master and teacher, author of Feng Shui Revealed
— RD Chin
"Rather than telling us what color our couch should be and which corner to put it in, Calamia introduces us to our environment and teaches us how to successfully interact with it. Living in harmony with nature is essential to our wellbeing, but how to do that is personal for each of us. This book not only has lots of interesting information, it also has practical suggestions, exercises, and meditations." –Anna Jedrziewski, Retailing Insights
— Anna Jedrziewski
Conari Press, 9781573247337, 256pp.
Publication Date: May 1, 2018
About the Author

Maureen K. Calamia is a feng shui consultant and teacher. An inspiring thought-leader in feng shui, energy and consciousness, she has written for Huffington Post, MindBodyGreen, elephant journal, and OMTimes Magazine. Visit her at www.luminous-spaces.com.