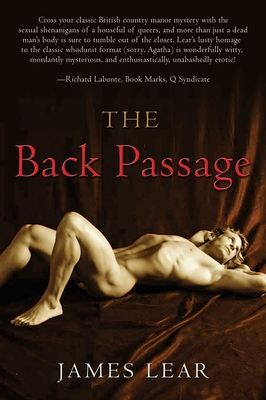 Back Passage
Paperback

* Individual store prices may vary.
Description
Agatha Christie, move over! Hard-core sex and scandal meet in this brilliantly funny whodunit. A seaside village, an English country house, a family of wealthy eccentrics and their equally peculiar servants, a determined detective -- all the ingredients are here for a cozy Agatha Christie-style whodunit. But wait -- Edward "Mitch" Mitchell is no Hercule Poirot, and The Back Passage is no Murder of Roger Ackroyd. Mitch is a handsome, insatiable 22-year-old hunk who never lets a clue stand in the way of a steamy encounter, whether it's with the local constabulary, the house secretary, or his school chum and fellow athlete Boy Morgan, who becomes his Watson when they're not busy boffing each other. When Reg Walworth is found dead in a cabinet, Sir James Eagle has his servant Weeks immediately arrested as the killer. But Mitch's observant eye pegs more plausible possibilities: polysexual chauffeur Hibbert, queenly pervert Leonard Eagle, missing scion Rex, sadistic copper Kennington, even Sir James Eagle himself. Blackmail, police corruption, a dizzying network of spyholes and secret passages, watersports, and a nonstop queer orgy backstairs and everyplace else mark this hilariously hard-core mystery by a major new talent.
Cleis Press, 9781573442435, 176pp.
Publication Date: May 5, 2006
About the Author
James Lear is the nom de plume of a prolific and acclaimed novelist. As James Lear he is the author of The Back Passage The Secret Tunnel Hot Valley The Low Road and The Palace of Varieties. He lives in London.