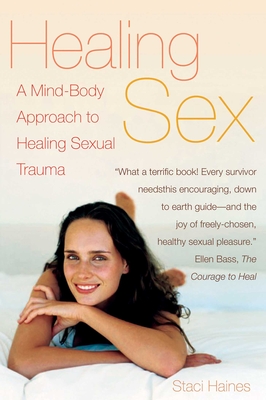 Healing Sex
A Mind-Body Approach to Healing Sexual Trauma
Paperback

* Individual store prices may vary.
Description
The first encouraging, sex-positive guide for all women survivors of sexual assault -- heterosexual, bisexual, lesbian, coupled, and single -- who want to reclaim their sex lives. While most books on the topic broach sexuality only to reassure women that it is all right to say "no" to unwanted sex, Healing Sex encourages women to learn how to say "yes" -- to their own desires and on their own terms. This mind-body approach to healing from sexual trauma was created by Staci Haines, who has been educating in the area of sexual abuse, sex education, and somatic healing for over 15 years. Her techniques are ideal for anyone looking for a new way to heal from trauma, beyond traditional talk therapy.
Praise For Healing Sex: A Mind-Body Approach to Healing Sexual Trauma…
"What a terrific book! Every survivor needs this encouraging, down to earth guide--and the joy of freely-chosen, healthy sexual pleasure." --Ellen Bass, author of The Courage to Heal
— Reviews
Cleis Press, 9781573442930, 320pp.
Publication Date: November 28, 2007
About the Author
Staci Haines is a pioneer in the field of mind-body healing of sexual trauma, and she trains practitioners, therapists and social change activists in these techniques. Haines is the creator of the film Healing Sex, and in 2000, she founded Generation Five, whose mission is to end the sexual abuse of children within five generations. She lives in San Francisco. Healing Sex "What a terrific book! Every survivor needs this encouraging, down-to-earth guide — and the joy of freely chosen, healthy sexual pleasure." — Ellen Bass, coauthor The Courage to Heal "Groundbreaking…shows us that empowered sex after abuse is not only possible, but vital." — Curve "Finally! A guide to sexual healing that is an explicit celebration of sex itself. Staci Haines offers a wealth of practical tips on building a fulfilling sex life in the wake of child sexual abuse—presented with warmth, compassion, and deep understanding." — Cathy Winks, coauthor of The Good Vibrations Guide to Sex