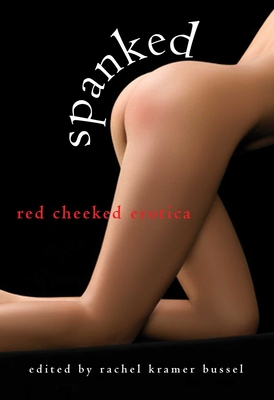 Spanked (Paperback)
Red-Cheeked Erotica
Cleis Press, 9781573443197, 220pp.
Publication Date: July 28, 2008
* Individual store prices may vary.
Description
Erotic spanking -- whether giving or receiving -- is one of the most exciting, arousing, and sensual experiences to enjoy. In this enticing collection, spanking enthusiast Rachel Kramer Bussel has assembled 22 tales of red-cheeked arousal. Whether being disciplined for naughtiness or simply because they crave the sting of a hand against flesh, the men and women in these stories revel in being bent over, paddled, punished, and possessed by their spankers. Those delivering the blows find extreme pleasure in pushing their bottoms' buttons, making them -- and the reader -- tremble and quiver in anticipation as they await the next smack. Featuring stories by Alison Tyler, Sage Vivant, Stan Kent, Elizabeth Coldwell, Thomas Roche, and others, this sizzling collection offers tales so breathtakingly vivid that readers might find their own cheeks sore just from reading it.
About the Author

Rachel Kramer Bussel (rachelkramerbussel.com) is a writer, editor, event organizer and erotica writing instructor. She's edited over 60 anthologies, including The Big Book of Orgasms, Come Again: Sex Toy Erotica, Dirty Dates, On Fire, Spanked, Please, Sir, Please, Ma'am, and is Best Women's Erotica of the Year series editor. Her nonfiction has been published in The New York Times, The Washington Post, Marie Claire, O, The Oprah Magazine, Elle.com, Salon, Slate, Time.com, The Village Voice and numerous other publications. Follow her @raquelita on Twitter and learn more about her writing workshops and consulting at EroticaWriting101.com.

Praise For Spanked: Red-Cheeked Erotica…
"The collection is edited by the sexually prolific Rachel Kramer Bussel and her considerate, fun-loving editorial hand print is all over it. Whether you're interested in bringing spanking into your real or imagined sex life, Spanked is a great way to keep your circulation moving on those cold winter nights." --About.com

"Stephen King once said that short story anthologies were like grab bags, sometimes you get fantastic stories and sometimes you get duds. Spanked: Red Cheeked Erotica is one of the best erotica anthologies that I have ever read. Of course, some stories are more captivating and steamier than others but overall this was a fantastic anthology. Each story and author brings something different to the plate and each have the ability to make your toes curl and your breath quiver. There are even a few touches of humor in this book (particularly involving baby potatoes stuffed with goat cheese that manage to go flying around the room.) This is a book that I literally could not put down and stayed up past my bed time to finish. Like the world of spanking, this novel made you feel naughty but it was so good that you had to continue on with it. My personal favorites in this anthology include "Perfect Bound" by Shanna Germain, "Betty Crocker Gone Bad" by Alison Tyler, "Laser Tag" by Madeline Glass, "The Breeding Barn" by L. Elise Bland, and "Pink Cheeks" by Fiona Locke.This anthology is the farthest thing from disappointing. With heat levels that range from mild to wild Spanked: Red Cheeked Erotica has something for everyone. However, if you have an aversion to foul language and graphic depictions of sexual acts this book may not be for you. But who knows, maybe like spanking, you may end up enjoying this book after you give it a try." --Paperback Dolls

"Whether you like to be the receiver or the one dishing out the spanking there will be a story for you!" --Freddy and Eddy