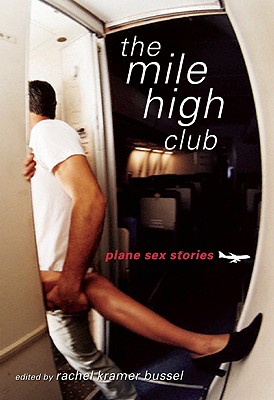 The Mile High Club (Paperback)
Plane Sex Stories
Cleis Press, 9781573443456, 230pp.
Publication Date: April 7, 2009
* Individual store prices may vary.
Description
Rachel Kramer Bussel's newest collection brings to life the popular fantasy of having sex on an airplane, from commercial jets to private planes and even aboard Air Force One. Couples and strangers alike manage to find ways to surreptitiously get each other off as they fly the friendly skies, spicing up their sex lives with a dash of exhibitionism, excitement, and danger. In these steamy stories, readers encounter seductions by strangers, naughty flight attendants and perverted pilots, a screen star who's hot-to-trot, a female flying instructor who takes two male students under her wing, and a couple who take advantage of the latest in in-flight technology. Featuring works by Geneva King, Alison Tyler, Thomas S. Roche, Elizabeth Coldwell, Jeremy Edwards, and others, these authors go way beyond the crowded airplane bathroom to show just how many ways there are to get it on while onboard.
Praise For The Mile High Club: Plane Sex Stories…
Reviewed By: Kathleen Bradean, for Erotica Revealed

"The state of the world being as it is, the fabled Mile High Club seems a reminder of the past, the swinging 60s and whatever the 70s were about. While the new paranoia brought scrutiny that seemed likely to end airborne frolics, Rachel Kramer Bussel's anthology The Mile High Club is a ray of hope for the altitudenaly inspired.

Most of the stories in Mile High Club are contemporary, but Craig Sorensen's Top Banana" goes back to the days when stewardesses were hired for their looks and portrayed in media as bimbos. Those were the years when traveling salesmen got out of their cars and took to the skies. Subject of countless bawdy jokes, meet career gal in a mini skirt. No wonder the public imagination flew with that combination. But in Craig's story, the stewardess is tired of her male passengers' sense of entitlement, and on her last flight, she teaches a horny salesman a lesson he never forgets.

Donna George Storey creates consistently wonderful stories. Her Nasty Little Habit" is my favorite of the sex in the seat stories in this anthology, although Rachel Kramer Bussel's Urgent Message" and Ryan Field's Bert and Betty" are damn hot reads too.

If you like a bit of domination, try Bill Kte'pi's 34B," Matt Conklin's Wild Child," or Obedient" by Teresa Noelle Roberts.

Thomas Roche's When Your Girlfriend Wears a Very Short Skirt" deserves special mention. Thomas is an incredible writer, so I tend to have higher expectations for his stories than for writers I don't know. Much lighter in tone than most of his work, this one delivers.

Speaking of writers I've come to expect a lot from, Alison Tyler also contributed to this anthology. She may not know me, but she definitely has her fingers on several of my hot buttons, and I can't recall a story of hers that didn't push at least one. Her Planes, Trains and Banana-Seat Bicycles" doesn't take to the skies, but there are planes involved. In her skillful hands, that's all you'll need to fly.

Wing Walker" by Cheyenne Blue is the most original story in the anthology. The biplane pilot from an aerial show tells his wing walker that he's going to find her a lover. She laughs off the offer, and as months pass, he doesn't follow throughuntil he does. On a practice flight meant to test the newcomer's skills out on the wing, he shows her that he has moves she'd never imagined. This may be a flight of fancy, but it's a good one.

It's impossible to think of sex in a passenger plane without also imagining the danger and embarrassment of being caught. If two people head for a lavatory, everyone notices, or at least it feels as if they do. So even if joining the mile high club never appealed to you in real life, your inner voyeur or exhibitionist may feel a frisson of excitement in all the right places as you read these stories."
or
Not Currently Available for Direct Purchase