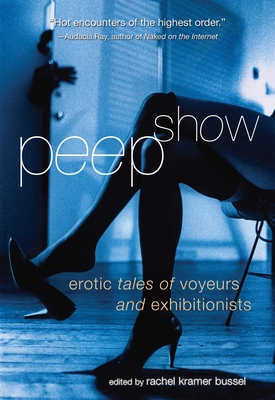 Peep Show (Paperback)
Tales of Voyeurs and Exhibitionists
Cleis Press, 9781573443708, 224pp.
Publication Date: November 3, 2009
* Individual store prices may vary.
Description
Whether you love to watch a lover undress in person, relish peeking at the neighbors through a crack in their blinds, love to visit a strip club for a steamy show, or adore reversing the equation by taking center stage, Peep Show packs an erotic punch for voyeurs--and exhibitionists--of any stripe. These sexy stories speak to perhaps the most common sexual predilections: the wish to watch and be watched. While the appeal of a peep show--and of being peeped at--is well documented, rarely has the subject inspired an entire collection. This book corrals several unique stories, each of which explores a different facet of these desires, ensuring that any reader will be titillated.
About the Author

Rachel Kramer Bussel (rachelkramerbussel.com) is a writer, editor, event organizer and erotica writing instructor. She's edited over 60 anthologies, including The Big Book of Orgasms, Come Again: Sex Toy Erotica, Dirty Dates, On Fire, Spanked, Please, Sir, Please, Ma'am, and is Best Women's Erotica of the Year series editor. Her nonfiction has been published in The New York Times, The Washington Post, Marie Claire, O, The Oprah Magazine, Elle.com, Salon, Slate, Time.com, The Village Voice and numerous other publications. Follow her @raquelita on Twitter and learn more about her writing workshops and consulting at EroticaWriting101.com.

Praise For Peep Show: Tales of Voyeurs and Exhibitionists…
"Peep Show takes you through the looking glass and into an erotic world of wonder where looking and being looked at creates hot encounters of the highest order." --Audacia Ray, author of Naked on the Internet

"Definitely going to have to find more of this editor's books and encore performance." --Quixotic Orchid

"Rachel Kramer Bussel hit it out of the park with this collection." --Hedo Vibes

"Rachel Kramer Bussel has, once again, assembled a top-flight collection. This naughty gem will appeal to both the connoissuer and the curious reader who just wants a peek." --Lily Burana, author of Strip City: A Stripper's Farewell Journey Across America
or
Not Currently Available for Direct Purchase