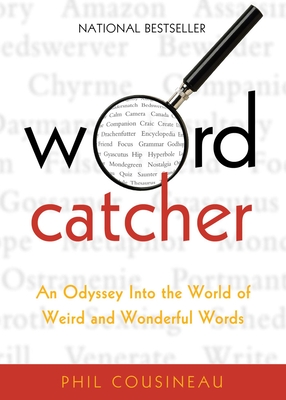 Wordcatcher (Paperback)
An Odyssey Into the World of Weird and Wonderful Words
Viva Editions, 9781573444002, 305pp.
Publication Date: April 13, 2010
* Individual store prices may vary.
Description
Who knew that the great country of Canada is named for a mistake? How about "bedswerver," the best Elizabethan insult to hurl at a cheating boyfriend? By exploring the delightful back stories of the 250 words in Wordcatcher, readers are lured by language and entangled in etymologies. Author Phil Cousineau takes us on a tour into the obscure territory of word origins with great erudition and endearing curiosity. The English poet W. H. Auden was once asked to teach a poetry class, and when 200 students applied to study with him, he only had room for 20 of them. When asked how he chose his students, he said he picked the ones who actually loved words. So too, with this book it takes a special wordcatcher to create a treasure chest of remarkable words and their origins, and any word lover will relish the stories that Cousineau has discovered.
About the Author
Phil Cousineau is an award-winning writer and filmmaker, teacher and editor, independent scholar and travel leader, storyteller and TV host. His fascination with art, literature, and the history of culture has taken him from Michigan to Marrakesh, Iceland to the Amazon, in a worldwide search for what the ancients called the "soul of the world."

Cousineau lectures frequently on a wide spectrum of topics that reflect his mythic journeys, including mythology, movies, writing, mentorship, beauty, travel, sports and creativity. Currently the host of Link TV's "Global Spirit" television series, Cousineau has published 26 nonfiction books and has 15 scriptwriting credits to his name. His books have been translated into nine languages.

Born at an army hospital in Columbia, South Carolina, Phil Cousineau grew up just outside of Detroit, once known as "the Paris of the Midwest." While moonlighting in a steel factory he studied journalism at the University of Detroit. Before turning to writing books and films full-time, Cousineau's peripatetic career included stints as a sportswriter, playing semi-pro basketball in Europe, harvesting date trees on an Israeli kibbutz, painting 44 Victorian houses in San Francisco, and teaching screenwriting at the American Film Institute.

For the past 25 years he has enjoyed his life-long dream of being a full-time freelance writer, filmmaker and sports coach. An expert on mythology and film and the "hero journey" structure of screenplays, Cousineau consults on writing projects of all kinds.
Praise For Wordcatcher: An Odyssey Into the World of Weird and Wonderful Words…
"Cousineau takes us into the obscure territory of word origins with great erudition and endearing curiosity."
Writer's Journal

Phil Cousineau is a word wizard and his book, Wordcatcher, is a delightful adventure into a magical world. As I read his amazing etymological explanations of words from eldritch to floccinaucinihilipilification to lagniappe, I begin to understand why the Bible says In the beginning was the Word.' Phil has made clear that words don't merely describe reality. They create it."

Deepak Chopra, author of The Ultimate Happiness Prescription



Stake out a claim next to the standard dictionary you use for this less pedantic companion. It contains fewer words but sends up Fourth of July skyrockets on all of them. But caveat emptor, readers beware! Cousineau's love affair with words is contagious and you are likely to end up lovesick with words yourself."

Huston Smith, author of The World's Religions and Tales of Wonder



"A book that allows us to remember the genius of language-- to see, feel and, it seems, even "taste" the living-ness and poetry hidden within these many common and uncommon words. A delicious book."
----Jacob Needleman, author of What Is God?


"I am awed by Phil Cousineau's scholarship and the overall view he has
of inner matters. He has a genius for the soulful dimensions of words,
and a rare intelligence for communicating the numinous dimension of
language. "Wordcatcher" will grace the lives of all who read it, and
inspire them to respect, even revere words as much as its author does."

Robert A. Johnson, author of He, She, and A Slender Thread

"Phil Cousineau's Wordcatcher is a wonderful meditation on words that can be read from beginning to end if you are obsessed with speech, greedy for mountain air, and into enlightened verbal play. Not a dry lexical listing, each word Cousineau chooses sings with cellos, vagabonds through tongues and history, and bounces like a balloon on the moon, and as high as his quirky imagination takes us. Compelled reading for residence in the ancient synagogue of the word."

--Willis Barnstone, author of theRestored New Testament and Ancient Greek Lyrics