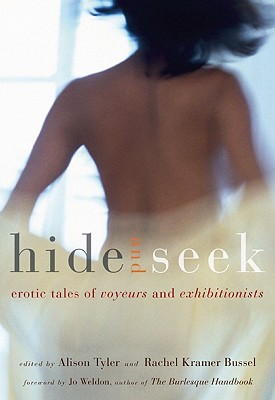 Hide and Seek (Paperback)
Erotic Tales of Voyeurs and Exhibitionists
Cleis Press, 9781573444194, 187pp.
Publication Date: December 1, 2010
* Individual store prices may vary.
Description
Watching others as they expose themselves -- or reversing the equation by taking center stage -- can be some of life's naughtiest delights. Hide and Seek proves that the eye is as much a pathway to pleasure as any other part of the body. The possibilities are endless: watching a lover undress from the safety of a hidden hole in the wall; peeking at the neighbors through a crack in the blinds when they think nobody's looking; visiting a local strip club to glimpse a beautiful dancer; or going to an orgy where a world of sexual scenarios suddenly appears. In Hide and Seek, readers get a front-row seat to the steamiest live action around as sexy men and women strip, tease, and make us beg for more.
Praise For Hide and Seek: Erotic Tales of Voyeurs and Exhibitionists…
"Hide and Seek may well make you blush, but chances are good you'll enjoy it." -SexHerald.com

"Hide and Seek: 21 Tales of Exhibitionism and Voyeurism has a lovely, playful tone, one that really grants you permission to tap into that prurient, childlike sensuality (much like the game the anthology is named after). The voyeurs and exhibitionists herein have a refreshing awareness about their predilections, rather than any sort of hidden or forbidden mentality. The folks in these stories know they're being watched (or are proud of watching) and push the envelope and flirt with sexual tension in a way that made me melt with each vignette." -Blowfish Blog

"Watching and being watched are the activities at the heart of this cheeky little collection of short stories. Alison Tyler and Rachel Kramer Bussel have edited a string of entertaining and highly erotic anthologies both separately and together, and Hide and Seek is no exception." -Elizabeth Coldwell, Penthouse Forum

"I was thrilled when Hide and Seek arrived on my doormat. Hide and Seek is an anthology of stories that feature voyeurs and exhibitionists. I could wax lyrical here about the symbiotic relationship that coexists between the voyeur and the exhibitionist. I could say something pertinent about the genius in producing an anthology that caters to these mutually dependent drives. But I think it's much more pertinent if I simply talk about how much I enjoyed this fantastic book. There are many reasons to adore this anthology. First and foremost it comes from those clever people at Cleis Press. Cleis are renowned for producing top quality anthologies from talented writers and respected editors. Hide and Seek is no exception." -Ashley Lister, writer for Erotica-Readers.com
or
Not Currently Available for Direct Purchase