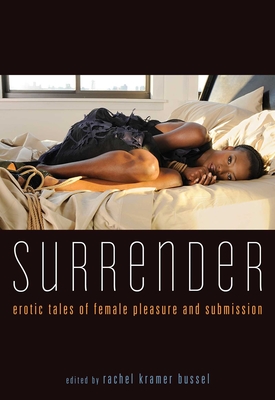 Surrender (Paperback)
Erotic Tales of Female Pleasure and Submission
Cleis Press, 9781573446525, 224pp.
Publication Date: March 15, 2011
* Individual store prices may vary.
Description
Winner of 2012 NLA Samois Anthology Award

Rachel Kramer Bussel's bestselling books of submissive women and dominant men showcase our fantasies, desires, and deepest wishes. For those (and there are MANY) who love to be tired up, spanked, blindfolded, bound, or "used," for another's pleasure, these are books of inspiration. And, of course, these smart subs are getting exactly what THEY really want in very many ways.

Good BDSM erotica makes us understand all the emotions that can come into play when, well, playing: there can be uncertainty, nervousness, fear, excitement. Each of the 22 stories in Surrender are blazingly hot and because they illuminate some aspect of submission. The authors of the stories understand the art of submission and the thrill of surrender, whether that's personal space, sight ("Without Eyes" by Terri Pray) or culinary choices ("Lunch" by Elizabeth Coldwell).What the women here want is to give up part of themselves to gain something else. They may still be skittish, but overcoming their fears, surrendering to them, yields beauty, pleasure and, in its way, power.
About the Author
Rachel Kramer Bussel (rachelkramerbussel.com) is a writer, editor, event organizer and erotica writing instructor. She's edited over 60 anthologies, including The Big Book of Orgasms, Come Again: Sex Toy Erotica, Dirty Dates, On Fire, Spanked, Please, Sir, Please, Ma'am, and is Best Women's Erotica of the Year series editor. Her nonfiction has been published in The New York Times, The Washington Post, Marie Claire, O, The Oprah Magazine, Elle.com, Salon, Slate, Time.com, The Village Voice and numerous other publications. Follow her @raquelita on Twitter and learn more about her writing workshops and consulting at EroticaWriting101.com.