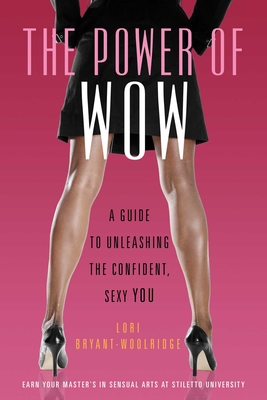 Power of WOW
A Guide to Unleashing the Confident, Sexy You
Paperback

* Individual store prices may vary.
Description
The fact is that millions of women in this country -- no matter how varied their wants and needs -- are longing to get their sexy back. Not a month goes by when there isn't some magazine, Internet article, or television segment focused on the topic of how to be more sexy and alluring. But where do you go to learn the lessons of how to be a lovely and lusty lady? Welcome to The Power of WOW: A Guide to Unleashing the Confident, Sexy You, a virtual university dedicated to the higher learning of the sensual arts. "Professor-in-Sexiness" Lori Bryant-Woolridge presents a comprehensive, user-friendly, nine-week program that focuses on the power and pleasure of sensuous living. The author shows how women of any age can learn to be healthy, sensual, charming, sexual beings without needing the approval or validation of anyone other than themselves.
Praise For Power of WOW: A Guide to Unleashing the Confident, Sexy You…
"I enjoyed and looked forward to reading this book. It is well written and has helpful advice for every woman, no matter where you are in life. Young woman, married woman, celibate woman and sex kittens could all find something here to apply to daily life." --Kissin Blue Karen
"Confidence is sexy, and it's not just for men seeking women. The Power of WOW: A Guide to Unleashing the Confident, Sexy You is a self-help guide to embracing the confidence in life fully and more completely. Too often the pressures of life batter us into submission, but the advice of Lori Bryant-Woolridge gives plenty of advice to be a force as a woman, as a mother, and as a lover. The Power of WOW is a charming and empowering read, highly recommended." --Midwest Book Review
"This lively book should help nearly any woman break out of her rut." --Kirkus Reviews
"Lori Bryant Woolridge puts the power of sex into every woman's hands." --, New York Times best-selling author of The Hot Box and Dear G Spot
"Priceless passion, personal power, and positive pleasure. Finally! The Power of Wow is a book that teaches women how to be genuinely sexy and for all of the right reasons." --Debbi Morgan, "Angie" of All My Children
"Lori Bryant-Woolridge serves up a crash course in sexual charisma! This isn't about being sexy for someone else (though your lover will surely benefit), but about exploring your most sensual side and letting your inner vixen roar. The Power of Wow is required reading for lusty ladies everywhere." --Rachel Kramer Bussel, Editor, Orgasmic and Gotta Have It
"Woolridge comes on like Judith Krantz with a social conscience." --Publishers Weekly
"Whether due to loss, divorce, breakup or those "last ten pounds", at some point in her life, every woman in the world feels like she's lost her "mojo" - her innate ability to not just appear sexy, but feel that way as well. Not only does Lori Bryant-Woolridge go beyond the typical "light a candle and put on some lingerie" approach to regaining sexiness and sensuality, she shows women how to find the "sexy" within, bring it back…and keep it! Strap into your finest footwear, spend some time with Lori and get ready to meet the woman you are meant to be" --Carole Brody Fleet, award-winning author of Widows Wear Stilettos
"Busyness and routine can drown or drain your sensuality and turn your WOW into a whimper. Lori Woolridge's The Power of Wow helps you examine your preferences and habits, and offers refreshing, practical alternatives. The book will add ginger to your day with its upbeat tone and irreverent advice. It is self-help with a flair. Read it and do it!" --Dr. Linda Clever, author of The Fatigue Prescription
"Many women experience an attrition of their "wow factor" simply due to the busyness of our daily lives. After a long days of work, family obligations, socializing, and all that makes for the life of a modern women, how much WOW can you have left? Turns out, a LOT and with Lori Bryant Woolridge's wise tutelage in her fantastic book, more than ever. I recommend The Power of Wow as a must-read self care manual for every woman." --Nina Lesowitz, coauthor of Living Life as a Thank You
"I'm so much happier now. I'm not invisible anymore. I'm letting myself be seen." --Dina, MSA '08
"Now I'm not so bound up by my hang-ups over sex. I've learned to ask and get what I want." --Virginia, MSA '07
— Reviews
Viva Editions, 9781573446563, 252pp.
Publication Date: July 5, 2011
About the Author
After spending 15 years in the broadcast television industry, LORI BRYANT-WOOLRIDGE wrote three Essence bestselling novels, Read Between the Lies, Hitts & Mrs., and the Essence Book Club selection Weapons of Mass Seduction. Lori is an Emmy award-winning writer whose erotic short stories are included in the bestselling anthologies Best Black Women's Erotica and Brown Sugar Three: Opposites Attract. Lori has conducted a variety of sensuality classes and workshops around the country. She is the founder of Stiletto U, a virtual university that advocates healthy, sensuous lifestyles. Using her nine-week curriculum, she has successfully coached women of all ages, sexual orientations, ethnicities and relationship statuses to develop feminine sexual confidence. Lori also created Sexitude, a new workout designed to unleash the sensuous, sexy woman within. She is the co-founder of Mothers Off Duty, Inc., an organization dedicated to its members putting themselves on the list of people they take care of; and a founding member of the Femme Fantastik Tour, a literary tour created to celebrate and empower women through literature.
or
Not Currently Available for Direct Purchase