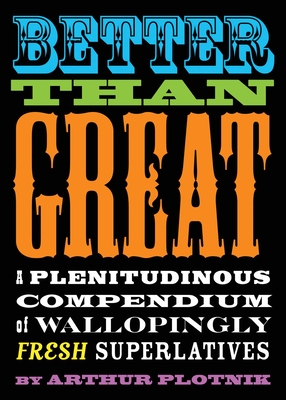 Better Than Great
A Plenitudinous Compendium of Wallopingly Fresh Superlatives
Paperback

* Individual store prices may vary.
Other Editions of This Title:
Digital Audiobook (7/31/2012)
Compact Disc (8/1/2012)
Description
A veritable "tko of terminology," Better Than Great is the essential guide for describing the extraordinary -- the must have reference for anyone wishing to rise above tired superlatives. Deft praise encourages others to feel as we do, share our enthusiasms. It rewards deserving objects of admiration. It persuades people to take certain actions. It sells things. Sadly, in this "age of awesome," our words and phrases of acclaim are exhausted, all but impotent. Even so, we find ourselves defaulting to such habitual choices as good, great, and terrific, or substitute the weary synonyms that tuble our of a thesaurus -- superb, marvelous, outstanding, and the like. The piling on of intensifers such as the now-silly "super," only makes matters worse and negative modifiers render our common parlance nearly tragic. Until now. Arthur Plotnik, the wunderkind of word-wonks is, without mincing, proffering a well knit wellspring of worthy and wondrous words to rescue our worn-down usage. Plotnik is both hella AND hecka up to the task of rescuing the English language and offers readers the chance to never be at a loss for words!
Praise For Better Than Great: A Plenitudinous Compendium of Wallopingly Fresh Superlatives…
"It's difficult to describe how a thesaurus is entertaining, but the author has managed it. From the sheer number of quality adjectives, I imagine I would find one in this terrific scratch that frabjous compendium."
Portland Book Review

"This book easily provided the most fun I've ever had in a thesaurus. To make look-up easy and accessible, Plotnik divides the words into fifteen categories: Great, Sublime, Physically Affecting, Mentally or Emotionally Affecting, Beautiful, Joy-Giving, Large, Exceptional, Intense, Delicious, Trendy, Cool, Wicked Cool, Forceful, and Challenging Belief or Expression. He fronts each chapter with a fun intro that explains the chapter to follow and offers insight into his choices and how to utilize the book to full impact."
Author Culture

"One of today's most distinguished writers on language and writing style a freaking genius-god in the writing world." Jessica Page Morrell, Powell's Books Blog

"[W]hat could be as fabulous, stupendous, showstopping, socko-boffo and epiphanic as this neatly organized, humorous yet helpful 'acclamatory hoard' of words for praising?"
Jim Higgins, Book Editor, Milwaukee Journal Sentinel

"Plotnik's "acclamatory hoard" is every bit as entertaining as it is useful. And (to lift one phrase) that ain't exactly chopped herring, considering it gives this critic some 6,000 substitutes for feeble old "amazing" and its ilk." Bruce Ingram, film and entertainment critic, Sun-Times Media/Pioneer Press

"Better Than Great is . . . more entertaining and informative than any book of lists has a right to be." Richard Nordquist, About.com/Grammar and Composition

". . . a wide range of fresh superlatives in a number of categories, pulling from rare gems and vintage gold all the way through current phrases influenced by hip-hop. . . . [T]here are plenty of forms of marketing communications that could use of an injection of less-worn adjectives . . . So for writers of all shapes and sizes Better than Great is indeed just that." Adam Sherk, adamsherk.com, News Media, SEO, PR and social media marketing blog

"Do you feel ... sometimes that you're stuck on a couple of words, unable to move beyond them? Well then, we have the book for you!"
Robin Young, "Here and Now," WBUR and NPR affiliates, August 11, 2011.


"Arthur Plotnik is a masterly expert on the use and the writing of the English language . . . a master of superlatives."
Milt Rosenberg, "Extension 720," WGN (Chicago), June 26, 2011

"Offers an energetic escape from the literary languor that enwreathes writers and speakersTogether with two of his earlier works on writing styleSpunk & Bite (2007) and The Elements of Expression, Better Than Great completes an unmatched triplicity of linguistic perfection."
College Academic Resources Library




"Arthur Plotnik's Better than Great is a bouquet of perfection, a feel-good, all-purpose A-list Angel Cake of big-league tips on how to turn your complimentary powers into blue chip, berserkely good, yowzwers of social and professional opportunity." Alan Kaufman, author of Jew Boy, A Memoir and editor of The Outlaw Bible of American Poetry

"AMEN-ASTONISHING!" Billy Collins, former U.S. Poet Laureate

"For those who find themselves at a loss for praise-worthy words, feel there's a paucity of acclamatory expressions, or believe we are numbed by the plethora of platitudes that pass for superlatives, Arthur Plotnik's new book is better than great; it is iridescently indispensable, a bare-knuckled barrel of berserkley fun words." Phil Cousineau, author of Wordcatcher: An Odyssey into the World of Weird and Wonderful Words

"Better than Great comes in the guise of a single-purpose synonym finder. But it's craftier than that. Arthur Plotnik shows us how masterful writers rub words together to make fire." Constance Hale, author of Sin and Syntax

"How to describe this book? Choose any term from pages 7 to 30. I'd call it perfection printed and bound." Bryan A. Garner, author of Garner's Modern American Usage

"Even I loved Art Plotnik's sublimely subversive exercises in adverbs used audaciously." Dave Kindred, author of Morning Miracle: Inside the Washington Post, and adverbophobiac

"Have you used the word 'great' or 'fantastic' or 'awesome' in the last week? Ha! I thought so. Everyone has. And it's getting really really tiresome. In your hands lies a new way of life. Word -adroit Art Plotnik has compiled a collection of hundreds of juicy alternatives to your three favorite superlatives. A feloniously fun bedtime browsing treat, Better Than Great is also an unimpeachably useful daytime reference work. I can't believe I ever got published without it. It is, in a word, ripsniptious! (P.S. Never lend this book to anyone. You will not get it back. That happened to me.)" Rosalie Maggio, author of How to Say It

"...a veritable plea to the masses, especially the portion of the masses that makes a habit of critiquing things. And really, who doesn't?" Heidi Stevens, Chicago Tribune, July 16, 2011

"...delightful, spankingly amusing... Plotnik presents hundreds of words and phrases that will make any conversation a sojourn through paradise... Terri Schlichenmeyer, Shelf Awareness for Readers, July 15, 2011


"I'm just back from . . . singing the praises of the 185 Young Writers who participated in the 7th Annual Mill Creek Young Writers Literacy Institute. The teachers LOVED my newest Writer's Bookshelf Recommendation: Better Than Great. . . . [The book] is just that - a true landfall of bliss for any lover of words."
Esther Hershenhorn, author and educator, on Teachingauthors.com, August 3, 2011

"If you want to add insane quantities of crackle and sizzle to your writing, look no further than Better Than Great ... a no-holds-barred ... guide for any writer looking to rid themselves forever of the stale, cumbersome baggage of overused and boring superlatives."
Julia Tagliere, Buzzle.com, August 3, 2011
Viva Editions, 9781573446600, 280pp.
Publication Date: June 7, 2011
About the Author
Arthur Plotnik is a versatile author with a distinguished background in editing and publishing. Among his seven previous books (not to mention 22 pseudonymous potboilers early in his career) are The Elements of Editing and The Elements of Expression, both Book-of-the-Month Club selections, and the best-selling Spunk & Bite: A Writer's Guide to Bold, Contemporary Style. His articles, op-eds, and literary pieces have been published widely, including his columns in The Writer magazine, on whose editorial board he serves.
Plotnik studied under Philip Roth in the Iowa Writers Workshop, was a reporter for the Albany (N.Y.) Times-Union, and after earning a second graduate degree, worked as a Library of Congress staffer in Washington and magazine editor in New York. He received numerous honors and awards as a long-time editor and publisher with the American Library Association in Chicago. He lives in that city with his wife and an avalanche tumble of jottings for Better than Great.
or
Not Currently Available for Direct Purchase