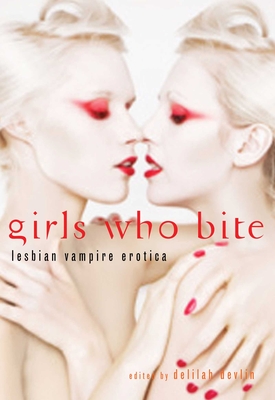 Girls Who Bite
Lesbian Vampire Erotica
Paperback

* Individual store prices may vary.
Description
For bad girls looking for love . . . fangs are more than an accessory. These are no Twilight tales -- the stories in Girls Who Bite are varied, unexpected, and soul-scorching. Best-selling romance writer Delilah Devlin and her contributors investigate vampire myths from around the world, and add fresh girl-on-girl blood to the pantheon of the paranormal. Take a walk on the wild side with some of the hottest erotic romance authors out there. In "La Caida," a Mexican "salt-eater" saves a fallen angel and redeems her own soul. In "Bloody Wicked," a powerful witch's spell to lure a lover turns her into a vampire's love slave. Through a "Pet Door," a shapeshifting vampire meets the dominatrix of her dreams. South African "Impundulu" sweeps you back to a vampire's primeval beginnings. With a list of contributors that include Adele Dubois, Christine d'Abo, Paisley Smith, Myla Jackson, Shayla Kersten, and Vivi Anna, Devlin delivers a dark and sexy read you can sink your teeth into! So, sit astride the dome of St. Peter's Basilica, sail with modern-day pirates, watch a meteor fall to earth, and taste the powdery wings of a Monarch butterfly. Not things you'd expect in a vampire tale? Then sip O-positive from a femoral artery while tugging at the silky strands of your lover's hair. Eternally delicious.
Praise For Girls Who Bite: Lesbian Vampire Erotica…
"Read this collection only if you want to be seduced." --Kissed by Venus
"Needless to say by the end of the book I was a very happy girl and was eagerly saying, "MORE PLEASE!" Girls Who Bite 2? Anyone? ANYONE?~?" --Kink Kitten
"…Add beautiful women in love to the mix and you have an unusual blend of sex and horror. This book makes a great present for any vampire junkie on your gift list." --Sensual Reads
"…The heat level in this collection of short stories is consistently high… this anthology has a bit of everything… readers should be prepared for the unexpected…" --Romantic Times Book Reviews
"Absolutely Amazing! Packed with heat, sexuality, and darkness. This book deliveries on so many levels. To say I enjoyed this book, honestly doesn't do it justice. Very well put together book that shows in a tasteful, paranormal way of women loving other women." --Romancing the Book
"So if you're looking for some red hot erotica to heat up your evenings, consider these stories which celebrate the creatures that prowl the night--and the recesses of our deepest, darkest, most primordial fantasies." --Curve Magazine
"…Absolutely Amazing! Packed with heat, sexuality, and darkness. This book deliveries on so many levels." --Romancing the Book
"Girls Who Bite was put together incredibly well and all the stories, although each different, flowed together nicely and were very intriguing! This anthology had me wanting more and turned me on to a whole new genre! I definitely had a hard time putting this book down." --Dirty Birdies Blog
"I'd highly recommend this book to everyone straight, lesbian, bi, it doesn't matter. There are stories here that you need to read and experience.And a final note regarding the editor Delilah Devlin. I'm going to go out on a limb here and say she is borderline genius for putting together this fantastic lineup of stories. I truly hope she will consider putting out a Girls Who Bite" volume two." --BDSM Reviews
— Reviews
Cleis Press, 9781573447157, 256pp.
Publication Date: September 6, 2011
About the Author
Delilah Devlin is a rising star in the world of erotica and romance. Her titles include Cowboy Lust, Into the Darkness, Seduced by Darkness, Darkness Captured, Down in Texas, and Texas Men. Her short stories have been featured in Zane's Purple Panties, Girl Crush, Fairy Tale Lust, Lesbian Lust, Carnal Machines, and Passion. A USA Today best-selling author, she lives in Arkadelphia, AR.Jo Davis lives in Wylie, TX.
or
Not Currently Available for Direct Purchase