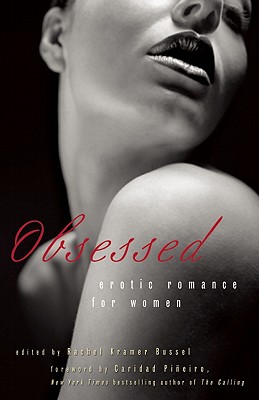 Obsessed (Paperback)
Erotic Romance for Women
Cleis Press, 9781573447188, 223pp.
Publication Date: August 2, 2011
* Individual store prices may vary.
Description
Obsessed is not about obsession for a new purse or a new car. Instead, these stories sizzle with the kind of obsession that is fueled by our deepest desires, the ones that hold couples together, the ones that haunt us and don't let go. Whether just-blooming passions, rekindled sparks, or reinvented relationships, these lovers put the object of their obsession first. From the almost-divorced couple in "Aftershocks," by Bella Andre, who finally confess their deepest desires during an earthquake, to a woman who confesses to her boyfriend just how much she lusts after another man in Emerald's "Then," these lovers push the boundaries of their relationship and the boundaries of their trust in each other. Obsessed lovers don't always do what is rational; sometimes they chase their dreams, such as in Kayla Perrin's "One Night in Paris," across the world and across the landscape of their lovers' bodies.
Praise For Obsessed: Erotic Romance for Women…
"I loved the way the collaboration was put together. It was actually more captivating than I thought it would be. Being divorced as I am...well, lets just say that this book leaves the mind REALLY working about the things that can happen if you want to fulfill that sexual urge. While being extremely erotic, I do give this book a 4 in the rating department. It is definitely a book that will capture the attention of women...and even men, too! I'm sure there are men out there that would like a little boost" in their readings. This is one that will go above and beyond that boost" and I highly recommend it if you love the erotic feeling of reading a book filled with cravings and desires."
Romancing the Book

"This steamy and sexy anthology is filled with 19 stories all about obsession. I love the theme!! To me, nothing is sexier than that all consuming, make the world disappear, type of passion that these stories are all about."
Gypsy Mama Logs

"Obsessed is a treasure full of tenderness, raw lust, longing, and all of the many things that fill our sexual lives and erotic minds. The nineteen stories written so fluidly fills the oceanic depths of desire where obsession lies. Perhaps the word obsessed" is as elusive as the state of being it exists in. Like a drug, we want more. More stories, more lust, more sex, more love, and it's never, ever enough."
Erotica du Jour

"In the 20 novellas in this collection, obsession is the name of the game. The pages sizzle and the words smoke. Readers will love the variety and the intensity of assignations, ranging from a foreign city to a small cottage under a hurricane onslaught, with a varying mix of locales in between." Romantic Times Book Reviews magazine

"One word of warning though. These stories are hot and will definitely warm you up. In fact, they will probably give you some really good ideas so you might want to have that special someone around. I'm not sure a fan and cold drink will work!"
Night Owl Reviews

"Whatever you desire, you'll find a story to turn the heat up a notch, or several. While these stories are written specifically for women, chances are excellent that if you read some of them aloud to your man, things will heat up for the two of you surprisingly fast."
Fresh Fiction


"Ms. Bussel weaves together an anthology that is rich and erotic. I loved all of the stories to the point of obsession."
Kiss My Laptop


"Passion delivers just what you would expect super hot stories with sex that burns up the pages. Don't miss it!" USA Today and Essence bestselling author Kayla Perrin

"These stories are full of passion and sexual exploration, the giving and taking of pleasure - hot enough to singe your bed covers." Michelle's Book Blog

"Rachel Kramer Bussel's books hold the promise of good erotica, and of good fiction in general: the fantasies of others brought to life, however foreign or taboo, and the opportunity to step outside of yourself and lose yourself in them." Sarah Estrella, National Sexaminer

"Whenever we're looking for really kinky erotica, we turn to editrix extraordinaire Rachel Kramer Bussel. Her anthologies of hot, steamy sex stories are always enticing, and once we pick one up, we can't put it down." Penthouse Forum

"Rachel Kramer Bussel is a prolific producer of erotica anthologies the last time we spoke with her, we marveled that she was the editor of not one but two anthologies just on spanking alone." Daily Bedpost

"Bussel's unusual selections and meticulous editing are to be commended." - ForeWord Reviews
or
Not Currently Available for Direct Purchase