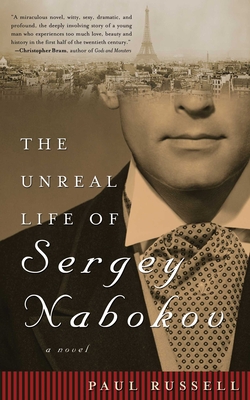 The Unreal Life of Sergey Nabokov (Paperback)
Cleis Press, 9781573447195, 381pp.
Publication Date: November 8, 2011
* Individual store prices may vary.
Description
In his novel based on the extraordinary life of the gay brother of Vladimir Nabokov, Paul Russell re-creates the rich and changing world in which Sergey, his family and friends lived; from wealth and position in pre-revolutionary Russia, to the halls of Cambridge University, and the Parisian salon of Gertrude Stein and Alice B. Toklas. But it is the honesty and vulnerability of Sergey, our young gay narrator, that hook the reader: his stuttering childhood in the shadow of his brilliant brother, his opium-fueled evenings with his sometime lover Cocteau, his troubled love life on the margins of the Ballets Russes and its legendary cast, and his isolation in war torn Berlin where he will ultimately be arrested, sent to a camp and die in 1945. A meticulously researched novel, in which you will meet an extraordinary cast of characters including Picasso, Diaghilev, Stravinsky, Magnus Hirschfield ("Tante Magnesia"), Gertrude Stein and Alice B. Toklas, Cocteau, and of course the master himself, Vladimir Nabokov, this is ultimately the story of a beautiful and vulnerable homosexual boy growing into an enlightened and courageous man.
About the Author
Paul Russell is the author of "The Salt Point, Sea of Tranquility, "and the Ferro-Grumley Award-winning "The Coming Storm." Russell has received many nominations and awards for his writing. He is the author of the indispensable reference book "The Gay 100."
Praise For The Unreal Life of Sergey Nabokov…
"Russell has succeeded in the impressive feat of making vivid and compelling the story of a vulnerable hanger-on, a person Vladimir Nabokov described as a shadow in the background.""
Historical Novel Society

"There's a lot of great stuff in this book, and it certainly made me want to know more about the man, the time in which he lived, and more about his famous brother's books."
Glorified Love Letters

"What struck me most about this work was the lavish, beautiful prose. I've read few modern novels that can compare. The voice Paul Russell captures is both lush and believable. The detail in the scenes he paints is remarkable."
Examiner

"Horrible memories are sometimes pushed far to the side, for the best. The Unreal Life of Sergey Nobokov seeks to tell a story surrounding famed author Vladimir Nobokov's forgotten gay brother, Sergey. Chronicling the story of Sergey through Czarist Russia and their departure from their home land towards England. A remarkable story that explores the relationship of the brothers that shows much research all the way toward Sergey's fate, The Unreal Life of Sergey Nobokov is well worth considering for literary fiction collections."
Michael J. Carson

"The language used by the author helps keep the reader in the time period, along with succeeding at painting a picture of what life was like for a homosexual person at the time....The one characteristic of this book that most stands out for me, in an already extraordinary read, is the framing of the story....Absolutely engrossing, the author has put together the story of a shy, endearing, vulnerable, unforgettable young man, valiantly facing circumstances that would have destroyed a lesser soul. Kudos, Mr. Russell, for a brilliant performance. Highly recommended."
Arketipo 187

"Russell's just-released novel The Unreal Life of Sergey Nabokov ... brilliantly re-creat[es] the many worlds in which the historical Sergey moved: pre-revolutionary St. Petersburg, Cambridge University, the gay demimonde of expatriate Paris, a fairy-tale castle in the Austrian Alps, war-torn Berlin."
Chronogram

"A brilliant imagining of the life of a marginal son of the Russian liberal elite washed away in the Bolshevik revolution and then enmeshed in the Third Reich."
Stephen Murray, epinions

"Paul Russell's The Unreal Life of Sergey Nabokov: A Novel builds upon those dazzling days between the overthrow of the Russian Tsar and the rise of the Third Reich. Through the perspective of the real, but little-known Sergey Nabokov, younger brother of Lolita's creator, Vladimir Nabokov, Russell brings his readers on a wild romp through the gay and artistic cliques that were changing the face of the art and literary worlds in the 1920s and 30s."
Foreword Review

The title of Paul Russell's splendid new novel, The Unreal Life of Sergey Nabokov, hints at its contents....The Unreal Life bears a resemblance to Woody Allen's movie Midnight in Paris." Russell solves a problem that defeated Allen. In Midnight in Paris," Gertrude Stein's speech lacks the head-scratching repetitions that coil through her books. Russell, though, captures the Stein style beautifully, as in this reply to a help-me letter from Sergey, sent from Berlin late in the war: Miss Stein knows she knew you but no longer knows how she knew nor when nor where nor why she knew you when she knew you. Nonetheless she wishes you the very best.""
The Washington Post Bookworld

"A story that will make you laugh and smile then breaks your heart, this is a rich tapestry of the human condition. Highly recommended."Library Journal

"Sergey's struggles with his sexuality, as well as his adventures and misadventures in the salons and clubs of pre-war Europe, are drawn with humanity. With compelling characters and steady prose, the reader will breeze through this pleasurable, heart-breaking account of the other Nabokov."
Publishers Weekly

"The subtle, dark wit that makes The Unreal Life of Sergey Nabokov a pleasure to read. As WWII begins and then drags on, several characters take shelter in cities outside Berlin. One character goes so far as to say, "My wife and daughter are perfectly safe, staying with her parents in Dresden, which I am told presents no military or industrial targets whatsoever for the RAF." With rare perfect timing, Russell allows his characters to make similar comments completely unaware of history's hammer, poised and ready to slam down."
Foreword Magazine

"Russell's prose, engagingly evocative of the period in which the story is set, is studded with gems of dark wit that add quirky grace to a masterful novel."
South Florida Gay News

"Russell's stellar research and inventiveness make this obscure figure, an unforgettable gay hero."
Edge

"The Unreal Life of Sergey Nabokov displays linguistic artistry through portraying ruin in all its formsthe scattering of family ties, the loss of one's country, and the consequences of war, death, addiction and forbidden love. It's a life story that does, in fact, seem unreal," and is made all the more remarkable for its veracity. Kudos to writer Paul Russell for presenting the historical persona of the gay Nabokov" in a fictional format that succeeds at drawing the reader into Sergey's improbably true life."
Lambda Literary

In literary heaven, where Vladimir Nabokov now resides, he wouldn't approve of this convincing dream evocation of the life of his gay brother, but the novel is a sidelong tribute to Nabokovtender, sad, and moving, with touches of the Maestro's elegance."
Herbert Gold, author of Not Dead Yet, and Fathers

Paul Russell has been so skillful and so fond in the creation of this Unreal Life that his readers will unavoidably identify it with the real one which ended in 1943. Now it is their turn to sift what is real from what is imagined, mine only to applaud the author of every life, unreal and otherwise, in this inescapable construction dedicated to that ghost,' a voice-over of Sergey, the lost Nabokov, that maintains us all in a sort of double time-machine compelling us to follow the consecrated Nabokovs and a host of others through the last ecstasies of gay Europe."
Richard Howard, author of Paper Trail and Without Saying

"An extraordinary novel, tender, fierce, and graceful, The Unreal Life of Sergey Nabokov is a tale of place and displacement, of shadows and siblings and countries shaken by changeand sustained, as the reader will be, by the quiet heroism of art. A tour de force."
Brenda Wineapple, award-winning author of WHITE HEAT: THE FRIENDSHIP OF EMILY DICKINSON AND THOMAS WENTWORTH HIGGINSON

"'Beauty plus pity," Vladimir Nabokov's famous definition of art, perfectly describes this moving, artful novel. Intimate and epic, gorgeously written, divinely detailed, The Unreal Life of Sergey Nabokov is an ingenious hybrid of a book, powerful, troubling, exciting."
Sigrid Nunez, author of A Feather on the Breath of God

"Paul Russell's sublime novel The Unreal Life of Sergey Nabokov is an astonishing work of art. In lucid prose, Russell retells the story of Nabokov's gay brother, allowing us a clear window into an overlooked life and an underwritten aspect of history. This mesmerizing novel not only recreates the shifting, unstable epoch of Europe in the first half of the twentieth century, but reimagines Sergey's persona, his loves and fate with great authenticity and imagination. It's a heartbreaking novel that everyone should read."
Alistair McCartney, author of The End of the World Book

"In this melancholy, graceful novel, Paul Russell has captured a vanished time and people, and even the clarity and formality of mid-20th century émigré prose. Despite loss and alienation dating almost from birth, Russell's Sergey emerges as the more humane Nabokov brother, and you cheer for his brief happiness and the love he found before history closed in."
Regina Marler, author of Bloomsbury Pie

"It takes an accomplished novelist to bring to glittering life a lost and foreign world. Paul Russell achieves this feat with disarming ease in The Unreal Life of Sergey Nabokov, a daring, ambitious, playful, intelligent, and deeply affecting novel. Russell lavished upon Vladimir Nabokov's unheralded and doomed younger brother Sergey the divine attention, sympathy and patience we all wish to receive from our creator. While compulsively reading this book, I felt an occasional twinge of envy, and I thought that it must have been as exciting to write as it is to read."
Valerie Martin, author of The Confessions of Edward Day

"Always readable and compelling, Paul Russell's The Unreal Life of Sergey Nabokov is a brilliant impersonation, literary prestidigitation of a higher order, and in the end, the unexpected, unique, and solidly mature work we were awaiting from this already accomplished author."
Felice Picano, author of True Stories:Portraits From My Past

"The historical life of Sergey Nabokov was altogether real and all too short. But there are forms of history that only fiction can suggest, and this subtle novel movingly brings back from the shadows a rich, lost life."
Michael Wood, author of The Magician's Doubts: Nabokov and the Risks of Fiction and Yeats and Violence

"The only thing 'unreal' about this novel is the skill it took to write it. Paul Russell exhibits uncanny knowledge of the period and its people. He is an unfailing guide through St. Petersburg, Paris, and Berlin, dope dens, literary salons, drag balls, and war-torn streets. From the height of genius and to the depth of the gutter, Russell extends his precise, penetrating and panoramic gaze."
David Bergman, author of The Violet Hour of Gaiety Transfigured

The Unreal Life of Sergey Nabokov advances the art of biography even as it proves itself the very best of Paul Russell's fine novels. I read half of it not even thinking that Sergey Nabokov was a real person,' largely because the intimacy author Russell brings to his subject is the total kind one finds only in art, but then something told me, you're reading two sorts of book at oncea stupendous thrill ride all by itself. History and myth combine to tell the saga, apparently from inside, as we've never experienced itthe splendors and miseries of Tsarist Russia, the picnic of modernism that was the 20s Paris of Cocteau, Stein, and Diaghilev, and the unfolding nightmare of the Third Reich. Our hero lacks his brother's genius, but he is that rare creature, the genuinely brave and sweet man to whom one hates to say goodbye. And now we don't have to."
Kevin Killian, author of Shy and Arctic Summer

"This astounding book will remind the reader not of Nabokov, but of Tolstoy: for the epic sweep across history, of course, but even more for the great Tolstoyan trick of finding the one detail in a bit playerthe livid scar on the naked thigh of a Russian peasant, the subversive hangman's lock" of hair sported by a kid in Nazi Berlinthat somehow conjures up a whole vanished world of seeing and feeling. Sergey Nabokov is a triumphant invention: eyes and heart wide open through every catastrophe, he emerges as a new kind of hero, an intrepid conquistador of loss."
Mark Merlis, author of American Studies and A Man About Town

"The Unreal Life of Sergey Nabokov is a really wonderful book, a remarkable achievement from one of our best authors, gay or straight. Paul Russell's writing has the richness of a nineteenth-century novel with a modernist's sensibility. His protagonist, an outsider because f his sexuality, is at the same time an eyewitness to world-changing events who manages to find a place for himself at the heart of the creative life of his times. With a deftness that never stoops to the garish or avoids the grimy truth and is always even-handed, Russell gives us incisive portraits of Cocteau, Diaghilev, Gertrude Stein and Alice B. Toklas and their Charmed Circle, and Vladimir and Véra Nabokov, and glimpses into the demimonde of Paris and Berlin. His ability to reveal his characters' flaws without judging themor inviting the reader's dismissalresults in moments of poignancy that make the triumphs as well as the tragedies he portrays all the more moving."
Patrick Merla, anthologist of the award-winning collection of original personal essays Boys Like Us: Gay Writers Tell Their Coming-Out Stories and longtime editor of literary magazines and the work of such authors as J. D. McClatchy, Nabokov and Edmund White

Praise for Russell's The Coming Storm
"Unsettling and touching...well-nigh flawless."
The Washington Post Book World

"Captivating...It engages like a whisper, seductive and, yes, even sad."
Rocky Mountain News