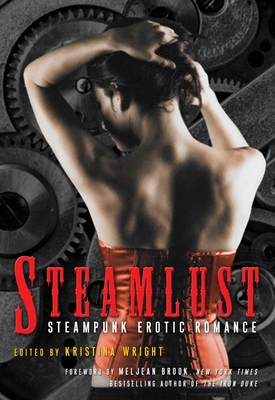 Steamlust (Paperback)
Steampunk Erotic Romance
Cleis Press, 9781573447218, 256pp.
Publication Date: October 4, 2011
* Individual store prices may vary.
Description
Steamlust is romantic erotica that reflects the excitement, fantasy and rebellion of steampunk. Not sure what steampunk is? Think Victorian elegance and aesthetics meets futuristic invention and exploration. The genre of steampunk itself has transcended the Victorian (or Edwardian) eras -- in Kristina Wright's inventive anthology, it can be any time period, real or imagined, that blends elements of science, history, fantasy and technology. Until Steamlust, the genre had been missing romantic relationships and erotic encounters. Steampunk erotic romance is shiny brass and crushed velvet; mechanical inventions and romantic conventions; sexual fantasy and kinky fetish. It's steam powered sexy romance! Editrix extraordinaire Kristina Wright creates a lush and fantastical world of women-centered stories and romantic scenarios, first for steampunk fiction. Fetishizing the wardrobe, language, fantasy and rituals of steampunk, Steamlust includes alternate histories, second worlds, time travel and contemporary settings.
About the Author

Kristina Wright (kristinawright.com) is the editor of over a dozen published and forthcoming Cleis Press anthologies, including the best-selling Fairy Tale Lust: Erotic Fantasies for Women. Other titles include: Dream Lover: Paranormal Tales of Erotic Romance; Steamlust: Steampunk Erotic Romance; Lustfully Ever After: Fairy Tale Erotic Romance; Duty and Desire: Military Erotic Romance; xoxo: Sweet and Sexy Romance, and the Best Erotic Romance series. She is also the author/editor of the cross-genre Bedded Bliss: A Couple's Guide to Lust Ever After for Cleis Press. Her fiction has been published in over one hundred anthologies and her nonfiction has appeared in numerous publications, both print and online. She holds degrees in English and humanities and has taught composition and world mythology at the college level. Originally from South Florida, Kristina is living happily ever after in Virginia with her husband, Jay, and their two little boys.

Praise For Steamlust: Steampunk Erotic Romance…
"The stories in Steamlust are all well-written with characters you want to invest in, even if it is only for 20 pages. On a few I even found myself wishing it wasn't over. If you've never read steampunk before, don't skip the editor's note. It's a great explanation of steampunk and how it got its roots in literature."
San Francisco Book Review

"One does not need to be a fan of steam punk in order to understand or enjoy this delightful book. I am eagerly anticipating the next book in the series."
Night Owl Reviews

"I've read steampunk novels before but never an erotic one, so I thought I'd give it a shot. It paid off; I fully enjoyed reading this collection. The were fun and quick reads, perfect for someone always on the go."
Sacramento Book Review

"Blending historical fiction and fantasy leads to plenty more fantasy. Steamlust: Steampunk Erotic Romance is a collection of short stories rom various authors, compiled by Kristina Wright, blending this unique setting into passionate romance. For those with a love of erotic fiction and a taste for steampunk, 'Steamlust' will prove an excellent and much recommended read."
Midwest Book Review

"The collection blends elements of science fiction, history and fantasy in all time periods and throws in lashings of heady, hot, steamy sex - just the way we like it!"
JADE Book Reviews

"Wright's anthology of sizzling steampunk romance is a sensual, passionate, and humorous collection of alternate histories, fantastical worlds, and time travel romps. The heroines are strong-willed, intelligent, technologically savvy, and elegant in their fashionable corsets. Some are attracted to men who are half-machine, as in Sylvia Day's Iron Hard," Christine d'Abo's The Undeciphered Heart," and Nikki Magennis's Make Your Own Miracles." Others are seduced by the wonders of flying airships and robots in Saskia Walker's Heart of the Daedalus" and Sacchi Green's Fog, Flight and Moonlight." There are same-sex affairs aplenty; the best is Anya Richards's powerful Rescue My Heart." Not content to titillate, these passionate vignettes will also satisfy steampunk fans intellectually with nuanced discussions of self-sufficient women and the roles that machines play in our lives. (Nov.)
Publisher's Weekly, Starred Reviewed on: 09/12/2011

"With a foreword by Meljean Brook and an introduction by the editor, this erotic paean to steampunk captures many aspects of the genre. Expect the unexpected, whether it is the baron's mechanical arm in Sylvia Day's Regency, 'Iron Hard,' or Saskia Walker's walking insect-like creation in "Heart of the Daedalus,' set after the Crimean war. Each story has its fair share of sex in addition to the invention that is out of place and time." Romantic Times

"What do dirigibles, steam engines, corsets, gears, romance, sex, and love have in common? You can find them all in the new anthology, Steamlust: Steampunk Erotic Romance. Kristina Wright, the editor, is also an author and steampunk fan. If you're not sure what it Steampunk" is, start with H.G. Welles and Jules Verne as a reference, with a retro-technological bent. Kristina Wright's anthology adds romance and erotica to the mix, it is what makes this anthology different in a time when this genre is rising in popularity. Wright invited 14 fascinating women to write short stories centered on female characters who enjoy explorations, Victorian costumes, and romance. The protagonists range from human to automaton, and are as unique as their creators. Because these are short stories, the authors have made every word count and the details are vivid. Erotica fans are sure to find many arousing scenes in the collection. The erotica ranges from flirty to steamy. Adults are invited to visit steamlustanimation.blogspot.com to view a creative video that highlights these stories. Be prepared for a wild and romantic adventure."
Elizabeth Franklin, Portland Book Review

"As always, all of the writing in this anthology is great. There were a couple stories that I wasn't fond of, but a lot of the stories were really good. I found myself more attached to the relationship between the main character rather than the sexual aspect though; the relationships and romance of the characters seemed to be the focus (as the title would imply), and that's where I found myself usually drawn into the story. Each story is longer than your average anthology story as well, so you really get the time to get to know the characters and fall in love with their plot."
Fresh Fiction

"Overall, I really like Steamlust. I love the plot that it portrays, and I love the focus on the relationships between the characters. The stories really draw me in really well. I wouldn't say that this is the most erotic collection of stories that I've read, but it certainly is a joy to read, and it's well-written and contains a great variety of stories." Kayla at Pop My Cherry Review

"I don't think anyone will be disappointed by Steamlust. It's all that it claims to be. There are plenty of spinning gears, mechanical limbs, automatons, airships and parasols to delight the steampunk fan. There are erotic twosomes and threesomes steamy enough to satisfy the erotica reader." Erin O'Riordan, author

"... a joy to read, and it's well-written and contains a great variety of stories."


"This is steampunk . . . written extra hot, for double the steam."
Meljean Brooks

"With a foreword by Meljean Brook and an introduction by the editor, this erotic paean to steampunk captures many aspects of the genre. Expect the unexpected, whether it is the baron's mechanical arm in Sylvia Day's Regency, Iron Hard," or Saskia Walker's walking insect-like creation in Heart of the Daedalus," set after the Crimean war. Each story has its fair share of sex in addition to the invention that is out of place and time."
RT Reviews

"They don't come much more wicked than Kristina Wright." Erotica Revealed

"Kristina is a phenomenal writer... she has the enviable ability to tell a story and simultaneously excite her readers." Erotica Readers and Writers Association

"Kristina Wright knows how to spin a yarn that keeps the reader captivated." Coffee Time Romance

"Kristina Wright is a gifted writer...[who] shows her talents to tell a powerful story with deft subtlety." Erotica Readers and Writers Association

"A budding force to be reckoned with." The Romance Reader

"She shows how sexy the simple exchange of words can be when in the hands of an accomplished author." Erotica Readers and Writers Association

"Kristina Wright delivers taut, breakneck pacing with snappy dialogue." Book Page