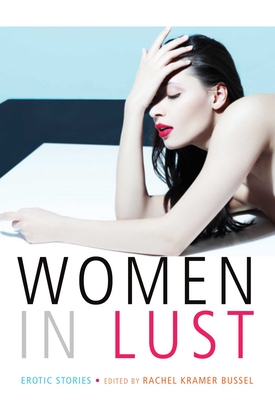 Women in Lust (Paperback)
Erotic Stories
Cleis Press, 9781573447249, 244pp.
Publication Date: November 8, 2011
* Individual store prices may vary.
Description
Winner of IPPY (Independent Publisher) Bronze Award for Erotica
Lust is urgent, overpowering, and potent. While in real life readers may not always act every time desire calls, in fiction, they can abandon the safety of propriety to seek out lust and sex wherever they find them. The characters in Women in Lust may vary in the objects of their lust, and how they go about acting on it, but what connects them is that pure impulse for a lover. Sometimes he is someone she knows well, a boyfriend or a husband; in other stories, he is a stranger, and is desirable precisely because he represents the unknown. Whether watching a lover playing guitar, going out for a smoke or simply engaging in a chance encounter, these women seize the opportunities presented to them, and savor the lovers who teach them about themselves, helping open them up to new sensual possibilities.
About the Author

Rachel Kramer Bussel (rachelkramerbussel.com) is a writer, editor, event organizer and erotica writing instructor. She's edited over 60 anthologies, including The Big Book of Orgasms, Come Again: Sex Toy Erotica, Dirty Dates, On Fire, Spanked, Please, Sir, Please, Ma'am, and is Best Women's Erotica of the Year series editor. Her nonfiction has been published in The New York Times, The Washington Post, Marie Claire, O, The Oprah Magazine, Elle.com, Salon, Slate, Time.com, The Village Voice and numerous other publications. Follow her @raquelita on Twitter and learn more about her writing workshops and consulting at EroticaWriting101.com.

Praise For Women in Lust: Erotic Stories…
"From the objects of their desiring to how they want to be wanted, the collection offers a delicious array of women's lust to choose from." --Sal & Tal Erotica
"Many of the stories showed the female characters really going exactly for what they lusted after, and the stories all were unique and individual from one another while still united by strong female characters. I definitely think Women In Lust has a story for everyone, and if you enjoy hot and pleasurable erotica that's well-written and features a strong female character, this could be a great book of erotica for you. I definitely would rate this hot read above some of the other erotica books I've read." -Pop My Cherry Reviews
"What I love about Women in Lust is that it's a mixed bag of delicious, sinful erotic stories. The title insinuates its a lesbian anthology, but it has all sorts of stories--straight, lesbian, couple, threesome, etc.--that all women will be sure to enjoy. Stories: I love their diversity! Not only in storyline, but also in heat level and theme. Some are sizzling, some are vanilla, some are intense--just reading them form bruises on my flesh--and some are heart-tingling. This book is a great collection of such a broad assortment of stories that you'll never get bored with, and one that certainly won't dissatisfy. Rachel Kramer Bussel is among my favorite Cleis authors/editors. She does a fabulous job picking the PERFECT stories for her anthologies, so of course Women in Lust didn't disappoint! The quality of the writing conventions-wise is also fantastic; typo count, zero, which is so hard to come by in erotica these days." --Caffè Vitale
"It's wonderful to read about women in lust - women who are bold, free, shameless (in a good way), women who know how to reach satisfaction. It's nice to read a book full of heroines unburdened by guilt, with very few obstacles between them and their fondest desires." --Pagan Spirits
"If you're looking a totally sexy, so-hot-it'll-burn-your-fingers book, then you should definitely add Women in Lust to your shopping list." --Erotica for All
"Each tale is a snippet into a life or lives and each presents a titillating vision into perceptions of lust, so everyone can find something that will appeal." --Fresh Fiction
"I was impressed with the overall quality of the writing, and I will certainly be reading more erotica from Cleis Press. I'm thrilled to see so much diversity in the stories - younger women's lust and older women's lust, leading to straight, gay and kinky sex, and in all cases to hot sex. Highly recommended." --Whole Sex Life
"Erotica author and editor Rachel Kramer Bussel's newest anthology Women in Lust is juicy and bursting with the passionate flavors of many voices...Fresh and wonderfully compiled, twenty erotica authors combine their literary gifts and mix it all up into a lusty book...gives the reader a bouquet of delights, all clamoring with lust, displaying its words, paragraphs, and letters in sinuous sentences and wanton descriptives." --Erotica du Jour
"Wishes and thoughts, ideas and machinations of women in the throws of lust, for men or women, release or adventure, be it to take or be taken. It was an enjoyable and recommended read." --The Eroticist
"These lusty women enjoy a rough and wild romp. Edited by Rachel Kramer Bussel, the anthology Women in Lust plunges headfirst into spanking, multiple partners and switching genders. For me with erotic writing, it's not about the gender of the individual but the overall person, and I enjoy anthologies that embrace this diversity." --Louisa Bacio Blog
or
Not Currently Available for Direct Purchase