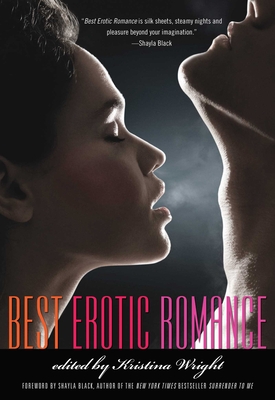 Best Erotic Romance
Paperback

* Individual store prices may vary.
Description
This inaugural collection of erotic romance features the very best of the genre. In erotic romance, the sexual component is critical to the development of the romantic relationship. Each of these masterfully written tales contains the essence of true romance: a central love story and an emotionally-satisfying, optimistic ending. What sets Best Erotic Romance apart is the scorching hot sex and the happily-ever-after (or happy-for-now) ending. Award-winning romance writer and editor Kristina Wright and her cast of terrific romance writers have crafted stories that touch the hearts and minds of readers, and linger in the memory for a long, long time.
Praise For Best Erotic Romance…
"The romance and the eroticism in all of the stories was the absolute perfect mixture." --Pop My Cherry Reviews
"A wonderful range of stories that tell erotic tales of new love, the fears accompanying the start of a marriage, pregnancy, stolen moments from child-rearing, the antidote to stagnation in a relationship, the pain of broken dreams and the fear of commitment." --Night Owl Reviews
"If you want to skip past the soap-opera stories and get right to the juicy stuff, then you should probably pick up Best Erotic Romance, the first anthology to offer stories where the sexual and the romantic are entwined. ... All the stories have an optimistic ending that will leave a song in your heart and a smile on your lips--the passionate, emotional encounters will leave you breathless." --Erotic Readers and Writers Association
— Reviews
Cleis Press, 9781573447515, 242pp.
Publication Date: December 6, 2011
About the Author
Kristina Wright (kristinawright.com) is the editor of over a dozen published and forthcoming Cleis Press anthologies, including the best-selling Fairy Tale Lust: Erotic Fantasies for Women. Other titles include: Dream Lover: Paranormal Tales of Erotic Romance; Steamlust: Steampunk Erotic Romance; Lustfully Ever After: Fairy Tale Erotic Romance; Duty and Desire: Military Erotic Romance; xoxo: Sweet and Sexy Romance, and the Best Erotic Romance series. She is also the author/editor of the cross-genre Bedded Bliss: A Couple's Guide to Lust Ever After for Cleis Press. Her fiction has been published in over one hundred anthologies and her nonfiction has appeared in numerous publications, both print and online. She holds degrees in English and humanities and has taught composition and world mythology at the college level. Originally from South Florida, Kristina is living happily ever after in Virginia with her husband, Jay, and their two little boys.
or
Not Currently Available for Direct Purchase