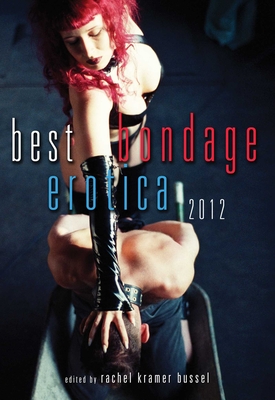 Best Bondage Erotica 2012 (Paperback)
Cleis Press, 9781573447546, 224pp.
Publication Date: December 6, 2011
* Individual store prices may vary.
Description
Best Bondage Erotica 2012 fully explores the joys of restraint with stories from top-notch (pun unintended) writers who have mastered the bondage fiction. Editrix extraordinaire Rachel Kramer Bussel lets the reader in on the subterranean world of forbidden desires and sexual fantasies that shock and scintillate as they mesmerize. How do you want to be teased, tied, and tantalized? Best Bondage Erotica 2012 covers all the ways you can get your kink on with stories of spanking, corsetry, rubber, crossdressing, handcuffs, robe, and pleasures that push into new, and exquisitely delightful territory. Surrender to the intense eroticism of bondage and fetish in full flower.
About the Author

Rachel Kramer Bussel (rachelkramerbussel.com) is a writer, editor, event organizer and erotica writing instructor. She's edited over 60 anthologies, including The Big Book of Orgasms, Come Again: Sex Toy Erotica, Dirty Dates, On Fire, Spanked, Please, Sir, Please, Ma'am, and is Best Women's Erotica of the Year series editor. Her nonfiction has been published in The New York Times, The Washington Post, Marie Claire, O, The Oprah Magazine, Elle.com, Salon, Slate, Time.com, The Village Voice and numerous other publications. Follow her @raquelita on Twitter and learn more about her writing workshops and consulting at EroticaWriting101.com.

Praise For Best Bondage Erotica 2012…
"If you want a good book of erotica that focuses on bondage, kink, and power play, Best Bondage Erotica 2012 definitely delivers." --Pop My Cherry Review

"This is a really great book full of really awesome kink. There is some spanking, some public humiliation, some total power exchange featured within. I highly recommend this book because I really enjoy a good bondage story whether the bondage is real or imagined. This book featured some very sexy players enjoying some very hot kink. I enjoyed the variety." --Kissin Blue Karen

"If you're looking to find some awesome authors, check this book out. If you're wanting to read some hot bondage, this is the book you want. If you're to explore this genre, this is your book.I found myself learning new things and enjoying old. These authors truly give you some of the best bondage erotica in 2012." --Night Owl Reviews

"If you're looking for good writing, powerful eroticism, and a delightful variety of approaches to the same theme, you won't go far wrong with Best Bondage Erotica 2012." --Erotic Readers and Writers Association

"Rachel Kramer Bussel ... returns with a collection of dark delights for those of us who take a walk on the wild side and those who want to venture there. ... The stories presented here are easily adapted to real life scenarios, so don't just think of it as a collection of well written erotica by some of the best writers of the genre; instead, think of it as an instruction manual--Intro to Bondage... Each story is carefully crafted to yank on our lusts (no pun intended--or perhaps it is) and I can imagine Bussel having a hard time selecting which to use. Collected here, however, are the best bondage erotica that the year has to offer." --A Book Hunter's Journal
or
Not Currently Available for Direct Purchase