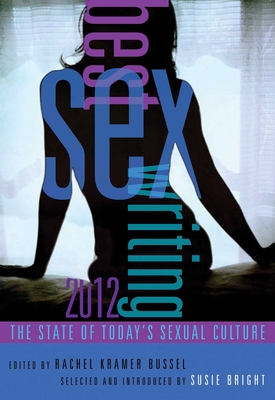 Best Sex Writing (Paperback)
The State of Today's Sexual Culture
Cleis Press, 9781573447591, 209pp.
Publication Date: January 10, 2012
* Individual store prices may vary.
Description
In Best Sex Writing 2012, sex columnist Rachel Kramer Bussel and noted commentator Susie Bright, this year's guest judge, collect the most challenging and provocative work on this endlessly evocative subject. Find out what's behind the latest political sex scandals in "Sex, Lies, and Hush Money," learn about how "Atheists Do It Better" and find out "Why Lying About Monogamy Matters." From an insider look at being gay in the military pre-DADT and an impassioned defense of circumcision to a dating site for people with STDs, nuanced explorations of teen sex laws, prostitution, sex at 66, SlutWalks, female orgasm workshops, and more, Best Sex Writing 2012 explores the smarter side of sexuality. This is bedtime reading for erotic intellectuals and those who want to go behind the latest leering headlines for real talk about the topic on everyone's lips.
Winner of IPPY (Independent Publisher) Gold Award for Sexuality/Relationships
Praise For Best Sex Writing: The State of Today's Sexual Culture…
"A sharp, snappy collection, and it has enough talking points to keep you engaged and enraged for a year. These essays are funny, heart-breaking, head-scratching and honest. They're well-written and have lovely moments of poetry and concise, bone-cutting prose. They're varied and unique, but unified in their vision for a world with better sex, and better ways to write and talk about sex. Best Sex Writing 2012 is a step in the right direction."
XOXO Amore

"Best Sex Writing 2012, a fascinating and inspiring book that brings together various articles and essays on the topic of sex and sexuality. They run the gamut from prostitution to circumcision and come from a variety of mediums and authors."
Where is Your Line? blog

"This book highlights not only the diversity of sexual issues prevalent in the public discourse but likewise the importance of all things sexual to human culture Readers interested in sexuality and its role in politics and culture will find something of interest in this eclectic volume. A great opportunity to discover new voices, new sources, and new information on the subject of sex."
Library Journal

"The most alluring and insightful work on the seemingly limitless topic of sex for the always rewarding Best Sex Writing series. Put on your slutty-librarian reading glasses and open up the enticing anthology"
SF Bay Guardian

"The articles and essays [in BEST SEX WRITING] cover a wide range of topics, and there's something in the book for everyone. Even if you look at the table of contents and think, 'Wow, I'm not sure I really want to read about that,' you might be surprised that you're not only reading it, but nodding along in agreement."
Writing Sex, the blog of Cecilia Duvalle

"The vast variety was what struck me the greatest as I made my way through this riveting collection. It took me longer to read than I had anticipated, perhaps because it was sometimes almost jarring to jump from one piece that had me giggling aloud to another that enraged me almost to the point of tears."
Kiki DeLovely

"The writing is honest, challenging, and exciting. There was a piece that really pissed me off and plenty of pieces that got me thinking."
Annabeth Leong

"The subject mix is wonderful, and all stories are extremely well written. This book does not disappoint. It is not the typical erotica book Rachel is known to edit, and meant to arouse. It is an important read, one I highly recommend."
The Erotic Literary Salon

"The greatest strength of Best Sex Writing 2012 is its eclectic collection of writing from all corners of the genre. This anthology has a taste of almost every conceivable angle on sex."
Sex Positive Activism

"I'm impressed. Not all of the articles appealed to me I even disliked a couple of them, but every one of them inspired thought. Every voice had something provocative to say in the realm of sexuality. This is not erotica. These pieces are brilliant reporting, touching memoirs, and humorous expositions. This book engaged my brain sometimes my heart, and occasionally my libido."
My Whole Sex Life

"Sex meets academia when editor Rachel Kramer Bussel and judge Susie Bright present the year's most provocative nonfiction articles on sex from sources including The Village Voice, Salon.com, and Playboy...Reading the essays will get you thinking, but Bussel hopes they will also get you writing, noting in her forward that, she hopes the book will "Inspire you to write and tell your own sexual story, because I believe the more we talk about the many ways sex moves us, the more we work toward a world where sexual shame, ignorance, homophobia, and violence are diminished."
The Edge

"Best Sex Writing 2012: The State of today's Sexual Culture is an eclectic variety of nonfiction articles on human sexuality, written by a diverse assembly of journalists. Sex columnist Rachel Kramer Bussel and guest judge Susie Bright have worked together to compile the best of the best news stories and measured opinion pieces. Individual stories include "Sex, Lies, and Hush Money" about sexual political scandals; "Atheists Do It Better" which has an intriguing take on faith versus pleasure; "Criminalizing Circumcision: Self-Hatred as Public Policy" which sharply questions legislative efforts to ban the circumcision of males under the age of 18; and "You Can Have Sex With Them; Just Don't Photograph Them" about the case of a police officer who had a completely legal, consensual sexual relationship with sixteen-year-old girls (the state's age of consent) but was sentenced to over a decade of prison time due to erotic photos of the girls, which they had produced voluntarily, in his possession - mandatory minimum sentencing laws tied the hands of the judge trying his case. Sober, serious, and thought-provoking even when dealing with the most inflammatory of human issues, Best Sex Writing 2012 lives up to its title and is worthy of the highest recommendation."
Midwest Book Review

"This book is the best-of-the-best write up about sex and is a great book for anyone with who wants to put their finger on the pulse of Sex in America."
Kissin Blue Karen

"The essays here comprise a detailed, direct survey of the contemporary American sexual landscape...Major commentators examine the many roles sex plays in our lives in these literate and lively essays."
Erotic Readers and Writers Association

Best Sex Writing 2012, edited by Rachel Kramer Bussel with writing selected by Susie Bright lives up to its subtitle: The State of Today's Sexual Culture." I was impressed by the range of voices in it. Standouts in the collection include Bright's funny missive on Ross Douthat, Why Lying About Monogamy Matters" and entertaining stories about sexual escapades by both Adrian Colesberry (the footnotes are great) and Lidia Yuknavitch. There are straightforward stories about a lesbian exploring BDSM at a gay male club, fat admirers and the real life of a call girl. Bussel adds a clear-sighted note that people should not be ashamed to send each other sexts as long as they are consensual adults"
Single and Loving It Blog
or
Not Currently Available for Direct Purchase