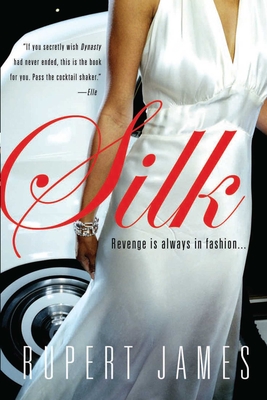 Silk
Paperback

* Individual store prices may vary.
Description
Money. Sex. Power. Some things are always in fashion. Christine Fairbrother is a high-powered barrister the scourge of the divorce courts. Christine has ambitions to become a QC--to "take silk"--after her next big case. Her talented daughter Isabelle Cisse is a design graduate launching herself on the London fashion scene full of dreams and ambitions--and with a fatal weakness for unsuitable men... Victoria Crabtree's position as Massimo Rivelli's mistress is precarious. Massimo is the multi-millionaire owner of the House of Rivelli one of the world's leading manufacturers of couture fashion. However he shows no sign of wanting to divorce his wife and Victoria's always in danger of being replaced with a younger model. But he's about to discover just what lengths Victoria will go to in order to survive...
Praise For Silk…
"Jealousy! Revenge! Sex! Power! Heck even a murder! Silk by Rupert James has it all. I readily admit (and so can you...it's okay...we're all friends here) that I like to get lost in an ultra-trashy novel sometimes. Silk definitely delivered on that front." --Chick Lit Central
"Sexy and entertaining in the tradition of Cleis Press Silk by Rupert James is a romp into the glitterati and dark side of ambition and lust...fans of Dynasty will likely enjoy this sexy romantic mystery." --San Francisco Book Review
"An entertaining glimpse into the not-so-glamorous nuts-and-bolts side of fashion." --Publishers Weekly
"James gives readers an entertaining glimpse into the not-so-glamorous nuts-and-bolts side of fashion but familiar characters--the middle-aged woman beginning to date again after a divorce the struggling young designer the unhappy mistress desperate to oust the wife--make the book feel more off-the-rack than haute couture." --Publishers Weekly
"Silk is an erotic novel about murder and mayhem. The lives and conflicting ambitions of three women--Christina Fairbrother her daughter Isabelle Cisse and Victoria Crabtree--are recounted in this tale where they all become entangled and discover just how far Victoria will go in order to survive." --AVN
"Very much recommended reading." --Small Press Bookwatch
"This book transcends gender sexuality and race to include a bit of everything in one page turning drama." --Kissin Blue Karen
"The lives and loves of these three women will come apart and also with one of the best storylines I've seen since Sidney Sheldon come together. The writing is very intriguing and takes the reader into the heart of the story and the lives of the characters. Also a look at the big Fashion Week's in Europe and America and the divorce courts in the UK. The readers will think that they are right in the middle of all the action." --Night Owl Reviews
"Managing a plot with more twists and turns than Lombard Street in San Francisco Rupert James keeps the pace steady and sure while advancing the characters through their development. The writing is superb in Silk; it makes the reader feel like an invisible observer who gets to participate in all the exciting parts too... The story takes the reader on a ride of celebrity lifestyles in fashion movies and even the criminal underworld… With a mix of sex in all its variety professional and emotional jealousy rampant infidelity drugs all over the place and yes murder all in a rollercoaster ride of a read Silk is a book you will not want to put down. Move over The Devil Wears Prada. Look out fans of Judith Krantz and Jackie Collins Rupert James has joined the party. And it's going to be lots of fun with him here!" --Arketipo 187
"Really really great action that draws you in and keeps you wanting to read....an enjoyable journey and time well-spent. I liked it and I'd definitely recommend it if you enjoy dramatic books or have an interest in the fashion industry." --Pop My Cherry Reviews
— Reviews
Cleis Press, 9781573447614, 480pp.
Publication Date: February 14, 2012
About the Author

Rupert James is a fashion and celebrity journalist. He lives in London and is married to a barrister.

or
Not Currently Available for Direct Purchase