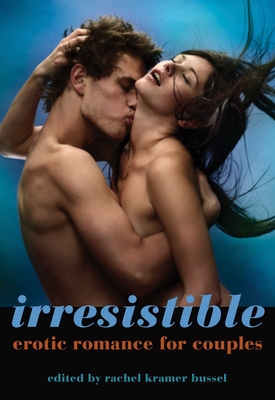 Irresistible
Erotic Romance for Couples
Paperback

* Individual store prices may vary.
Description
This Irresistible read features stories of couples turning their deepest fantasies into reality for uninhibited and imaginative sex. You'll delight in discovering all the exciting erotic possibilities, and ways of getting and staying turned on. It all starts with a little sexting in A.M. Hartnet's sizzling "Safe for Work" office tryst and Cole Riley's moving "Same As It Ever Was" shows that makeup sex can be the start of something new and better. Dirty talk leads to lustful surprises and inspiration for the neighbors in "The Mitzvah" by Tiffany Reisz. Editor Rachel Kramer Bussel notes that the lovers in this daringly romantic anthology are "able to open up in the ways they do is precisely because they have another person to rely on, coax them, challenge them, tease them and seduce them into traveling down a new sexual path. Whether that means outdoor sex, kink, a trip to a strip club or a very sensual massage, we get to see how the layers of trust that have been built up get used to stoke the fire that burns between them."
Praise For Irresistible: Erotic Romance for Couples…
"I also recommend the [...] anthologies edited by Rachel Kramer Bussel. Are they feminist? That is so hard to say, but I never feel bad about myself or my sexuality after reading the work these women write and curate." --Roxane Gay, author of Bad Feminist
— Reviews

"I think this book will appeal to people that are already part of a couple and also serve as inspiration for singles that there is a great sex life to be had beyond the vows. Some of these couple's find the fire needs kindling. Once the wedding is over and the kids have taken over some may think there are no surprises in the marriage bed. This book puts to bed all those myths and features just enough kink to keep it very sexy." --Kissin Blue Karen
— Reviews
Cleis Press, 9781573447621, 232pp.
Publication Date: February 14, 2012
About the Author
Rachel Kramer Bussel is a writer, editor, event organizer, and erotica writing instructor. She's edited over 60 anthologies, including The Big Book of Orgasms, Come Again: Sex Toy Erotica, Dirty Dates, On Fire, Spanked, Please, Sir, Please, Ma'am, and is Best Women's Erotica of the Year series editor. Her nonfiction has been published in The New York Times, The Washington Post, Marie Claire, O, The Oprah Magazine, Elle.com, Salon, Slate, Time.com, The Village Voice, and numerous other publications.