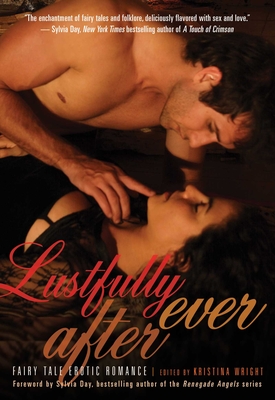 Lustfully Ever After (Paperback)
Fairy Tale Erotic Romance
Cleis Press, 9781573447874, 232pp.
Publication Date: May 15, 2012
* Individual store prices may vary.
Description
In Lustfully Ever After, classic fairy tales are reimagined for an adult audience with twists (and kinks) to keep readers entertained. In Michelle Augello-Page's romantically charged BDSM tale "Wolf Moon," Little Red Riding Hood is the big bad wolf, while Kristina Lloyd rewrites "The Twelve Dancing Princesses" as a scorching hot MFM threesome in "The Shoes That Were Danced to Pieces." Shanna Germain's "Mirror Mirror" shows the sensual Sapphic side of Snow White's stepmother and Andrea Dale pens a contemporary version of "The Steadfast Tin Soldier" in the poignantly erotic "Steadfast." This delightful collection of fairy tales will lead you down a magical path into forbidden romance and erotic love. You won't need those bread crumbs to find your way home--for home is where the heart is and the authors of Lustfully Ever After know your heart's most wicked and secret desires.
About the Author

Kristina Wright (kristinawright.com) is the editor of over a dozen published and forthcoming Cleis Press anthologies, including the best-selling Fairy Tale Lust: Erotic Fantasies for Women. Other titles include: Dream Lover: Paranormal Tales of Erotic Romance; Steamlust: Steampunk Erotic Romance; Lustfully Ever After: Fairy Tale Erotic Romance; Duty and Desire: Military Erotic Romance; xoxo: Sweet and Sexy Romance, and the Best Erotic Romance series. She is also the author/editor of the cross-genre Bedded Bliss: A Couple's Guide to Lust Ever After for Cleis Press. Her fiction has been published in over one hundred anthologies and her nonfiction has appeared in numerous publications, both print and online. She holds degrees in English and humanities and has taught composition and world mythology at the college level. Originally from South Florida, Kristina is living happily ever after in Virginia with her husband, Jay, and their two little boys.

Praise For Lustfully Ever After: Fairy Tale Erotic Romance…
"Lustfully Ever After is a book of fairytales with a sinful twist. You'll become engrossed in fantasy world of magical, forbidden love. Erotic fairytales that will keep you in a constant state of anticipation, never able to predict what's coming next. You've never heard a batch of fairytales quite like this before!" -Night Owl Reviews
"I love fairy tales and enjoyed reading this book as it took the fairy tale characters that we all know and love and shows us their erotic side. If you are familiar with the original tales I think that you will enjoy Lustfully Ever After as much as I did. It is an intriguing look at the darker side of fairy tales." --Fresh Fiction
"I recommend this to anyone looking for bedtime stories that are more mature than Andersen or the Grimm brothers ever imagined." --San Francisco Book Review
"I loved this book. The authors spend a lot of details into reinventing the characters. The book was very imaginative. There are some bondage and spanking in the story but all of the characters submit willingly. I thoroughly enjoyed this book, it was a nice erotic break from reality!" --Kissin Blue Karen
"Every story is wrapped up in erotic elements and twisted from the original just enough to inspire a different grown up fairy tale." --Paranormal Haven