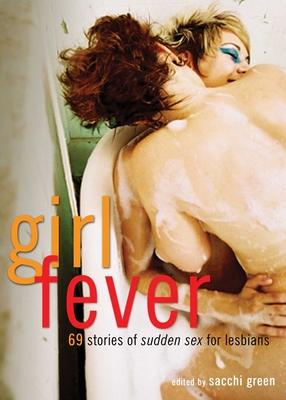 Girl Fever (Paperback)
69 Stories of Sudden Sex for Lesbians
Cleis Press, 9781573447911, 224pp.
Publication Date: June 12, 2012
* Individual store prices may vary.
Description
Girl Fever is short fiction at its best from rising erotica star Sacchi Green, whose Lesbian Cowboys took the top award at the 2009 Lambda Awards. This big book of lesbian quickies satisfies on every level with stories from top-notch contributors that evoke the heat, the urgency and the "gotta have it" moment of the quickie. There are long-time companions, one night stands, meet-cutes and meet only once stories to fuel your fantasies in this only book of lesbian quickies on the market today.
Sudden sex, when your need is too great wait. Sex in planes, trains and automobiles, and roller coasters, carnival rides, elevators, and ferries as well; and if a bed is handy, that's fine too. Shanna Germain's "Answering the Call" shows us games EMTs play in an ambulance, while Victoria Janssen's "The Airplane Story" crams us into the metal-walled bondage of an airliner restroom. Sommer Marsden makes the very best use of "An Hour," Allison Wonderland gets it "Off and On" in under ten minutes, and Tigress Healy offers "Six Minutes or It's Free." But there's more to it than speed, and the sixty-nine pieces in Girl Fever by skilled writers Cheyenne Blue, Rachel Kramer Bussel, Delilah Devlin, and more.
About the Author

Sacchi Green is the editor of Girl Crazy and has co-edited the anthologies Lesbian Cowboys, Rode Hard, Put Away Wet; Hard Road, Easy Riding; and Lipstick on Her Collar. Her stories have appeared in an array of erotica publications, including the Best Lesbian Erotica series, the Best Women's Erotica series, The Mammoth Book of Best New Erotica, and Best Lesbian Romance 2010. She lives in Pioneer Valley, MA.

Praise For Girl Fever: 69 Stories of Sudden Sex for Lesbians…
"It's so cute, might I say, but packed with 69 short stories of lesbian love. Edited by Sacchi Green who always puts together magical anthologies. You can't go wrong." --Sommer Marsden
"Girl Fever is truly a great read if you're trying to get in the mood for your lover. It's quick, delightful, and absolutely wrong in the best way possible. Locations, interactions, and passion are all over in this book of 69 stories of sudden sex. I recommend it whether you've experienced a woman's touch or not. I myself, haven't ever felt that, but I found it extremely enjoyable regardless. The amount of pages may try to discourage you, but don't fret over how thick the book is as a whole. I find it's easiest to read these books story by story, taking a break between each if you need to. I still found that I finished the whole thing in the matter of a couple hours, just because of the desire to keep reading." -Night Owl Reviews
or
Not Currently Available for Direct Purchase